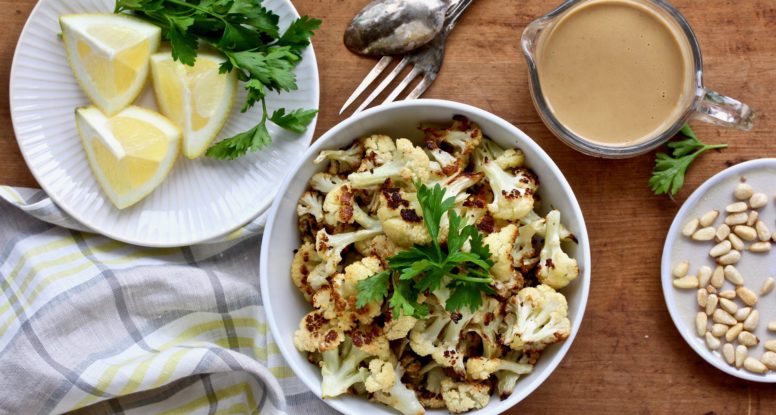 Ultimate Roasted Cauliflower
The cauliflower craze is still going strong and I'm happily enjoying it! Ricing cauliflower has been a pretty big deal lately, but I'm a big fan of roasting big, beautiful florets of it. That caramelization just can't be beat. And I'm pretty sure you're going to love my version, lovingly called, "Ultimate Roasted Cauliflower." Why? Well, read on!
Cauliflower For Everyone!
Not everyone is a fan of cauliflower, and trust me, I SO get it! The only way I used to be able to eat it was when my mom smothered it in cheese sauce. That's still pretty good, not gonna lie, but that cheesy sauce covers up its natural deliciousness. So here's the deal, you could eat it raw, you could cover it in cheese sauce, but you could also ROAST it! And that, my friends, is how cauliflower becomes something for EVERYONE!
Thanks, but not thanks!
Still don't believe me? Well, that's okay, I'm used to doubters. But I bet you're going to love it! And making roasted cauliflower is simple. You know I love keeping things simple. You need just a few ingredients and a hot oven. I'm sure you can manage that. And to really make you want to try this, I've included one of my favorite dressings – along with some feta cheese and pine nuts. Now, I've got you saying "thank you Sara!" right?
Please pass the cauliflower!
You never thought you'd say that, right? Well, you will be! And that makes me happy! Not only will you love the taste of this, but you will and should enjoy the fact that it's full of good nutrition! Yep, I'm helping you meet your daily veggie quota in a super fun, tasty way! You are most welcome! Try my Ultimate Roasted Cauliflower and let me know what you think in the comments below!
Print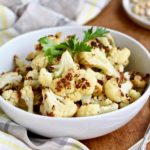 Ultimate Roasted Cauliflower
---
Description
You've had roasted cauliflower, but you haven't had THIS roasted cauliflower! Yummy, caramelized cauliflower is topped with a lemon-tahini drizzle. 'Nuf said.
---
1

head cauliflower, cut into florets

1 ½ tablespoons

extra virgin olive oil

¼ teaspoon

kosher salt

1/8 teaspoon

crushed black pepper

1 tablespoon

tahini

1 tablespoon

low-sodium soy sauce

2 tablespoons

lemon juice

2 teaspoons

lemon zest

1 tablespoon

olive oil

1 teaspoon

water

1

garlic clove, grated

¼ cup

parsley, finely chopped, if desired

1 tablespoon

toasted pine nuts, if desired
---
Instructions
Preheat the oven to 425'F and line a large baking sheet with foil. Place the baking sheet in the oven while the oven preheats.
In a large bowl, toss the cauliflower with the olive oil, salt and pepper. Carefully remove the baking sheet from the oven. Spread the cauliflower out evenly onto the baking sheet and roast for 30-35 minutes in the oven, stirring once halfway through cooking time.

 

While the cauliflower is roasting, make the tahini drizzle. To a small bowl, add the tahini, soy sauce, lemon juice, lemon zest, olive oil, water and garlic. Whisk to combine.
Remove cauliflower from the oven, drizzle with tahini and garnish with parsley and pine nuts.