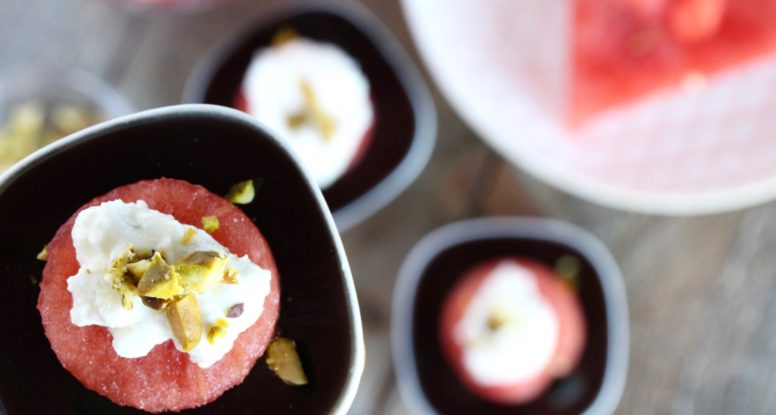 Watermelon with Honey-Lime Ricotta and Pistachios
Growing up in Indiana, I always looked forward to summer.
What kid doesn't, right? Summer meant no school and that meant lots of warm days and nights filled with fun. I remember playing so hard that when my head hit the pillow, I almost instantaneously fell asleep. Those thoughts and memories make me smile, because I love remembering how easy and wonderful life was then. Summer to me also meant sweet, delicious fruit. And I loved it all, cantaloupe, honeydew melon, peaches, strawberries and WATERMELON!

And I remember that farm stand!
I vividly remember accompanying my mom to a small little farm stand in an area of Indianapolis known as Broad Ripple. A totally random location considering Broad Ripple was more of a shopping/bar-hopping destination, than a place for buying great produce. I have no idea what the name of it was or why it was there, but I just remember sweating it out and asking my mom to "hurry up!" Because the last thing I felt like doing on a warm, summer day, was standing at some farm stand swatting flies and bees out of my face while my mom asked the guy at the stand to pick out a "good one" of every single type of produce on the table. (Love you mom!!!) But usually, during these trips, I begged her to buy melons and usually, she obliged! (LOVE you mom!)
Now that I'm older and buying these types of foods for my family, I can't help but think of these memories I have.
Those memories make me so incredibly happy. So maybe I love watermelon so much more because of the happy summers spent scarfing down slice after slice of watermelon, all while day-dreaming about the pool or other fun activity lined-up for the afternoon or next day. Or maybe I love it because it reminds me of those special trips with my mom. When it was just the two of us and I felt like we were the only people in the world, and I loved it!
So, while I love watermelon because of the great nutrition it provides, I think I just love it more because of what it signifies – fun, summer, friends, and family!
To honor those memories, I figured out a fun new, way to enjoy watermelon. This little treat is perfect as a snack or makes a great appetizer too. The ricotta spread tastes great on watermelon, but would be wonderful on other fruits as well. So go on out and get yourself a watermelon and try this recipe for Watermelon with Honey-Lime Ricotta and Pistachios!
Pics of Watermelon with Honey-Lime Ricotta and Pistachios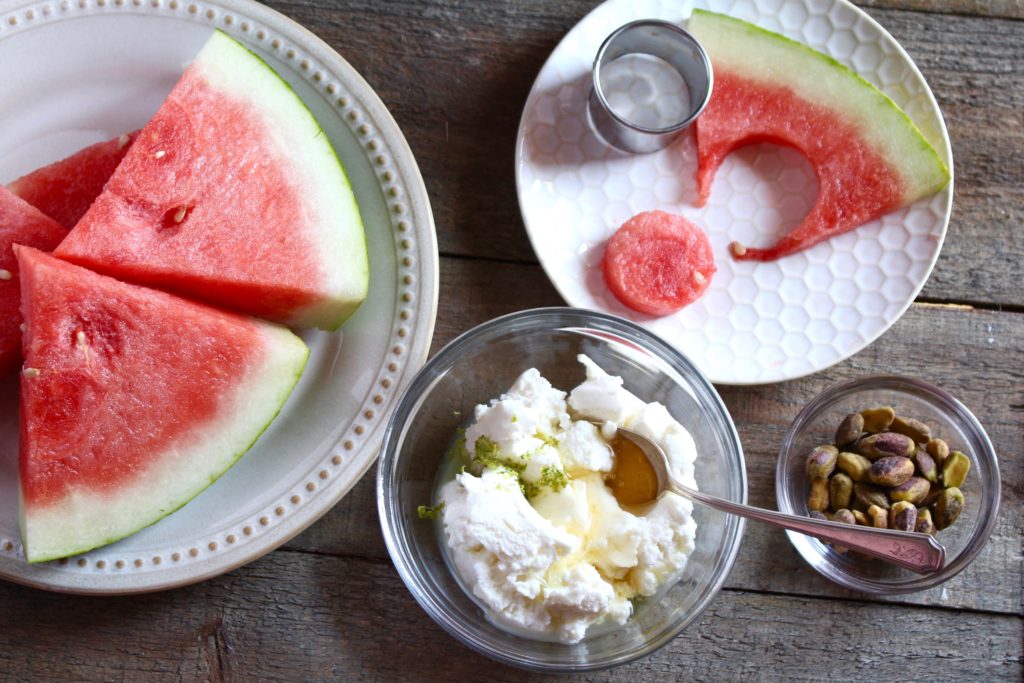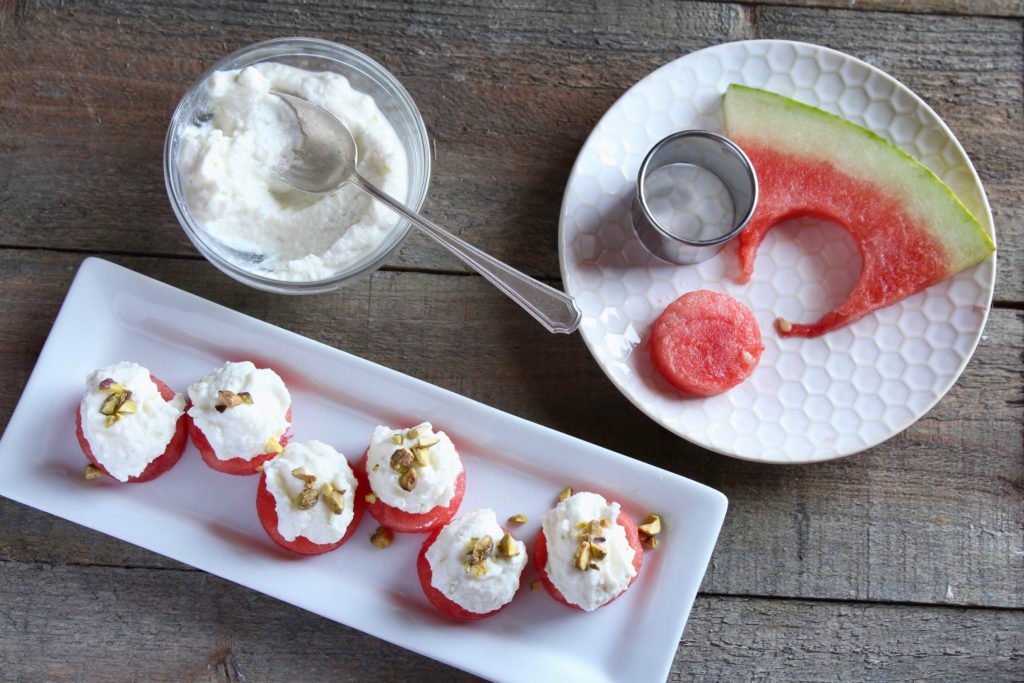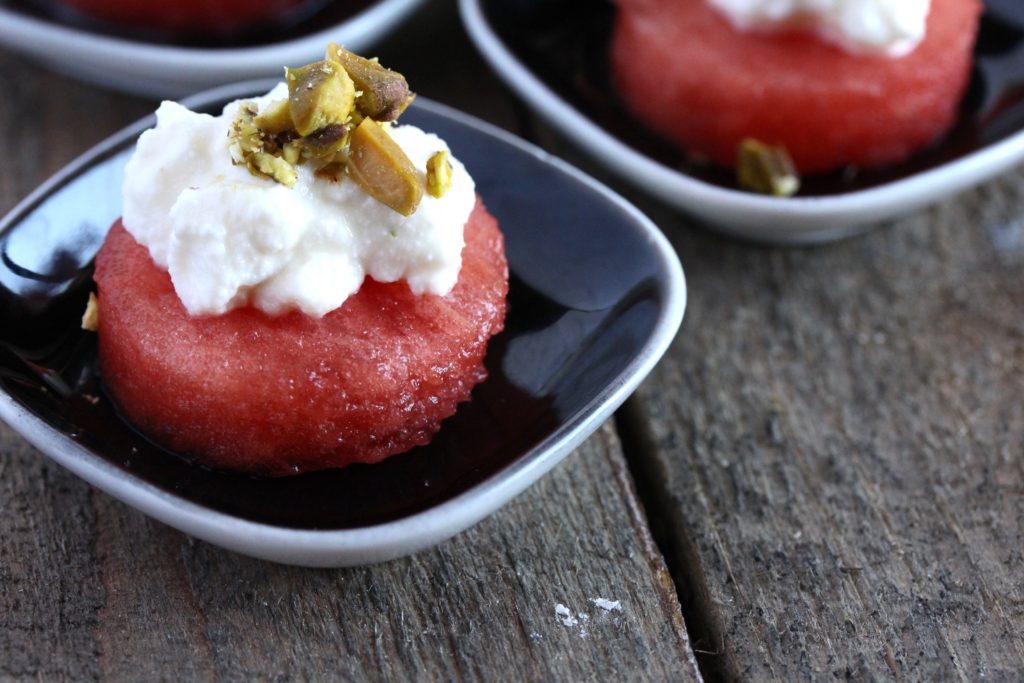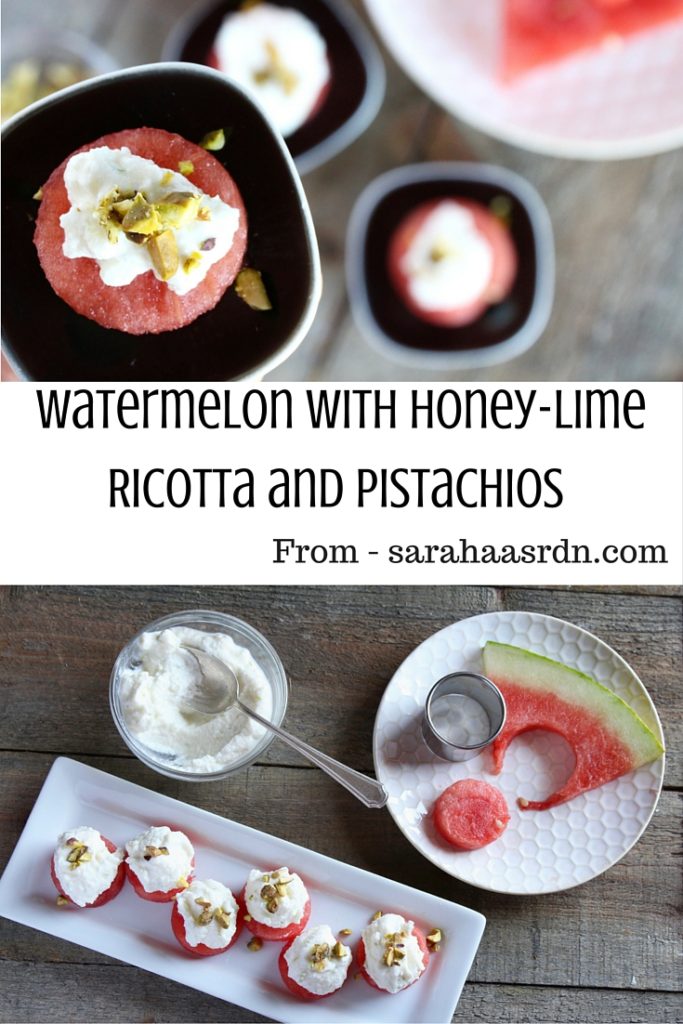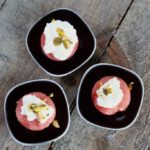 Watermelon with Honey-Lime Ricotta and Pistachios
---
Description
A delightful snack or treat! Why not top watermelon with honey and lime-infused ricotta cheese!?
---
1 1/4

pound seedless watermelon

1/2 cup

part-skim ricotta cheese

2 teaspoons

honey

2 teaspoons

lime juice

1 teaspoon

lime zest

1/8 teaspoon

Kosher salt

1/4 cup

pistachos, chopped
---
Instructions
Slice watermelon into 1/2-inch thick slices. Remove rind, then cut watermelon into rounds using a 1 1/2-inch round cookie cutter – you should get about 20 pieces. (If you don't have a round cookie cutter, just cut watermelon into 1 1/2-inch squares).
In a bowl, combine the ricotta cheese, honey, lime juice, lime zest and salt.
Portion about a teaspoon of the ricotta mixture on each watermelon slice and top with chopped pistachios.
Nutrition
Serving Size:

10

Calories:

39

Sugar:

5

Sodium:

46

Fat:

1

Saturated Fat:

1

Unsaturated Fat:

0

Trans Fat:

0

Carbohydrates:

6

Protein:

2

Cholesterol:

4