I Love Canned Salmon + A Yummy Recipe
In my opinion, canned salmon is an unsung hero in the food and nutrition world. Convenient, versatile and super-nutritious, it's a shame that it's so under-appreciated.
Why don't we use canned salmon more often in our recipes and meals? Perhaps it conjures up memories of the dry, flavorless salmon patties of your childhood. Perhaps it has to do with the lack of foodie "buzz", because the culinary world hasn't exactly embraced it either. I mean, when have you ever seen it featured in a dish on a menu at a trendy restaurant?
With the negative connotations and the lack of fanfare, canned salmon hasn't had much of a chance to shine. I think it's time to change that! Here's why:
Bring on the Canned Salmon! 3 Reasons Why It's Great.
It's Versatile! – Canned salmon can be used for salads, burgers, meatballs and so much more! That seems like a pretty great blank canvas if you ask me!
It's Convenient! – All you need is a can-opener, no cooking required. Highly portable and easy to use. The definition of the modern connivence food.
It's Nutritious! – Loaded with nutritious Omega-3 fats as well as selenium and protein, canned salmon is an easy way to fit more fish (you should be eating at least 8 or more ounces per week!) into your diet.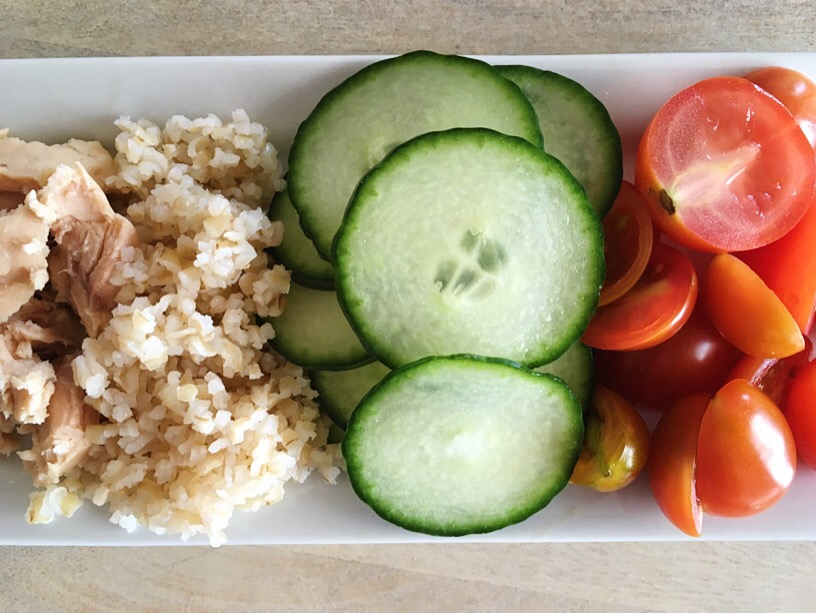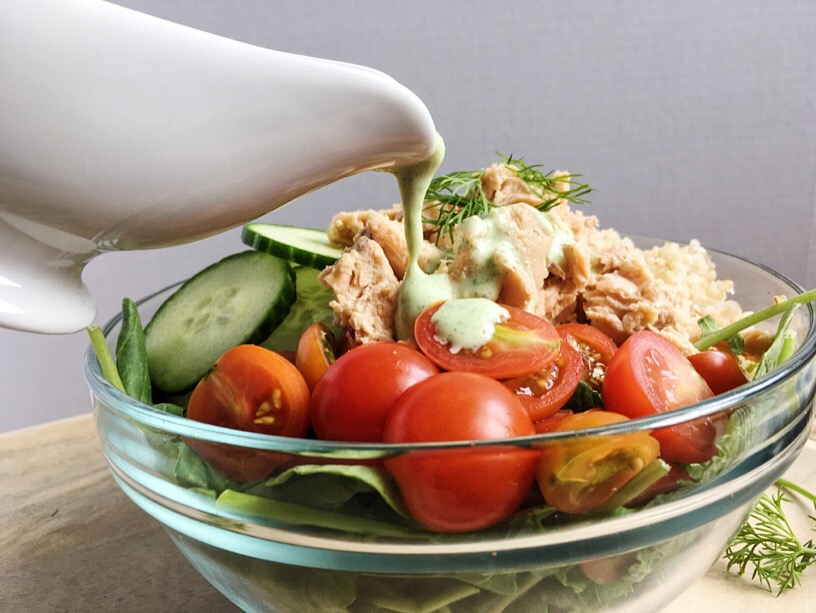 Print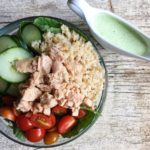 Salmon Bowl with Creamy Garlic Dressing
---
Description
A nutrition-packed bowl loaded with lean proteins, whole grains and vegetables.
---
1/2 cup

bulgur

1 cup

boiling water

1/4 teaspoon

Kosher salt

3 tablespoons

plain Greek yogurt

1 tablespoon

lemon juice

1

clove garlic, chopped

2 tablespoons

chopped, fresh dill

5 ounces

greens (baby kale, spinach, baby lettuces, etc)

6 ounces

canned salmon

1 cup

thinly sliced cucumber

1 cup

cherry tomatoes, halved
---
Instructions
Place bulgur in a medium bowl. Add salt, then cover with boiling water. Immediately cover the bowl with a piece of plastic wrap and let bulgur steam for about 20 minutes.
To a blender add the the Greek yogurt, lemon juice, garlic and dill. Add a pinch of Kosher salt and blend until smooth. (Dressing can be made without a blender, finely chop garlic and dill and then whisk all ingredients together.)
Divide lettuce and portion into bowls. Top each bowl with bulgur, salmon, cucumber and tomatoes. Drizzle with dressing and serve.
Nutrition
Serving Size:

2

Calories:

288

Sugar:

6

Sodium:

615

Fat:

7

Saturated Fat:

2

Unsaturated Fat:

4

Trans Fat:

0

Carbohydrates:

36

Protein:

23

Cholesterol:

58