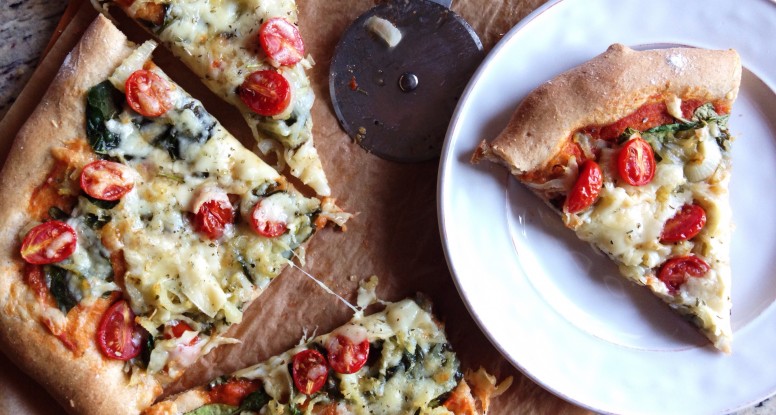 Everyone has a favorite food, right? Mine just happens to be pizza. I mean, is there really another food that's more perfect? Doughy crust, tangy, tomatoey (yup, I'm using that word) sauce, divine vegetables all topped with flavorful, umami-bursting cheese? Yes, please!!! Thus, the birth of the caramelized onion and fennel pizza.
As a food-lover, it's a dish that constantly pleases me. From the myriad of toppings to the simplicity of a delicious pizza crust, it's an ever-evolving food that can surprise, yet also elicit the feeling of familiarity and comfort. The dietitian in me, loves that pizza is the perfect platform for the wide assortment of delicious, nutritious foods out there. The combinations of those foods is almost limitless. I love whole wheat pizza dough topped with wild mushrooms or an array of broccoli, tomatoes, onions and peppers. Heck, you can even put fruit on top or what about grilled barbecue chicken or Thai-style pizza with cilantro, jalapenos, carrots and peanuts? See what I mean?
I'm always trying new things on my pizza and since I happened to have some extra fennel laying around, I decided to try that on my pizza. Caramelizing it with some onion, brought out a delicious sweet flavor and tasted amazing with fresh tomatoes and spinach. It turned out to be a winning combination that even my 2 1/2 year old loves. Try it now and let me know what you think!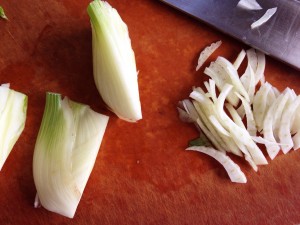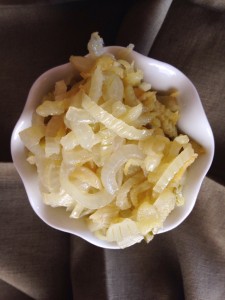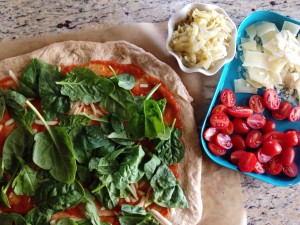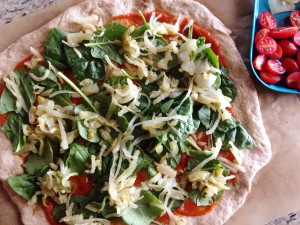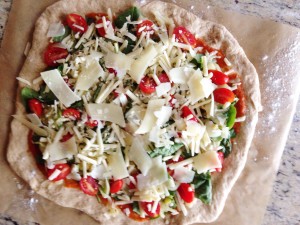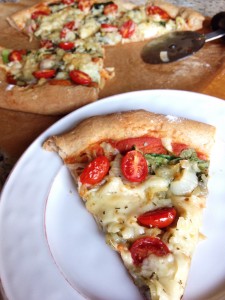 Print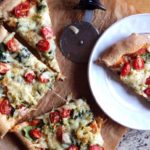 Caramelized Onion and Fennel Pizza
---
Description
Slow cooked onions and fennel make the perfect topping for pizza!
---
1 tablespoon

olive oil

1

medium yellow onion, thinly sliced (about

1 cup

sliced)

1

fennel bulb, core removed, thinly sliced

1/4 teaspoon

salt

1

pound refrigerated pizza dough (preferably whole wheat)

1/4 cup

marinara/pizza sauce

2 cups

fresh baby spinach

1/2 cup

cherry tomatoes, halved

1/2 cup

shredded mozzarella cheese

1/2 cup

shredded parmesan cheese

1 teaspoon

Italian seasoning
---
Instructions
Coat a large bowl with non-stick cooking spray, remove dough from packaging and place inside. Cover the top of the bowl with plastic wrap and rest on the counter while you prepare the caramelized onions and fennel.
Preheat the oven to 420'F and place the rack in the lowest setting of the oven. (Don't skip this pre-heating step! It's important that your oven is nice and warm before putting your pizza in there! If you have a pizza stone, use it!)
Heat the oil in a non-stick skillet over medium heat. Add the onion and fennel. Cook, stirring frequently for 5 minutes. Turn down the heat to low and cover with a lid or foil. Cook until onion and fennel are tender, stirring occasionally, about 35 more minutes. Remove from heat and season with salt.
To make the pizza
Dust your counter or other clean work surface lightly with flour (any flour will do). Remove dough from the bowl and place on your work surface. Using a rolling pin or your hands, shape dough into a 12-inch circle.
Transfer dough to a piece of parchment paper. Spread the pizza sauce over the crust and top with the spinach, caramelized onions and fennel, tomatoes and the cheese. Sprinkle with Italian seasoning.
Keep the pizza on the parchment and either transfer it to the oven directly onto a pizza stone or set it on an inverted cookie sheet before placing in the oven.
Bake for about 15 minutes, until cheese is melted and crust turns golden brown.
Remove from the oven, cut and enjoy!
Nutrition
Serving Size:

6

Calories:

349

Sugar:

8

Sodium:

1101

Fat:

17

Saturated Fat:

5

Unsaturated Fat:

10

Trans Fat:

0

Carbohydrates:

39

Protein:

11

Cholesterol:

13