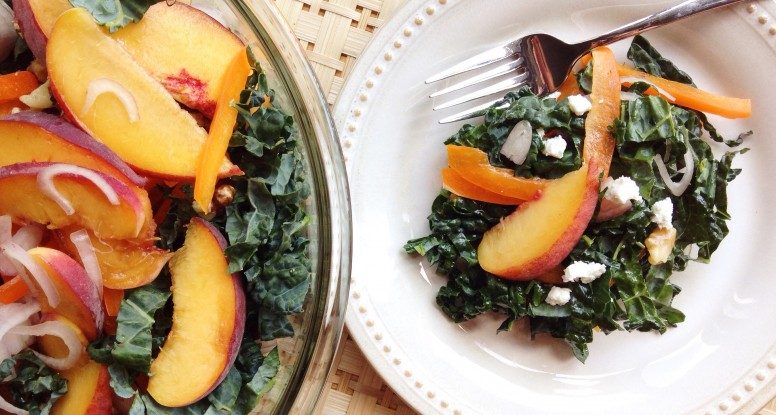 Fertility Friday + Lacinato Kale Salad with Peaches and Maple Vinaigrette Recipe
It's Friday! Yahoo! Besides being the start of the weekend, Friday also means it's time to focus on fertility. This week's post is all about kale and peaches. Really? Yes, really.
Kale & Peaches & Fertility
Kale has an important nutrient that many mommas-to-be may be missing in their diets. Bonus, peaches work synergistically to help get the most out of that nutrient. How? Well, let's look a little closer at each food for a moment:
Kale — Are you bored with this dark, leafy green yet? I sure hope not because even though it may not be the trendy, hip culinary sweetheart that it was a year ago, it still packs a serious nutritional punch. In the case of fertility, eating kale makes sense. Why? Well, because it's a source of iron which is a nutrient that can be lacking in women's diets, especially women of child-bearing age. And iron is important because it helps transport oxygen in your blood. If you don't get enough, it can leave you feeling tired and weak. A big enough deficiency can even lead to anemia. And a possible link to infertility is another reason you need to protect yourself from iron deficiency.
Peaches — Yum, who doesn't love a good peach! Besides being sweet and juicy and delicious, peaches also contain vitamin C. Vitamin C is a powerful antioxidant that can protect us from the damage done to our cells by free radicals. This is awesome because free radical damage can do serious harm to our health and has been linked to diseases such as cancer.
KALE + PEACHES — Now why the two together? Because while that kale has iron, it's a plant-based (or non-heme) source of iron versus an animal-based (heme) source of iron, which isn't as readily absorbed by your body. Bummer! But have no fear because that's where those peaches come into play. More specifically, the Vitamin C in those peaches. By including a Vitamin C food source with your non-heme iron food source, you'll increase the absorption of that non-heme iron. How awesome is that?
AND FERTILITY? — As I mentioned above, women of child-bearing age, may be missing out on iron. It can happen pretty easily because your needs increase during this time as well as during pregnancy. And research from the Nurse's Health Study revealed a possible link between iron deficiency and infertility. Talk to your doctor if you expect a deficiency. In the meantime, eat a variety of heme and non-heme iron foods. And don't forget that Vitamin C!
Now, get my Lacinato Kale Salad with Peaches and Maple Vinaigrette Recipe!