Beautiful and Simple: A Recipe for the Lovely Apple Crostata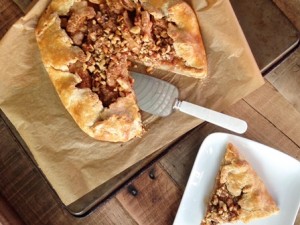 It's cold here in Chicago and I am happy to report that I have not lost my sense of humor about this cold blast we are having. Instead of being angry, I have chosen to celebrate this cold by baking and cooking…and baking and cooking! Luckily the lovely Cutting Board Blog must have known this, as they are currently featuring my recipe for the beautiful Apple Crostata.
Hurry, go turn on your oven and be prepared to "warm up" with this lovely dessert.