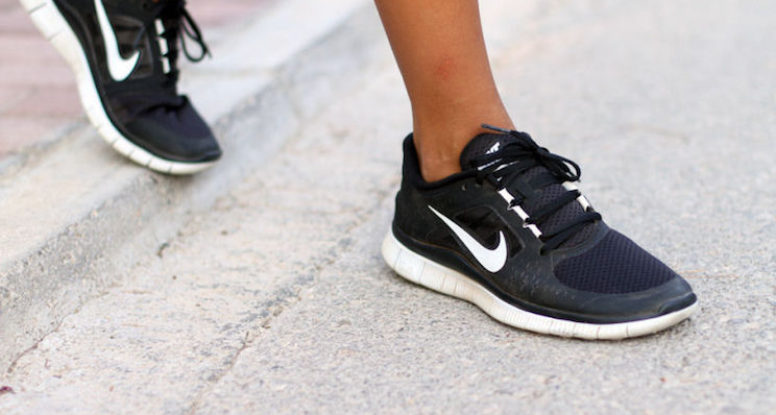 Busy Mom Wardrobe Staples
Yes, I know, my blog is typically not about fashion. In fact for those of you that know me well, you know that I choose to forgo makeup and always wear comfy (read stretchy workout) clothes. The reason? Because #1 I'm lazy and #2 I feel most happy when I am COMFORTABLE. But sometimes, I need help, because sometimes, I should dress and look like a grown-up. So, like any smart woman, I asked someone else for help, enter Brittany Hinrichs.
You're Busy, I Get It
Oh trust me, I get it. Life is a giant whirlwind of crazy and sometimes you need a little help. As a busy mom, you deserve help! And if you're smart, you ask for that help! True story, at one point in my life I considered myself fashionable enough to start my college career in Apparel Merchandising, that time is long gone. Remember, I'm all about comfort over style. But, I'm also a professional (sometimes) and need to pull it together. That's why I asked Brittany of When, Wear & Now to PLEASE HELP! And she came through! And I'm so happy for her to share her awesome fashion intel with you!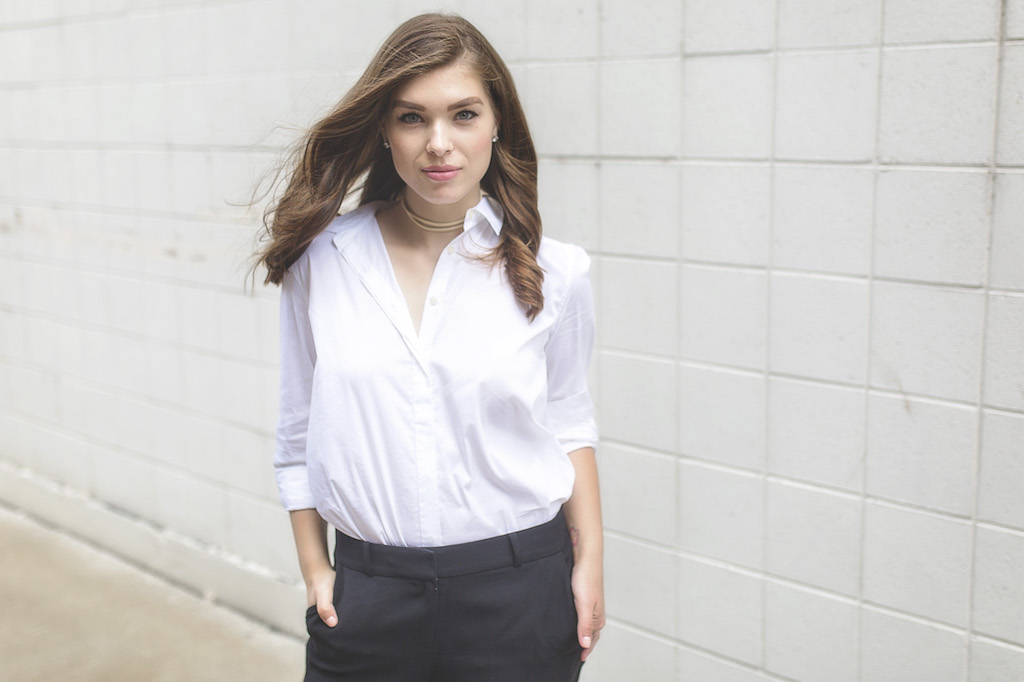 Brittany's Wardrobe Staples Every Mom-on-the-go Should Have
I may not be a busy mom myself, but I know a lot of women who struggle to find a style that works with their busy schedules after having kids. They're all somewhere in between wanting to look nice and having to be practical with the fear that there is no happy medium. Good news, I'm here (with some help from "mom-trepernuer Debbie Kahn founder of Style By Deco) to prove you wrong!
Brittany To the Rescue!
In becoming a mom you're already asked to give up so much – sleep, alone time, spontaneous weekend getaways with your significant other, so why should you have to give up your style on top of that? The answer is you shouldn't! It's true that as your family grows and your life becomes busier, that your wardrobe needs change. 6 inch heels and tight fitting dresses may not be at the top of your priority list anymore but that doesn't mean that you can swap those once coveted items for crocs and ill-fitted articles of clothing, because it's a proven fact that people feel better about themselves when they look good. That means when your little one accidently spills her whole bowl of spaghetti on the white carpet again, you can concur that mess knowing you at least look hot 😉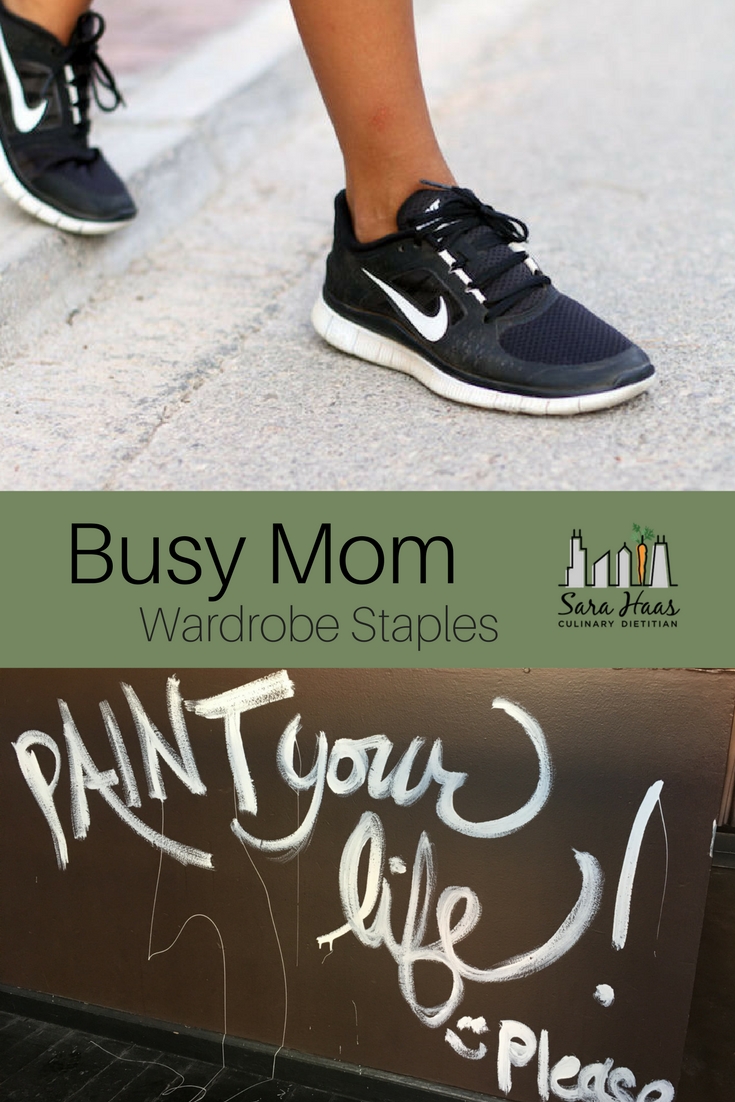 Below are a few things I think every busy mom should own!
1.) Denim: Notice I said "denim" here and not "jeans" – there's a difference. Plus, I don't want anyone taking away from this article that I okayed them to wear mom jeans. No thank you! Not all moms wear mom jeans, and you shouldn't either. Instead, convince yourself that spending a small fortune for a truly figure-flattering pair of well-fitting dark wash jeans will take you far in life. Shop for stretch denim these types of jeans will retain their shape — and yours — in a much more flattering way and remember that darker the denim, the more slimming they become. Denim is the perfect match for a simple t-shirt while running errands, and a blouse and blazer for when you and your significant other can finally sneak away on that date night.
2.) Sneakers: If and of you read my blog, you know I have quite the love affair with sneakers –it's really no surprise that they are making this list because as far as I'm concerned, mom or not, everyone should own at least one pair of sneakers. Whether you're on your feet all day, or chasing after your kids at the playground, the right footwear can make all the difference. Luckily enough for you, designers have introduced endless options for gym-to-casual sneakers, so you're still guaranteed to look chic. Make sure to look for sneakers that have a cushioned heel and arch-hugging support- your feet will thank you for that one.
3.) A Chic Cross Body Bag: A busy mom should never underestimate the power of a simple leather cross body bag. They're lightweight, packed with pockets, and leave you hands-free to deal with any shenanigans that might occur through out the day.
4.) Heeled Booties: A great heeled bootie is something you can take from day to night in a pinch and with a low heel, they won't kill your feet – score! When shopping for the perfect style to fit into your wardrobe, it's best to stick with a leather or suede which will give any outfit you pair them with a more elevated look.
5.) A Leather/Bomber Jacket: I'm a strong believer in the "third-piece". Not only does it complete your look, but with the Chicago weather that likes to change every 5 minutes, it's necessary to be prepared for whatever Mother Nature may in store. With either of these jacket styles, you'll be able to stay true to your style (classic, sporty, casual) while still feeling dressed up and pulled together. The plus? Both also look great with a pair of stylish sneakers and a dark denim!
No More Excuses!
Now you know! Time to get out and get these essentials! I know I need some serious updates. What are your wardrobe essentials? Help us all out and drop them in the comments section below!