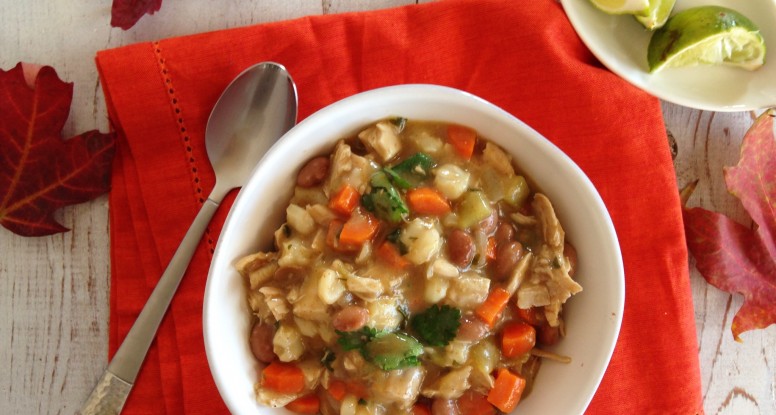 I don't know how my love affair of Mexican food began. It sure wasn't inspired by anything I ate while growing up. I'm from the Midwest, so that's part of my excuse. But, really, when I was younger (dating myself here), the closest I could get to Mexican food was a certain fast food chain (hello, chalupa) and a certain fast-casual food chain (hola, unlimited chips and salsa!). It's a wonder, then, how I came to love Mexican food so much.
But I do love it and it has changed my life in the best, most positive way possible. How can a cuisine do that you ask? Simply, by educating me about food. I read so many great recipes featuring Mexican cooking and Mexican chefs, and I learned two important lessons. The first lesson I learned was the necessity of properly using spices to season food. The second lesson I learned was the importance of layering flavor, an indispensable tool used to build a recipe so that dishes go from ok to awesome. Those two lessons are the inspiration for how I make many of my dishes, including this Chicken Posole.
It's not just another stew, it's something that honors those lessons of properly using spices and building flavor. It's brimming with everything from cumin to green chiles to the super delicious and texturally-pleasing hominy. This Chicken Posole is a tribute to honestly good food. It can fill any hungry or "hangry" belly and bring a smile to any face.
READ THIS PEOPLE!
Whew, did I get your attention? Good, that was on purpose. I want you to read this part because these are tips for success, including a few reasons why I did what I did with this recipe. Read on…
Buy the skin-on, bone-in chicken. Trust me! The skin helps add depth of flavor in two ways. First, when you sear it, you'll get some yummy browned bits that stick to the pan, that's called fond, and it's good stuff. Second, you'll cook the chicken with the skin-on, which will give your stew a really nice, enhanced chicken broth taste. (Don't worry, you'll take the skin off and bones off before you eat it!)
Back to that chicken, don't even think about touching it or peeking at it while you're searing it. You'll just rip the skin right off and you'll be mad and cry. I want you to be happy.
I add flour here, why? Because I want a stew that's thick and by adding this flour and cooking it with the fat, I accomplish that. No whimpy stew broth for me!
And here, the montage of pictures honoring this Chicken Posole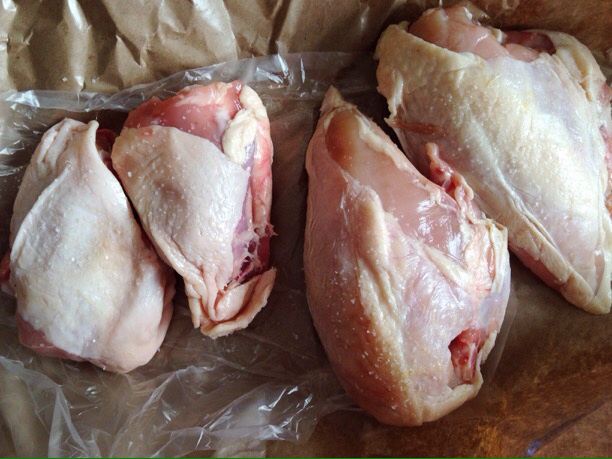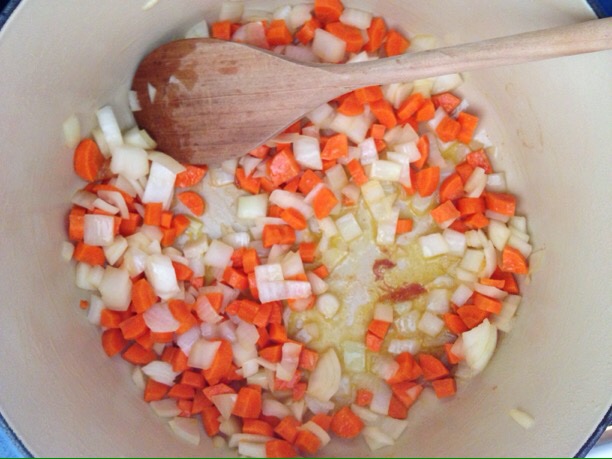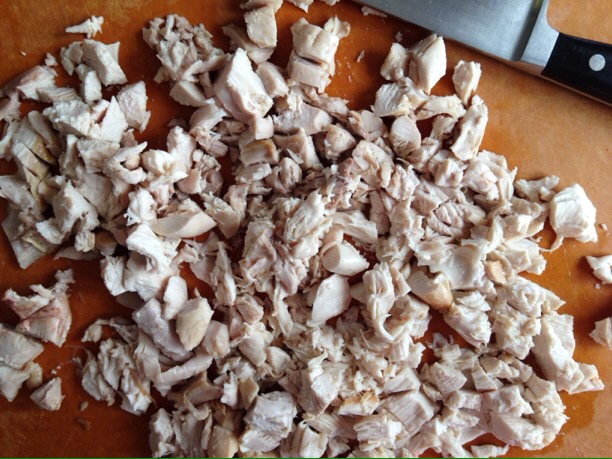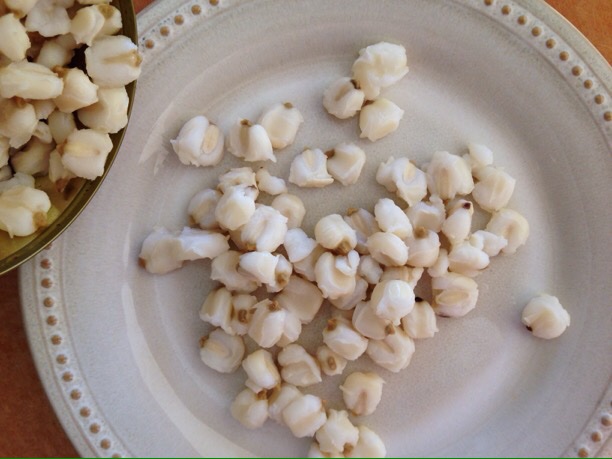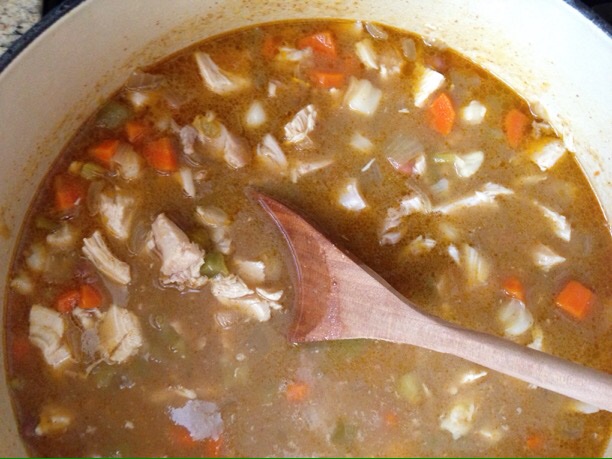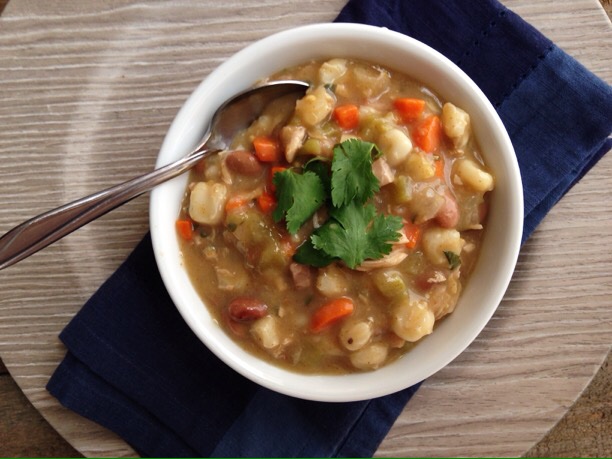 Print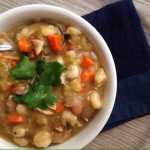 Chicken Posole
---
Description
A big pot of warmth, this stew is hearty and loaded with flavor. Perfect for tailgates or potlucks or a delicious family dinner.
---
1 tablespoon

vegeatable oil

2

skin-on, bone-in chicken thighs (about

3/4

pound)

2

skin-on, bone-in chicken breasts (about

1 1/4

pound)

1/2

medium onion, diced (about

1 1/3 cups

)

2

medium carrots, peeled and diced (about

1 cup

)

1 tablespoon

chili powder

1 teaspoon

cumin

1/4 cup

all-purpose flour

4 cups

low-sodium chicken broth

1

(15.5-ounce) can pinto beans, rinsed and drained

1

(25-ounce) can hominy, drained

1

(4-ounce) can diced green chiles

1

lime, juiced

1/2 cup

fresh cilantro, chopped
---
Instructions
Heat the oil in a pot or dutch oven over medium-high heat until shimmering. Season the chicken with salt then arrange, skin-side down in the pot. Cook about 6-7 minutes, until skin is golden brown. Move to a plate.
Add the onion and carrots to the pot and cook until softened, about 6-7 minutes. Add the chili powder and cumin and cook, stirring occasionally, until fragrant, about 1 minute. Stir in the flour and cook and stir for 1 more minute. Add the chicken broth, stirring to scrape any bits off the bottom of the pan. Bring mixture to a simmer then add the chicken, pressing it into the liquid to fully submerge it. Reduce the heat to medium-low, simmer uncovered, until chicken is cooked (has reached an internal temperature of 165'F), about 25 minutes. Check occasionally during cooking to ensure that chicken is still submerged. Add water, 1/2 cup at a time to keep chicken in the cooking liquid.
Remove the chicken to a cutting board and let it cool 5 minutes. (At this point you can also skim the surface of the soup to remove any scum or excess oil/fat.)
Carefully remove and discard skin. Using a fork, remove the meat from the bones. Discard bones. Roughly chop the chicken and add it back to the pot along with the drained beans, hominy and chiles. Cook an additional 10 minutes.
Stir in lime juice and cilantro and serve.
Notes
This recipe makes about 9 cups of stew, this allows for a generous 1 1/2 cup portion for 6 people.
Nutrition
Serving Size:

6

Calories:

346

Sugar:

2

Sodium:

557

Fat:

9

Saturated Fat:

2

Unsaturated Fat:

6

Trans Fat:

0

Carbohydrates:

38

Protein:

28

Cholesterol:

77