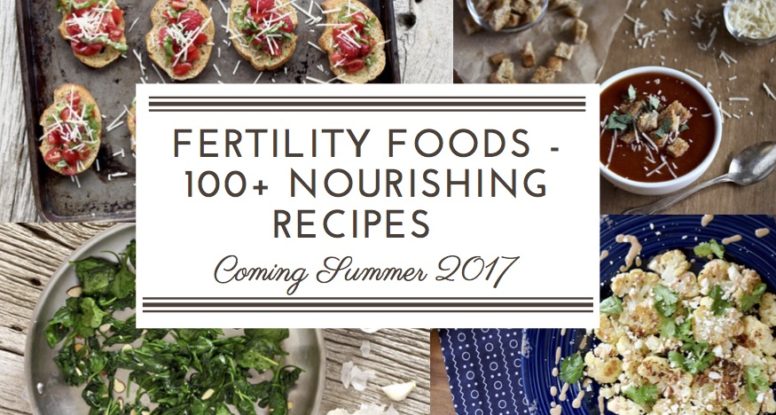 Fertility Foods Coming Summer 2017
Nourish. I've spent 100% of my time in my nutrition career talking ad nauseam about nutrition, but probably only 25% of that time using the word nourish. Isn't that ironic? How could this important word get so little fan-fare in my every day "spiel" – the one that I use to encourage people to live better lives through consuming more nutritious foods!? Blasphemy! Why does this word mean so much to me now, more than ever? Because my co-conspirator, Elizabeth Shaw and I, are about ready to revel our Fertility Foods Cookbook that's all about NOURISHING yourself!

Building the Book
"If you build it, they will come." Oh, we hope so! But how did this book come to be? Well, it all started with the internet. Of course, like all good relationships, I met my dear friend Elizabeth Shaw (aka, Liz) on the internet. She was searching out wisdom from fellow dietitians for a series on infertility she wanted to post on her site, Shaw Simple Swaps. I wasn't so sure I had much wisdom, but I had been on the infertility train for some time, and it felt right to reach out to her. We became instant "pen-pals", sharing our stories (good and bad) about our journeys with infertility. Let's just say that all of our lamenting turned into "let's write a book!" Ok!
Fertility Foods
When we tell you this book was a labor of pure love, we mean it. We've spent months upon months writing this book and it's changed in so many ways. But the goal has always been the same – to provide a resource that empowers people in making the most nourishing choices during their infertility journey. We realize the powerful and pivotal role nourishment plays in fertility and we wanted to give this gift of nourishment to EVERYONE. So while it's been a long and arduous process (Liz can tell you how easy I am to work with! Ha!), it's been an amazing journey for me – a type of nourishment for my soul.
Nourish More
That's right, see how I did that? Used the word nourish for describing something other than food. And it makes sense. And that's why I am pledging to use the word nourish much, much more. Because when you think of nourish, you think of something that feeds you, builds you up in a positive way. We want nothing more than to do just that – to build up anyone struggling with infertility in a positive, empowering way. To nourish every part – mind, body and soul! And we hope our book can do that!
So please stay tuned while we put the finishing touches on the book. And mark your calendars for Summer 2017 – because that's when you'll be able to get your hands on this nourishing fertility foods cookbook!