Phyllo Cherry Pie Tartlets: Recipe Redux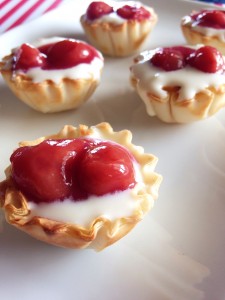 My grandmother passed away when I was a Freshman in college. It was a sad time for me. I remember packing my bags and making the trek home for her funeral. Like most grandmothers, she meant so much to me. It wasn't until she passed that I really started to appreciate all that she was.
What I loved most about her was her vibrant personality and unique outlook on life. She lived life to it's fullest, having a blast doing just about everything. She loved playing cards and Boggle (a game I'm not even sure exists anymore) and she adored hosting parties and cooking fabulous food for holidays. She did it up right, laying out the best china and lighting candles. I don't think I appreciated it then, but I do remember thinking it was "kind of cool." She was a spunky, sassy Martha Stewart…a lit cigarette in one hand and a wooden spoon stuck in a pot of something tasty in the other. I can still picture her now at the stove.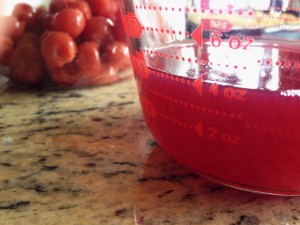 While I wish we had more time to spend together, as I'm sure I would totally appreciate her so much more now, I am so grateful for all of my memories. There's one memory that stands out for me..it's her famous cherry pie. I'm pretty sure it came from the back of Eagle Brand Milk can, but she didn't identify the source on her recipe card. Anyway, it was delicious! A crust topped with almonds, then filled with a decadently rich filling and topped with sweetened, tart cherries. It was to die for (and a total calorie bomb!)
This month's Recipe Redux theme was to "redux" one of our favorite pie recipes. I had no hesitation deciding to honor my grandmother's cherry pie recipe. While she certainly wouldn't have deemed it necessary to "lighten-up" a dessert, I still think she would be surprised at how well the modifications to her classic cherry pie turned out. To undo some of the calorie damage, I took out plenty of the sugar and also lightened up the crust, opting for mini-phyllo cups instead. It's a perfect sweet treat and a lovely addition to any party, picnic or shower.
So, break out the china and light the candles, because you're in for a treat!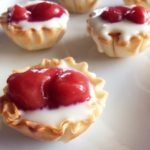 Phyllo Cherry Pie Tartlets
---
Description
A perfect bite of tart cherries piled on top of a sweet, almond and lemon-infused filling.
---
For the Phyllo Shells
30

mini phyllo cups (found in the freezer section), thawed

2 tablespoons

sliced almonds, toasted
For the Filling
3/4 cup

sweetened condensed milk

2 tablespoons

lemon juice

1/2 teaspoon

vanilla extract

1/4 teaspoon

almond extract

1/4 cup

whipping cream, whipped
For the Cherries
14 1/2 ounce

can of water-packed tart cherries

2 tablespoons

sugar

2 1/4 teaspoons

cornstarch
---
Instructions
To Prepare the Phyllo Shells
Line the shells on a sheet pan and place a few toasted, sliced almonds in each shell. Keep nearby while you make the filling.
To Make the Filling
Combine the sweetened condensed milk, lemon juice, vanilla extract and almond extract in a mixing bowl. Fold in the whipped cream. Fill each phyllo cup with a heaping teaspoon of the filling. Cover the pan with plastic and refrigerate until firm, about 1-2 hours.
To Make the Cherry Topping
Drain the cherry water (about 1/2 cup) from the cherries into a sauce pan. Add in the sugar and cornstarch, whisking until combined. Set the mixture over medium-low heat and cook, stirring constantly, until thickened. Add the drained cherries to pan and stir.
Remove the phyllo shells from the refrigerator. Top each shell with a spoonful of the cherry mixture. Cover and refrigerate until firm, about 1-2 hours.
Nutrition
Serving Size:

15

Calories:

197

Sugar:

11

Sodium:

205

Fat:

5

Saturated Fat:

2

Unsaturated Fat:

3

Trans Fat:

0

Carbohydrates:

32

Protein:

4

Cholesterol:

10