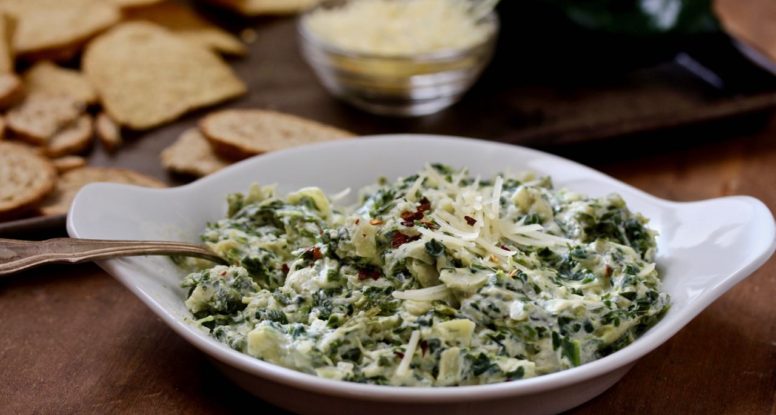 Roasted Poblano Spinach Artichoke Dip
What are you serving up for Super Bowl Sunday? I bet you have your favorite right? But did you know that each state apparently has it's own favorite Super Bowl food too? I had no idea, but it's true. Illinois apparently loves Buffalo chicken dip and my home state of Indiana relies on pulled pork, but I'm going with Florida's favorite this year, and making spinach artichoke dip, specifically, my Roasted Poblano Spinach Artichoke Dip.
Super Bowl Party Food
I'm seriously fascinated by this list from Business Insider about each state's most popular Super Bowl snack food. Take a look at the list and see if you agree with your state's favorite. I totally agree that pulled pork is an Indiana "thing." People there love their pork and I remember going to plenty of pork-related festivals growing up. I know, I know, but don't judge! And then there's Illinois, my adopted state. They love Buffalo chicken dip? What? I promise you I never had that in Indiana. So funny! And we never had spinach artichoke dip either. That was reserved for really amazing dinners out at chain restaurants.
Spinach Artichoke Dip – True Love
Florida loves it and so do I! But the problem is, most of the time you get it, it's loaded with tons of cream and cheese. Sounds amazing right? So what's the problem? While your taste buds appreciate those delicious ingredients, they add a lot in the way of saturated fat and calories. Ugh! What's a dietitian to do? Well, fix the recipe, naturally.
Add and Swap
To correct this calorie and saturated fat problem, I immediately addressed the cheese issue. Of course I needed some, but I knew I could do with less. So I swapped whole fat cream cheese for it's low-fat neufchâtel counterpart and cut back on the amount of it. I still used Parmesan cheese, but only 1/4 cup and instead of cream, I used plain Greek yogurt, which gave it that smooth mouth feel. And then, because I love to put a little "Sara" in my recipes, I added a roasted poblano pepper. It adds just a touch of fun southwest flavor, setting it apart from your standard spinach artichoke dips.
Super Your Bowl
Make your Super Bowl delicious and decadent and make this Roasted Poblano Spinach Artichoke Dip. Serve it with whole wheat baguette slices, tortilla chips and sliced veggies. Tell me how you like it in the comments section below and of course, tell me what YOUR favorite Super Bowl snack is!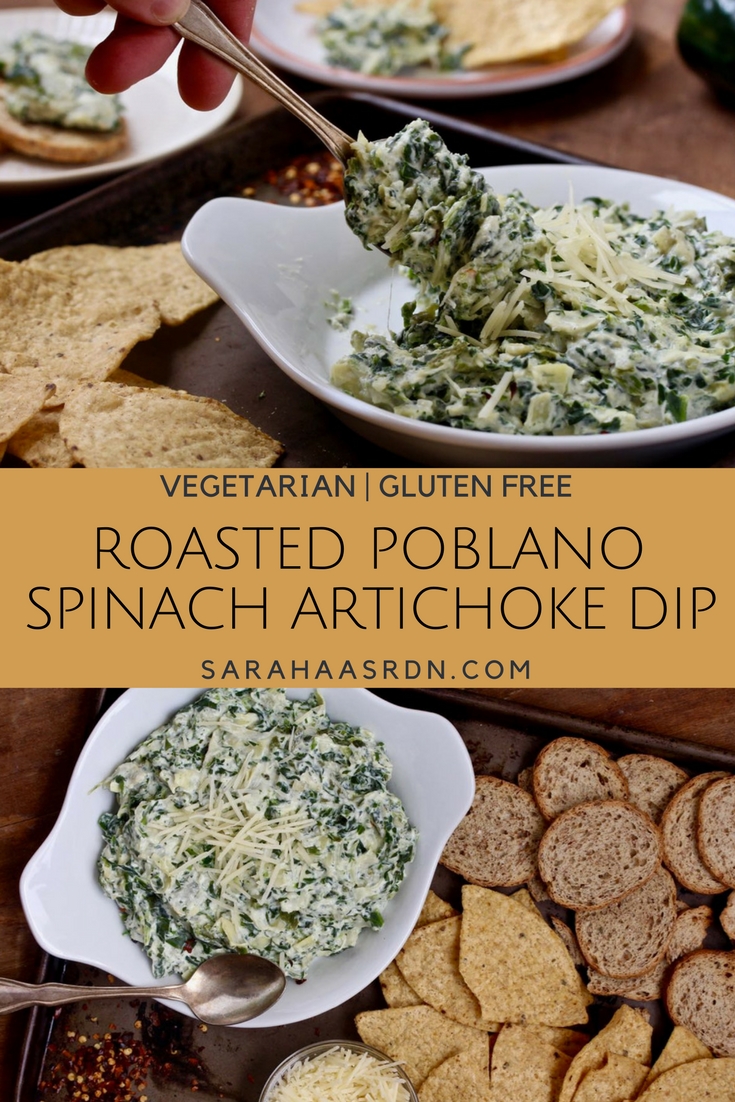 Print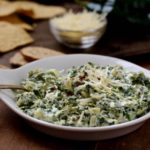 Roasted Poblano Spinach Artichoke Dip
---
Description
Roasted poblano adds the perfect southwest touch to this healthier spinach artichoke dip.
---
1

poblano pepper

1 cup

frozen artichoke hearts

2

cloves garlic, minced

1 cup

frozen spinach

2 ounces

neufchâtel cream cheese

1/4 cup

shredded parmesan cheese

1/2 cup

plain Greek yogurt

1/8 teaspoon

salt
crushed red pepper, to taste
---
Instructions
Preheat the broiler. Place the poblano on a baking sheet and broil the pepper, turning often, until skin in charred, about 6-10 minutes. Place pepper in a bowl and cover with plastic wrap and allow to cool. Once cool, peel away charred skin and finely chop. Reserve.
Thaw artichoke hearts according to package directions. Roughly chop the artichokes and add them, along with the garlic and spinach, to a non-stick skillet set over medium-high heat. Cook, stirring frequently until spinach is hot, about 5-6 minutes. Reduce heat to low and stir in the chopped poblano, cream cheese, parmesan cheese, Greek yogurt and salt. Add crushed red pepper, if desired.
Serve with slices of toasted whole wheat baguette, tortilla chips and sliced vegetables.
Nutrition
Serving Size:

6

Calories:

76

Sugar:

2

Sodium:

193

Fat:

4

Saturated Fat:

2

Unsaturated Fat:

1

Trans Fat:

0

Carbohydrates:

7

Protein:

5

Cholesterol:

12