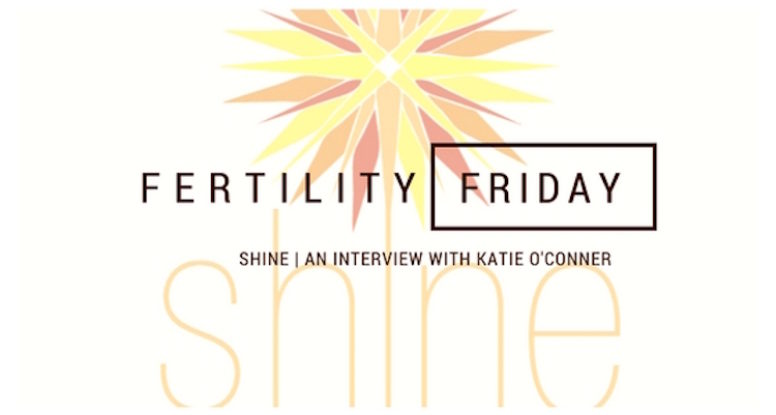 Shine, An Infertility Support Group
This Fertility Friday is a special one! Today, I am proud to share my interview with Katie O'Conner, founder of Shine, a non-profit organization that helps women struggling with infertility.
Do You Believe in Fate?
I certainly do. In fact, I feel that fate has an element of Divine Intervention (DI) attached to it as well. My most recent experience with DI happened just a few weeks ago. To make a long story short, I was at a meeting to talk about an upcoming event, and in the midst of the conversation, we got off-topic, as all good conversations do, and started to talk about infertility. Turns out one of the women works for another woman who runs an infertility support group! Wow! Through that connection, I met Katie O'Conner, the founder of this fantastic group, Shine.
Like a Long-Lost Friend
Of course I had to meet this woman who had the guts to start her own non-for-profit! And I'm so glad I did. Meeting her felt like meeting a long, lost friend. And besides being inspirational, she's REAL. So refreshing! We chatted for awhile and I'm super excited to announce that I'll be sharing "space" with her on the Shine Blog and Shine's Facebook Support Page. Yay! I love Katie's spirit and her goal to support anyone struggling with infertility. Together, I hope we can make a difference. Join the Shine community now!!!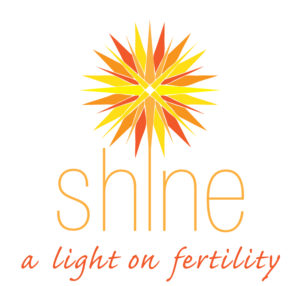 Meet Katie O'Conner, Founder of Shine!
Can you share a little bit about your infertility journey?
My journey in a nutshell:
My story started way back in late 2008…My road to PG (short for pregnant) was a bumpy one…I went through high points and low points…
It started with my husband (Bill) and I deciding we wanted to start our family, getting off the pill, and ringing in 2009 with a normal annual exam at my OBGYN, learning I have a non-existent period, going through preliminary testing, trying several rounds of hormonal meds to help "jump start" my period, nothing working…, getting referred to an infertility specialist, going through WAY more testing, getting diagnosed with PCOS(polycystic ovarian syndrome), to even more rounds of hormonal meds, more than I can count blood works and ultrasounds, and again nothing working…, finally getting my period started, turning the corner to 2010, to several failed IUI (the glamorous acronym for Intrauterine Insemination, previously known as Artificial Insemination) attempts, to our first IVF (In-Vitro Fertilization) attempt, including more meds (you name it I was probably on it), shots (in my stomach and my behind), tons of monitoring appointments (blood work and ultrasound), periods of stress, sadness, pain, and general "why me", to finally in June 2010 the feeling of overwhelming joy, hearing the words "you are pregnant". And our happy ending was welcoming our baby girl into the world February 5th, 2011. The journey will forever be with me and has made me a stronger woman.
What inspired you to start Shine?
My own journey, after experiencing such a trying time, I didn't want ANYONE to ever have to go through that alone again!!
Can you tell me a little bit more about what Shine is?
Shine is a nonprofit organization that supports women through their fertility journey by providing free mentorship, support and education to empower and promote a proactive approach to fertility and women's health.
Shine is a unique community where members come together to support one another while celebrating the successes and battling the challenges of fertility. Its three core programs take a holistic approach to fertility by offering social, emotional and educational support to individuals and couples during their fertility journey.
-Shine's mentorship program, Fertility Friends, pairs a new member with someone who has successfully completed their fertility journey. Mentors provide one-on-one support to individuals or couples, helping to alleviate the emotional, mental and physical stresses associated with infertility, and through compassion and education, empower new members to confront the journey that lies ahead.
-Shine's monthly open forums, Shine Together, provides a safe, comfortable space for participants to share thoughts, ask questions, and learn about the experiences of other members during their journey to fertility.
-Shine's professional seminars and recreational events, Shine Well, educates participants about women's health and wellness, and empowers them to become self-advocates during their journey.
How can people join Shine or get more involved?
Anyone struggling with their fertility journey should feel like they have a safe, comfortable space at Shine! Between our mentoring program, our in-person sessions, and our Facebook group, we have something for everyone!
And if someone has been touched by fertility challenges, we welcome volunteers, mentors, and active committee members as well! Feel free to reach out directly to me – Katie@shinefertility.org
What's one tip you have for people going through infertility?
Don't be afraid to ask…to ask for help, to ask questions to your doctor, to question your protocol, etc! Be empowered by knowledge!
Any books you'd recommend to this community?
The Happiness Project: by Gretchen Rubin
I know I struggled with staying positive during my infertility journey, did you? If so, any tips on that?
I celebrated any positive news I would get. Good blood work results, I celebrated. Any minor follicle growth, I celebrated. I had a lucky shirt I wore to EVERY monitoring appointment. I'm a long distance runner, and thought of it like a marathon. When you step to the starting line, you don't think about EVERY mile of the 26.2, you pick them off one by one! I tried to take my journey in steps vs thinking about all I had to go through.
Anything else you'd like to share???
Don't give up but know your limits. Be honest with yourself and your partner with how much you can take mentally, physically, and emotionally! But also know that it may not be plan A that works, it maybe plan G but it's the end goal that you have to look toward, not how you get there!