Simple Salmon Patties with Cabbage Slaw
Raise your hand if you've had salmon patties. Now raise your hand if you have had them and didn't like them. Just what I thought. You've had a pretty bad salmon patty experience. Well, it's not your fault, they can be incredibly gross. But I think it's time you gave them a second chance. Let me explain…
I Used To Dislike Salmon Patties
I did. Sorry mom, but it's true. I just did not LOVE them. But was it my mom's fault? No, I won't put the blame on her. Instead, I'd like to blame the canned salmon. Back when I was a kid, canned salmon was, well, canned salmon. Flavorless, but still somehow really smelly. How was that possible? So, I mean, when you're working with that, you'd have to be a magician to turn it into something a kid would like.
Salmon Patties Re-invented
Even though I didn't like them as a kid, I still somehow have good memories of them. I know, it's so confusing. Maybe it's just the general memory of the fun family chaos at the dinner table. My dad sipping his gin on the rocks and my brother complaining that my mom didn't make his favorite, spaghetti for dinner all while my dog, Max, was gnawing on the floorboards…he was a weird dog. So you see, the patties evoke this image and I love it. That's why I decided to re-invent them!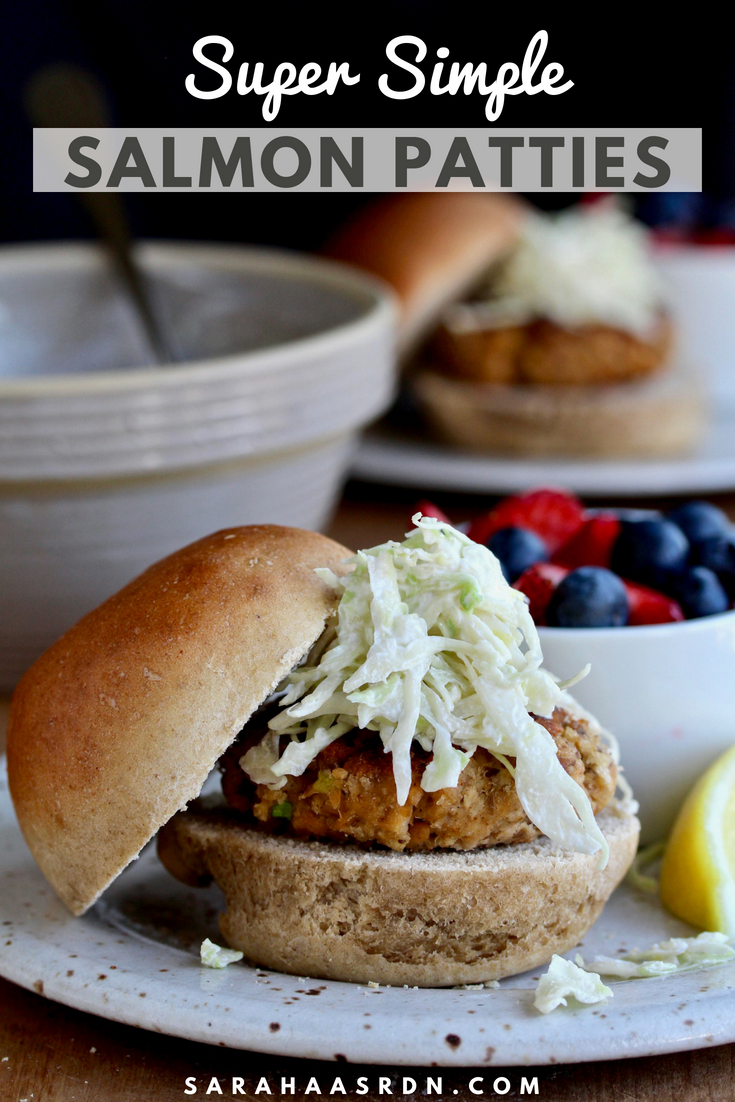 Updated Classic
There's a line in a Disney Cars book that my little sous chef has. It's about Flo and her beau Ramone. Flo is a "Motorama Girl" and Ramone is a really amazing car painter (not sure if he would approve of that description). In the book, Flo gets a scratch and she goes to see Ramone to get it fixed. But when she gets to his shop he tells her, "Sorry, I can't touch a classic." I love that line. And Ramone is right when it comes to a lot of things, but not salmon patties. So yeah, this beauty got an update. Check out the recipe below and let m know what you think!!!
Print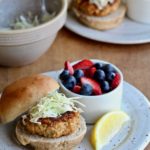 Simple Salmon Patties with Cabbage Slaw
---
Description
Yes, it's time to give salmon patties another try. My version is super simple to make and packed with flavor. Plus it comes with a perfect cabbage slaw topping! @cookinRD | sarahaasrdn.com
---
For the Salmon Patties:
2 tablespoons

whole wheat bread crumbs

1

green onion, white and light green parts only, sliced and finely chopped

1/4 teaspoon

Old Bay seasoning

1/8 teaspoon

kosher salt

1 tablespoon

olive oil mayonnaise

1/4 teaspoon

lemon zest

1

large egg

2

(6 ounce) cans salmon (I prefer sockeye)

2 teaspoons

extra virgin olive oil

6

small, whole wheat buns, toasted
For the Cabbage Slaw:
1/2 cup

plain Greek yogurt

1 tablespoon

+

1 teaspoon

fresh lemon juice

1/4 teaspoon

lemon zest

1/4 teaspoon

salt

1

clove garlic, finely minced

4 cups

shredded cabbage (green or purple)
---
Instructions
To make the salmon patties:
In a large bowl, combine the bread crumbs, green onion, Old Bay, salt, mayonnaise and lemon zest. Stir in the egg. Add the salmon and gently toss to combine. Shape into 6 patties.
Heat the oil a large non-stick skillet over medium heat. Once hot, add the patties and cook for 6 minutes. Flip over and cook an additional 6 minutes.
To make the cabbage slaw:
To a medium bowl, add the yogurt, lemon juice, lemon zest, salt and garlic. Stir to combine. Add the cabbage and toss until coated.
To make the sandwiches:
Place the cooked patties on buns and top with cabbage slaw.