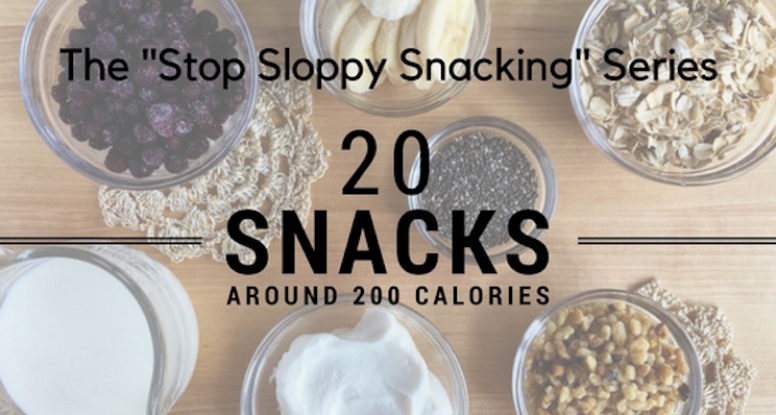 Stop Sloppy Snacking!
January 2017 – Week 2. Where does your snacking stand? Were you able to enjoy 1 or 2 new, nourishing snacks last week? No? It's ok, I'm not judging, I know you're trying your best. Maybe it's because you weren't impressed with last week's snack list? Well, then, have no fear because I've got FIVE NEW snack ideas for you! That means five more reasons to stop that sloppy snacking!
The Power Of A Good Snack
When it comes to snacks, I'm a believer! How in the world could I possibly make it from breakfast to lunch to dinner without 1 or 2? Unless you want to deal with one hangry lady, do NOT take my snacks away from me! But not everything makes a good snack, right? Chips, for example, are not a good snack. Loaded with empty calories and salt, nothing good can come from them. Nuts, though, YES, those make a great snack! Lots of nourishing calories there – just what I need to cure that hanger! Need some snack advice? I've got it for you!
Question Your Snack
Here are the questions you should ask of your snack before you start munching:
Are you super salty? If yes, then, skip it. We all consume far more salt than we need to, so don't mess with it in your snack.
Are you cloyingly sweet? If yes, then perhaps, you've got too much added sugar. Skip this one too! Sugar is ok in moderation, but doesn't make for a great snack.
Are you a fruit, vegetable, bean or whole grain? If yes, eat it! These foods are loaded with nutrients that will power you through that afternoon slump.
Are you yogurt or kefir? Without a bunch of added sugar? If yes, eat it! But definitely be a label reader as all yogurts and kefir are not created equal. Go for plain versions and add your own fruit for sweetness.
Are you made with nuts or seeds? Oh great, eat it! These foods have protein and healthy fat which help fill you up, but watch out for potion size as these can be pretty heavy on the calories.
More Snacks Under 200 Calories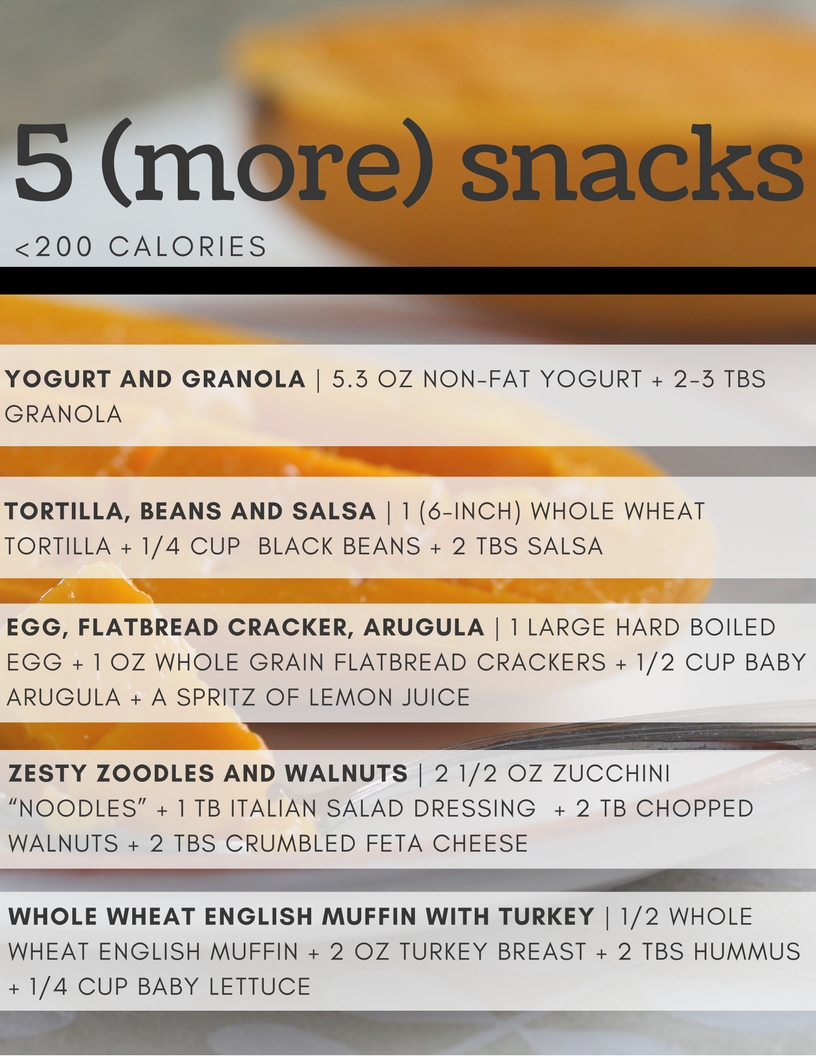 Hacks For These Snacks
Snack 1 | YOGURT AND GRANOLA | I like using plain yogurt for this or yogurts that don't have much added sugar. Same with the granola – go with one that has the lowest amount of added sugar.
Snack 2 | TORTILLA, BEANS AND SALSA | Don't like black beans? No problem! Any bean will do fine here! And personally, I love the sprouted whole grain tortillas that are available now! They offer unique flavor and texture!
Snack 3 | EGG, FLATBREAD CRACKER, ARUGULA | How do you make this one work? Simply slice up the egg and stack it on top of the crackers then top with arugula. Finish with a splash of lemon and you'll be the envy of your co-workers!
Snack 4 | ZESTY ZOODLES AND WALNUTS | Fancy snack! This one sounds fancy, but is so easy. Just toss the zoodles with the dressing, walnuts and feta cheese. You can use any nut here in place of walnuts! And any salad dressing would be good, just keep to a 1 tablespoon serving.
Snack 5 | WHOLE WHEAT ENGLISH MUFFIN WITH TURKEY | I like to toast the muffin first and then top with the hummus and turkey, then garnish with the lettuce. It's a little snack sandwich that's oh so satisfying!
Stay Tuned – The Snacking Continues
We're not done yet! The Stop Sloppy Snacking Series continues for TWO MORE WEEKS! Woo hoo! More delicious snacks are coming your way for the entire month of January!