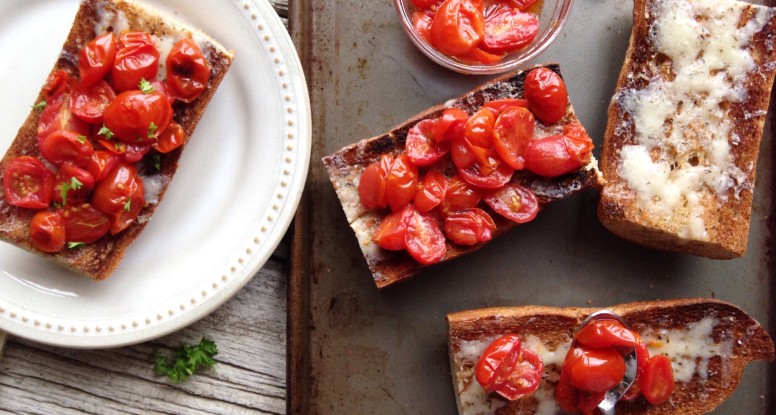 Love cheese? Sure you do! How about grilled cheese? Oh yes, of course you do!
Did you know that this delicious comfort food can actually be a nutritious choice, even when it comes to fertility? It's true!
And here's some amazing news, not only is it National Grilled Cheese Month, but it's also Fertility Friday and that means it's time to get started on this series of posts dedicated to nutrition and fertility. In last week's post, I introduced you to this series and today, I present you with the goods I promised – delicious, nutritious insight on food and fertility. Once you're done here, don't forget to check out Liz's post over at Shaw Simple Swaps for her amazing post and recipe. You don't want to miss it!
Ok, back to that grilled cheese. First, let me say that I love that these two days are intertwining, because grilled cheese can be a nutritious, fertility food. Who knew, right? Well, I did, but let me explain. It's all about variety and moderation and fertility friendly foods.
Let's take my recipe for Sharp Cheddar Grilled Cheese with Broiled Tomatoes as an example:
Whole Grains: This recipe starts with a whole grain baguette base. Why whole grain bread? Well, because it is more nutritious than it's refined, white bread counterpart. Whole grains have more vitamins and nutrients and even more fiber. See, I told you, more nutrition!
Fertility Focus – Whole grains help regulate blood sugar. Who cares about blood sugar? You should. You see, refined white breads, sugary cereals and candies can cause your blood sugar to spike quickly. Your pancreas has to work over-time to drive that blood sugar down. To do this, it sends out a handy hormone known as insulin to do to battle all of that sugar. This results in a high level of insulin in your bloodstream which have been indicated by research, to inhibit ovulation. So, no thank you white bread, white rice, chips and the like. I'll stick with my whole grains!
Tomatoes: Who doesn't love a sweet, juicy tomato? Ok, well, I didn't until my early 20's, but I've learned my lesson. These little red dynamos pack a serious nutritional (we're talking Vitamin C and Vitamin A) punch. So eating them is a real win-win in my book! Tomatoes are also a great source of lycopene, a compound responsible giving tomatoes their vibrant red color. Lycopene just happens to also be a powerful antioxidant. Antioxidants keep us healthy by preventing damage from free radicals. This is great health insurance, considering if free radicals are left to their own devices, they can do serious harm to our healthy cells and DNA.
Fertility Focus – Men, take note. Lycopene may offer some benefits in terms of fertility. More research is needed, but there is evidence that lycopene could help with not only sperm count, but also sperm viability. Seems like a good reason to eat more tomatoes to me.
Whole Milk Cheese: This recipe uses sharp, whole milk cheddar cheese because of it's great flavor. Sharp cheddar is so brilliantly savory and rich, that you don't need a lot of it. And here's the good news, cheese might be a great fertility food (see below) plus it's also a fabulous source of bone-building calcium.
Fertility Focus – The Nurses Health study revealed that women who ate ate least one serving of whole milk or dairy foods a day were less likely to experience infertility caused by an inability to ovulate. What does this mean for you? It means you can try swaping one serving of your typical low-fat or fat-free dairy foods with their whole milk counterparts. But tread lightly here, as those foods will still be high in calories. Bottom line, make this temporary adjustment but modify other foods in your diet to allow for the extra calories.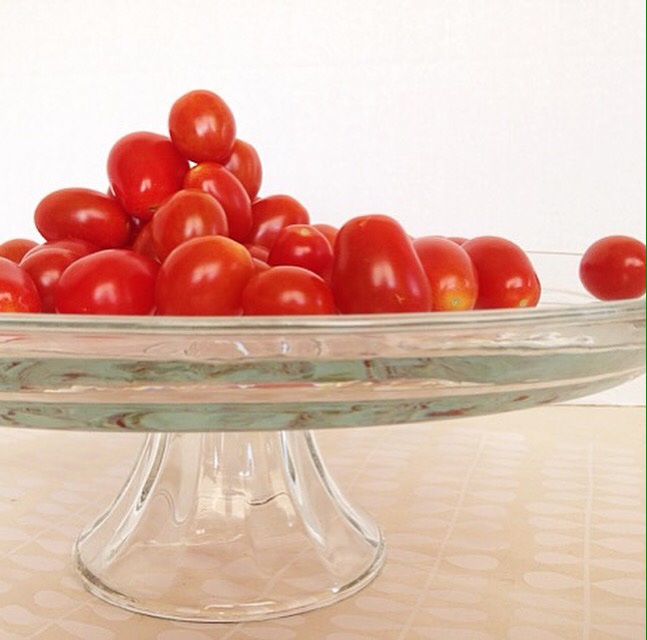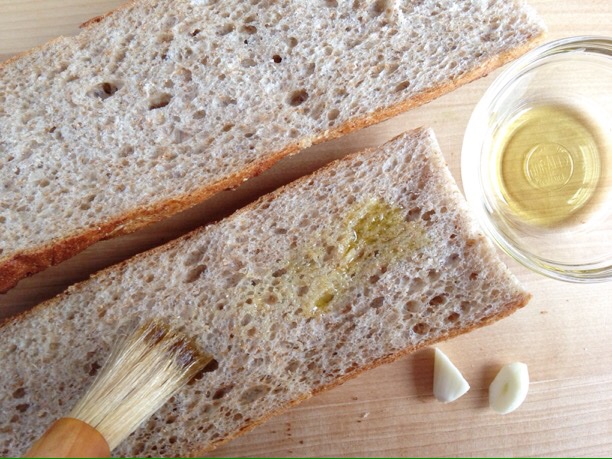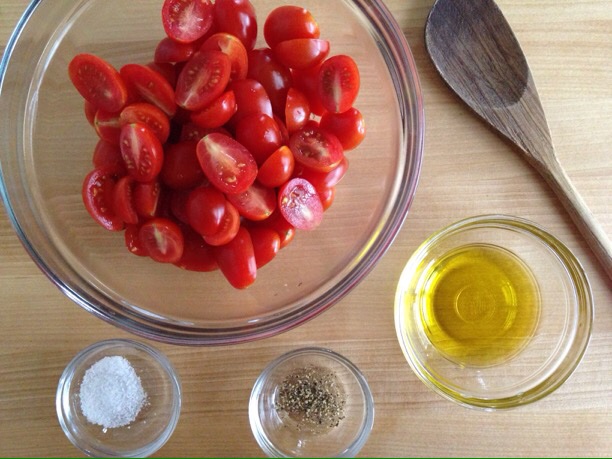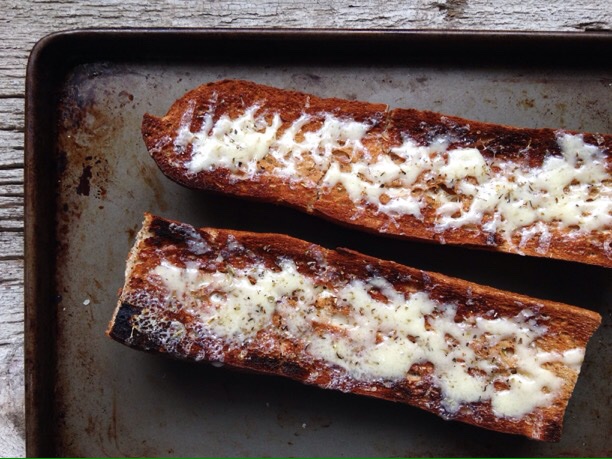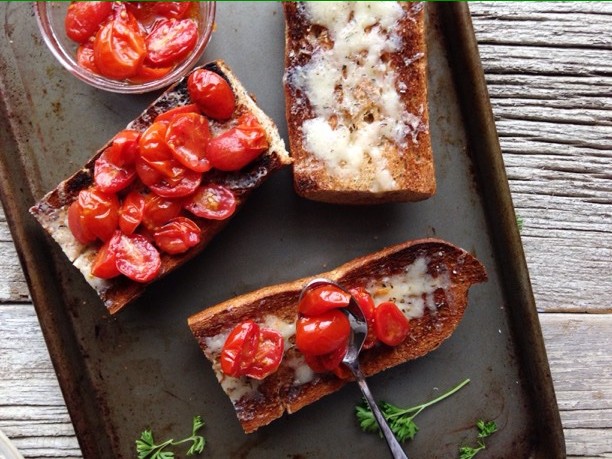 Print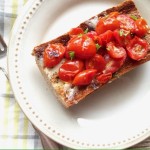 Sharp Cheddar Grilled Cheese with Broiled Tomatoes
---
Author:

Yield:

4

servings

1

x
Description
Amp up the nutritional value of your grilled cheese by adding delightfully delicious broiled tomatoes.
---
1/2

(15-ounce) whole-grain baguette, sliced in half horizontally

1 teaspoon

+

1 tablespoon

olive oil

1

garlic clove

1 1/2 cup

cherry tomatoes, halved

1/4 teaspoon

Kosher salt
freshly ground black pepper, to taste

1 cup

shredded sharp cheddar cheese
dash Italian seasoning
---
Instructions
Preheat the broiler.
Place the cut baguette on a medium-size sheet pan. Brush the cut sides of the bread with 1 teaspoon olive oil. Slice garlic clove in half and rub over cut sides of the baguette. Place in the oven and toast 1-2 minutes or until lightly browned.
To a mixing bowl, add the tomatoes, 1 tablespoon of olive oil, salt and black pepper. Spread out onto a small sheet pan lined with foil. Broil for 5 minutes, stirring halfway through cooking time. Remove and reserve.
Sprinkle cheese evenly over bread slices, then dust with Italian seasoning. Place in the oven and broil 3-4 minutes.
To serve: Distribute the broiled tomatoes on top of toasted bread halves, cut as desired. Serve immediately.
Notes
For more fun and flavor, consider topping with fresh herbs before serving. Fresh, thinly sliced basil or freshly chopped parsley would be a fabulous addition!