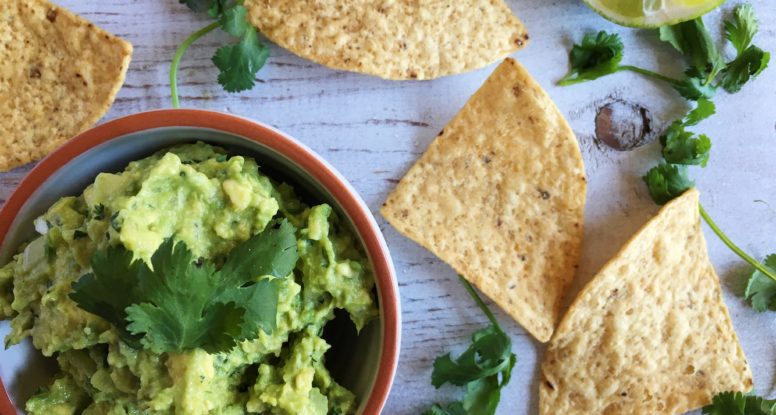 Award* Winning Guacamole Recipe
*Disclaimer – this recipe hasn't actually won any official awards or titles. And it hasn't been entered in any recipe contests or been featured on the Food Network. So my guacamole is technically "award-less," however it's unofficially a "winner" (hence, Winning Guacamole) in my small circle of nearest and dearest. And I'm about to let you in on my not-so-secret recipe! But first, there are some things you should know.
Guacamole 101: What You Need to Know
Pick the Avocado – This is a big deal, so it's imperative you get it right. How do you choose the right avocado? Depends on when you want to make your guacamole. If you don't need it until a couple of days from now, it's ok to buy the rock-solid avocado because it will continue to ripen. If you want it tonight, buy the one that gives just a little when you apply a light pressure to it. Skip the super soft ones and the ones with dents and dings.
Don't Skip the Onion – So many people tell me they want to leave out the onion, but I encourage you not to do that. Instead, if onion causes you trouble, consider this little trick – chop it and then add it to a bowl of water. Let it sit there while you're making the guacamole and then drain it and add it. Soaking the onion will help remove some of the bitter compounds, so you won't have that pungent onion taste in your mouth.
Add salt – Every time I make this guacamole someone always asks, "why does this taste so good?" It's not that I am an awesome guacamole maker or that I have a special guacamole secret, it's just salt. Yes, you heard me, salt. If you don't add the right amount, it'll just taste like mashed avocados and onion. Add the salt, and you've become a culinary genius! Afraid of salt, it's ok, I understand, but in this recipe I'm only using 1/4 teaspoon of salt and that equals to about 145 milligrams of sodium per serving. That's a relatively small amount considering 2300 milligrams per day is your cutoff.
There, now you're armed and dangerous. Time to get to the store and stock up on avocados so you can make a big batch of my No Fail Winning Guacamole!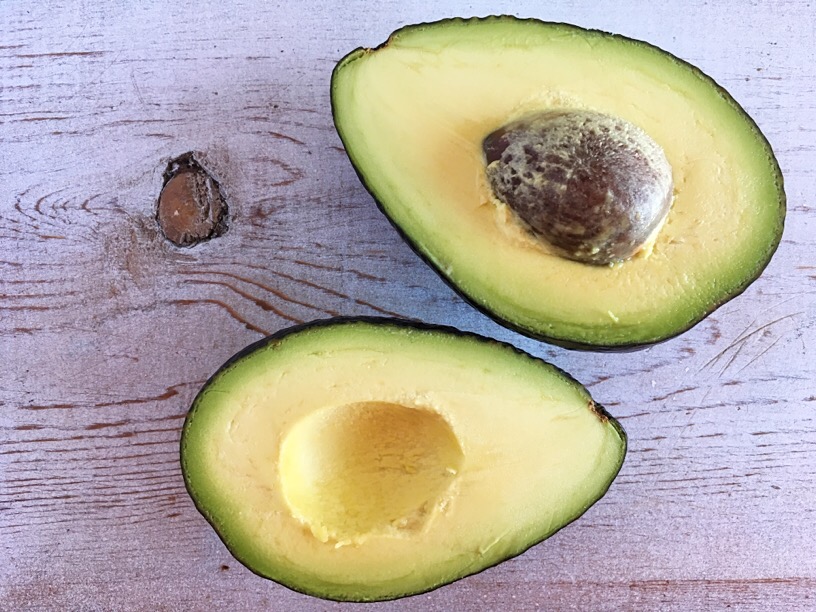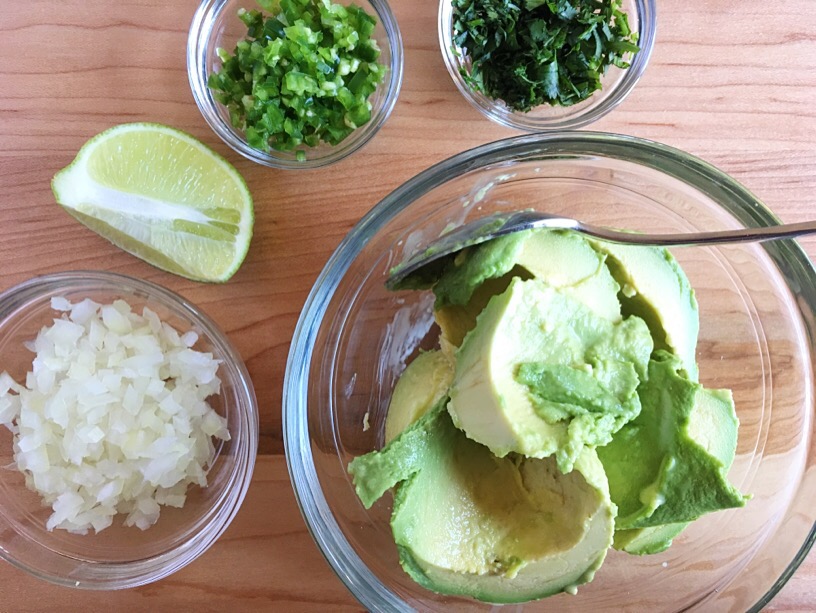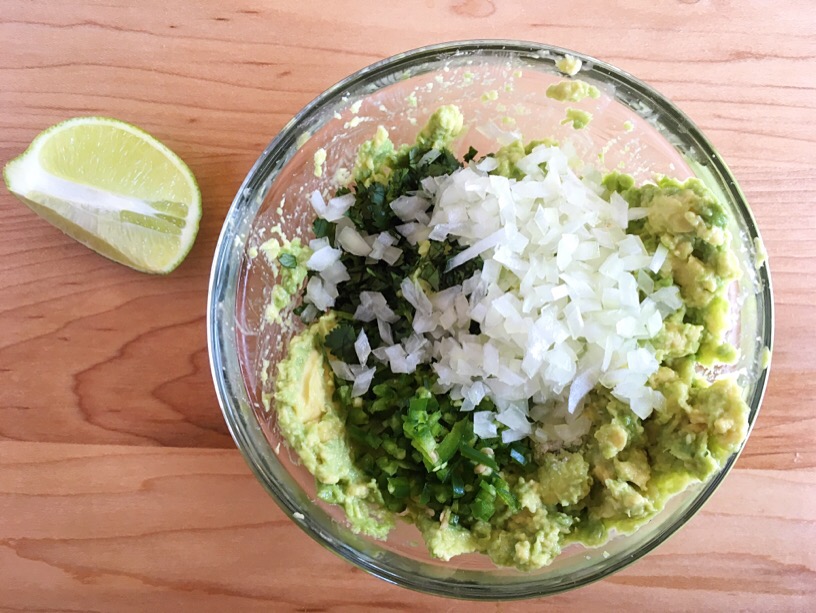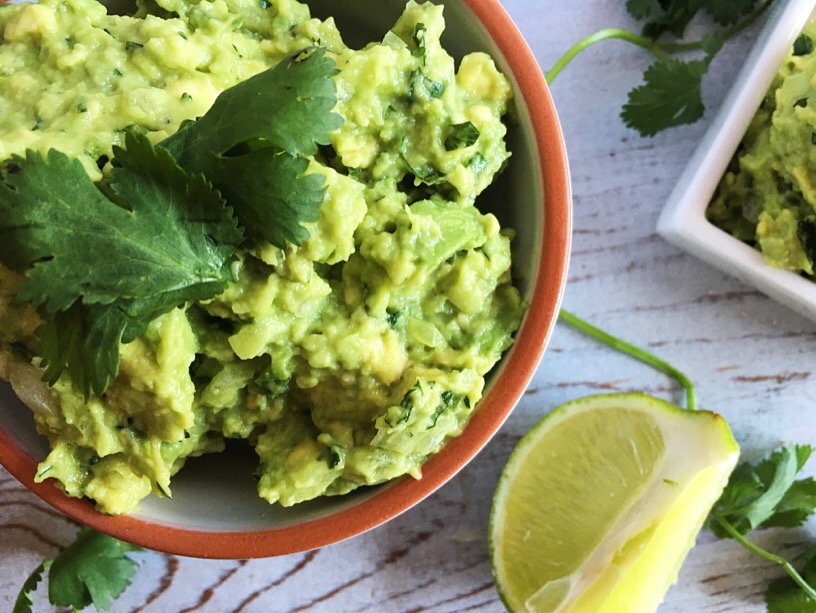 Print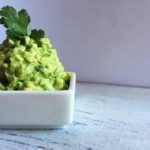 No Fail, Winning Guacamole
---
Description
A recipe for delicious guacamole that works every time!
---
1

ripe avocado, sliced in half and seeded

2 teaspoons

-1 tablespoon fresh lime juice

1/4 teaspoon

Kosher salt

1/4 cup

fresh cilantro, chopped

1/2

jalapeño, finely chopped*

3 tablespoons

finely chopped white or yellow onion**
---
Instructions
Scoop out the avocado flesh into a bowl and gently mash. Stir in the lime juice and salt. Mix in the cilantro, onion and jalapeño.
Serve and enjoy!
Notes
*If you prefer your guacamole less spicy, remove and discard the seeds and membrane from the jalapeño before chopping. Careful, those seeds are hot, so best to remove them with a spoon or knife.
**Do raw onions bother you? Try soaking them in water first before adding them to your guacamole.
Makes about 1 cup guacamole.
Nutrition
Calories:

339

Sugar:

3

Sodium:

608

Fat:

30

Saturated Fat:

4

Unsaturated Fat:

23

Trans Fat:

0

Carbohydrates:

21

Protein:

5

Cholesterol:

0