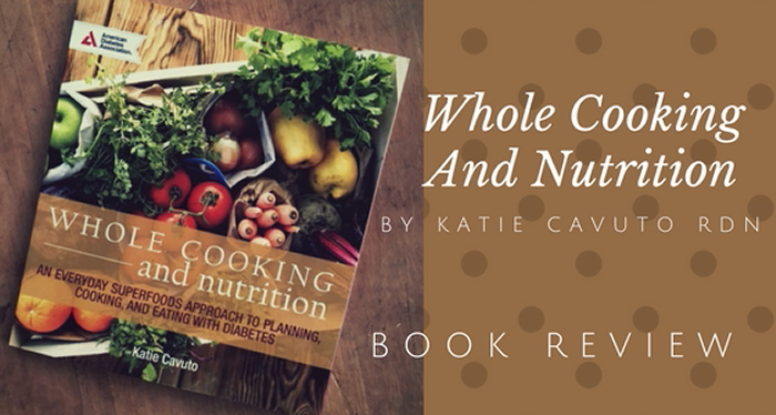 Whole Cooking and Nutrition Cookbook Review
I really love cookbooks, don't you? And I especially love cookbooks that are written well and full of amazing recipes. Those can sometimes be hard to find. That's why, when I stumble across them, I have to tell YOU about them. My current love is the book Whole Cooking and Nutrition written by Katie Cavuto, MS, RD. I've got the details all about it my my cookbook review!
Cookbook Reviews!
Wait, did I just put an "s" at the end of that word "review?" I sure did! Because for the month of November, I plan on reviewing more than 1 cookbook. That way you know which ones to buy for all of the people on your holiday gift list. You're welcome. I love making your life easier! I'm starting with Katie Cavuto's newly released Whole Cooking and Nutrition Cookbook!
Whole Cooking and Nutrition Cookbook
Here's the deal, this book is written for individuals with diabetes, but you wouldn't know it! Sure, it addresses some of the health principles surrounding diabetes, but the information is practical for EVERYONE! How awesome is that? And get this, the recipes are loaded with whole grains, vegetables, fruits, plant-based proteins and plenty of flavor and creativity! Recipes that ANYONE will love and enjoy. Kudos to Katie for that!
Mind-Body Connection
Besides the fabulous recipes, which I'll touch on more in a little bit, I love that Katie has taken the time to put some focus on mindful eating! Not too many cookbooks do that, do they? But they should! Here's what I know – I started reading the mindful eating section out loud to my toddler, totally thinking she wouldn't be interested. But about a minute into it, she was curled up next to me, totally enthralled with hearing how she should close her eyes and settle herself and create a "grateful" space before eating. Amazing, right? Katie provides really helpful tools to help you put mindful eating into practice. That alone is worth the cost of the book!
Those Recipes! Oh My!
Think you're getting some ho-hum recipes with this book? Nope, not at all! Katie (with the help of her culinary background) whips up some amazing dishes for this book. I personally love that she's creatively incorporated whole grains, vegetables, herbs and spices into her recipes. Proving that whole foods are amazingly delicious and nutritious! Need further proof that these recipes are top notch? Check out photos from her Whole Cooking and Nutrition Cookbook below!
Get the Book
Here's the deal, while Katie did give me this awesome copy of her book for free, I would gladly buy this cookbook for full price!!! No joke! I have a lot of respect for what she's put together here and plan on picking up a few copies as Christmas gifts for friends and family. I suggest you do the same! Check out more here!