Whole-Grain Power Muffins – New on The Cutting Board Blog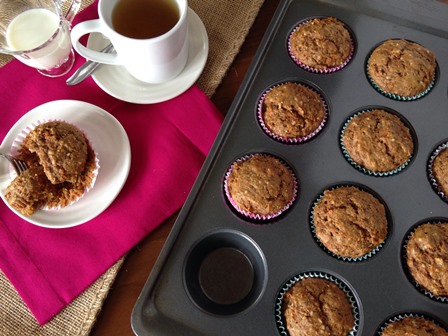 I need a healthy snack that tastes good," said no toddler ever. If toddlers had their way, I'm sure they would eat only noodles and cookies. Because I am in charge, I am faced with the challenge of trying to find just that: a healthy snack that tastes good.
A few months ago, a trip to the grocery store left me feeling pretty discouraged. Of course, there were plenty of toddler "snack" foods, but either they had zero nutritional value or were astronomically priced. "Fine, I thought, I will just make my own." From that point on, I've literally made dozens of different snacks for my little one. Some are well-received and some are spit out immediately. One winner is this muffin. It's got a touch of sweetness, but has plenty of nutrition in the way of whole grains, seeds and even carrots. It's a satisfying snack and it's simple to make.
Follow this link to the Cutting Board Blog to get the recipe!