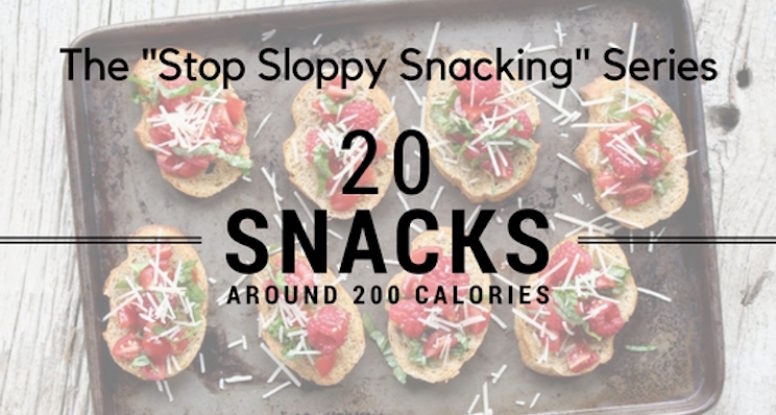 20 Snacks Around 200 Calories
Woo hoo! You made it to 2017! How does it feel? It should feel great because you've got a clean slate, with a fresh new year ahead of you! How inspiring! If I learned anything last year it's that people like to snack. And sometimes snacking behavior gets a little sloppy. But, luckily for you, I've come up with a January series titled "20 Snacks Around 200 Calories" to get your snacking back on track!
The Snacking Details
I love snacks too! And just like you, I get bored with the same ones. No one likes monotony! That's why I've come up with 20 go-to snacks that are all right around 200 calories. Wait, Sara, did you just mention calories!? I know, I NEVER do that, but with snacks, I actually find calories somewhat helpful because it keeps portion size in check. On average, a 200 calorie snack is about right. If 200 calories isn't for you, many of these snacks can be tweaked to give you half or 2/3 of those 200 calories too. Let the sloppy snacking end friends!
First 5 Snacks Around 200 Calories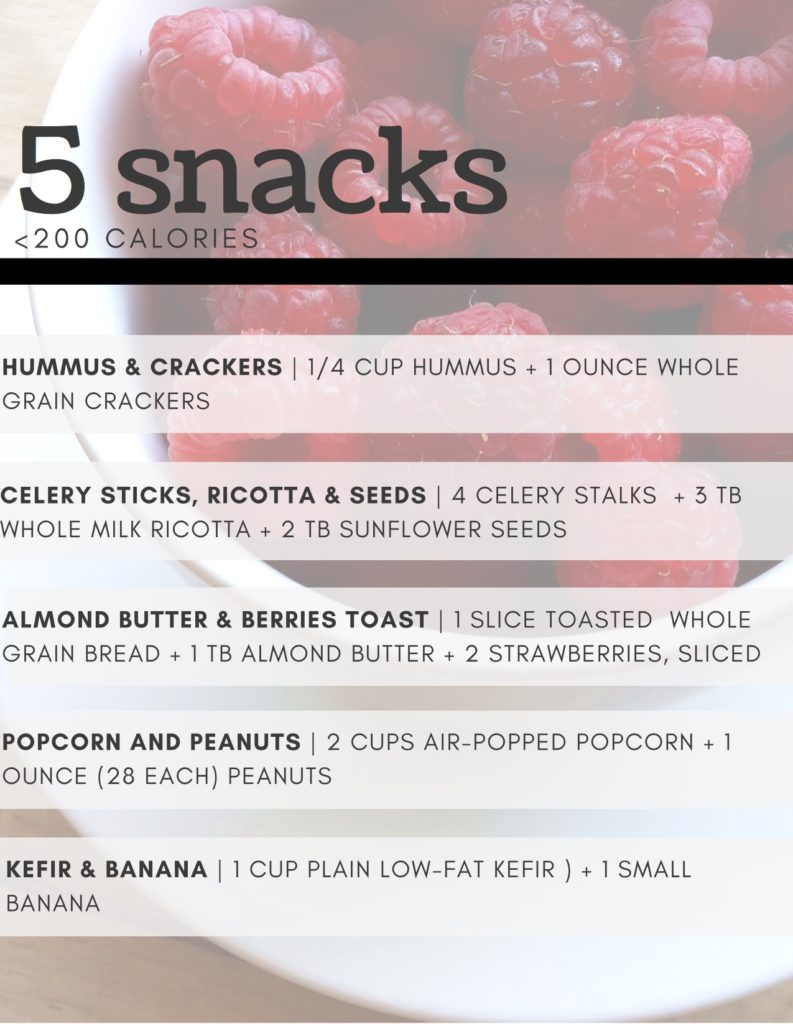 Hacks for Snacks Around 200 Calories
Snack 1 | Hummus and Crackers: Any hummus type works well here, so feel free to choose your favorite flavor. And when you look for crackers, opt for whole grain versions, if you can.
Snack 2 | Celery Sticks, Ricotta and Seeds: Bet you never thought this combination would work, but it does! This snack supplies plenty of crunch, which is awesome for satiety. Spread the ricotta on the cleaned celery stalks and then top with those sunflower seeds.
Snack 3 | Almond Butter and Berries Toast: Nothing makes me happier than toast! And this one is super simple. If you don't like almond butter, feel free to swap it out for another nut or seed butter. No fresh fruit? Top with lightly thawed frozen fruit for a fun alternative.
Snack 4 | Popcorn and Peanuts: Crunch! Crunch! A great post-workout or midday snack! You'll get some good-for-you whole grains in the popcorn and some solid protein in those peanuts!
Snack 5 | Kefir and Banana: Kefir is a cultured yogurt drink and super easy to digest after a hard workout. Go for the plain version and whirl it up in the blender with a banana for some natural sweetness and potassium!
Stay Tuned!
More snacks around 200 calories are coming! Expect to see 5 new ones each week! All geared at helping you clean up your sloppy snacking habits! And hey, if you've got your own favorites, why not share the love and drop yours in the comments section below! Happy snacking!