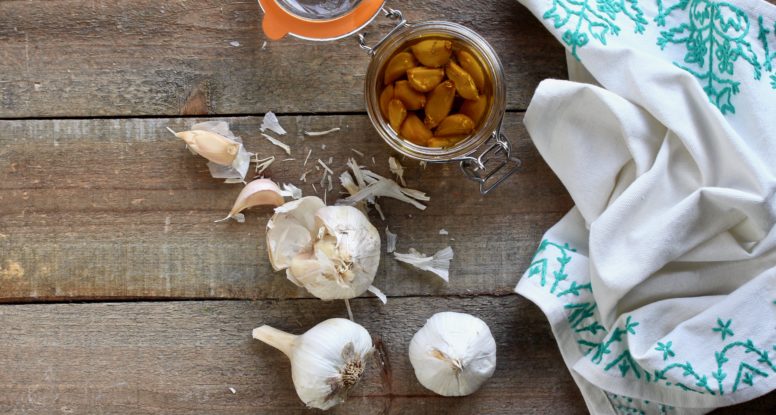 Creamy Dreamy Garlic Confit
For most of us, confit is not a term that's commonly used in our vernacular. It's fancy, it's French, and we're not "confit-ing" much on a daily basis. But, um, while we're on the topic, what the heck is confit? It's okay that you aren't sure, that's why I'm here! And I've got a recipe to make things even better. That's right, Creamy Dreamy Garlic Confit!
What Is Confit?
That's a great question! In French, the word "confit" means "to preserve." You've probably heard the word linked with duck. Am I right? That's because duck confit is delicious and commonly found on the menu at high end (especially French) restaurants. Duck confit is made by salting the duck first, this removes excess moisture. Next, it's all about rendering that duck fat and then cooking the meat in that fat, low and slow. The result – an irresistibly tender and flavorful eating experience! But duck isn't the only think you can "confit." Nope, you can confit vegetables (hello garlic and tomatoes!) and even fruit (a different method, without the fat)! But let's talk about that garlic.
Garlic Confit 101
Yes, garlic confit is AHHHHHH-Mazing! And you have to make it because it's embarrassingly easy. How easy? Well, let me tell you. Start with a few heads of garlic and some olive oil. Peel those cloves of garlic and dump them in a pot with the oil. Set the pot over medium-low heat and once it starts to bubble, reduce the heat to low and cook for about 45 minutes to 1 hour. Transfer the cloves to a clean jar, cover with the oil, and let cool to room temperature. Seal tightly and refrigerate. See? Easy!
What's With This Creamy and Dreamy Stuff?
Well, you may be wondering what the heck you're going to do with all of this garlic confit now that you've made it. And the answer is, you can do ANYTHING! I'm serious. It's literally, soft and luscious like butter, but way better. It's delightful as a spread for sandwiches. You can use it in your next batch of salad dressing. Toss it in with your cooked pasta dish. Spread it on your toast before you top it with a fried egg. Get the picture? ANYTHING! Now go make the recipe!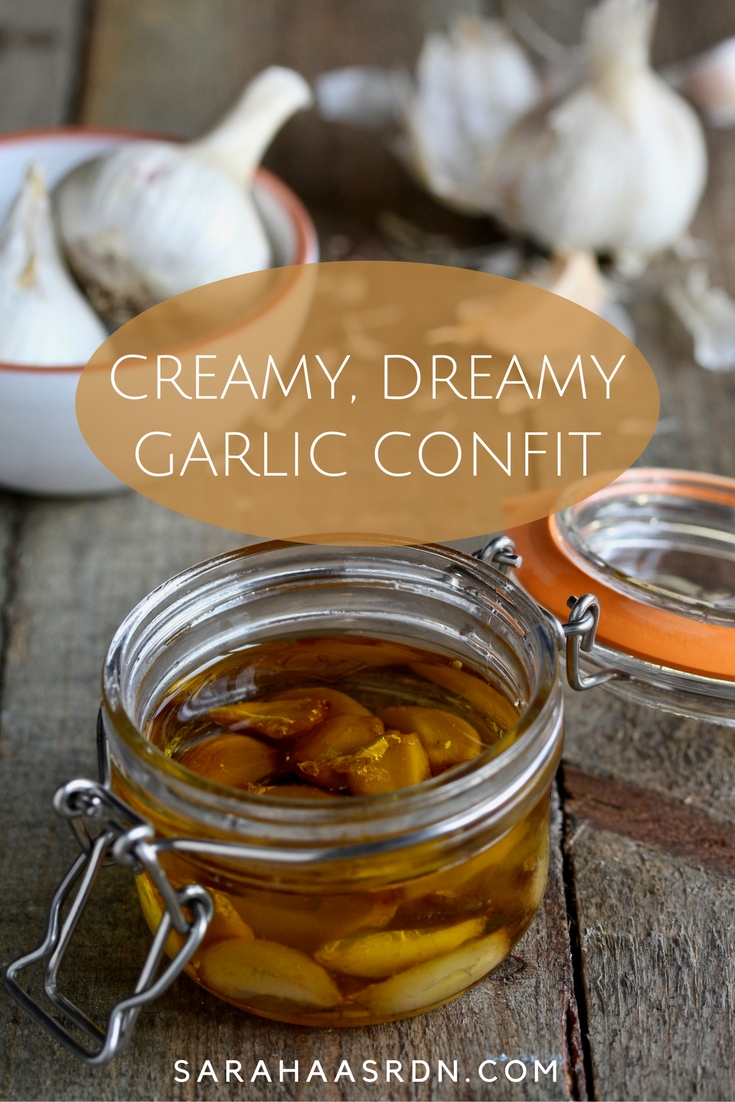 Print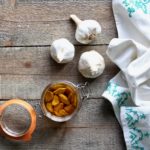 Drool Worthy Garlic Confit
---
Description
Think confit is something you can only get at restaurants? No way! Learn how to make this super easy, addictive Garlic Confit!
---
2

heads of garlic

½

to

2/3

cup extra virgin olive oil
---
Instructions
Pull cloves from the head and peel to remove papery skins.
Place the peeled cloves in the bottom of a small saucepan and add the oil. Set over medium-low heat and bring to a simmer. Once simmering, reduce heat to low and continue to cook for about 45 minutes and up to 1 hour, until softened and golden.
Transfer cloves to a clean container. Cover with the oil and allow to cool to room temperature. Tightly seal and refrigerate.
Notes
Storage Tip: Keep refrigerated in an air tight container, up to 2 weeks.
Cooking Tip: Use enough oil to completely cover the garlic cloves.
Ingredient Tip: Any neutral oil will work here.