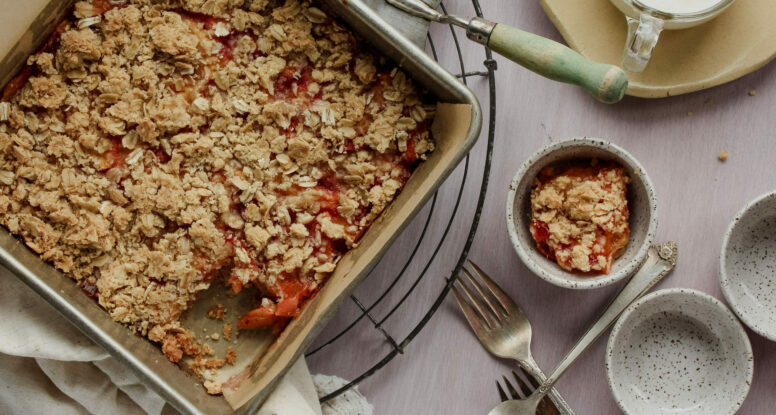 Easy Peach Crumb Bars
Peach pie is classic, but Peach Crumb Bars are the way to everyone's heart! Don't believe me? Then make a batch and see what happens!
Grab A Peck Of Peaches
I could be wrong, but I'm pretty sure when you pick fruit, you can pick a peck, right? Wait, let me Google that. Yep, I'm right – a peck is a thing – apparently a dry measure of 8 quarts. WOW! That's a lot of peaches. Definitely get your hands on a peck if you can, but you won't need them all for this dessert. Unless you're feeding a football team…then you've got a whole other set of problems. Hee hee. Let's get on to the topic though, PEACH CRUMB BARS!
Ingredient Stuff
Peaches We are nearing the end of their fabulous season, so get them while you can. If they're all gone where you are, no worries, substitute with thawed, frozen peaches or canned (packed in their own juices) and either chop or slice to make them a little smaller (if they're huge).
Butter Please just use butter for these. Or at least use a similar substitute if you're leaving the plant-based life. If you skip it or decrease the amount, your bars won't stick together. That's no fun people.
Oats If you don't feel like grinding the oats into flour, no worries! Just keep them whole and roll with it. I like to pulse them up for the crust so that the bars stick together more easily. But that's just me. You do you!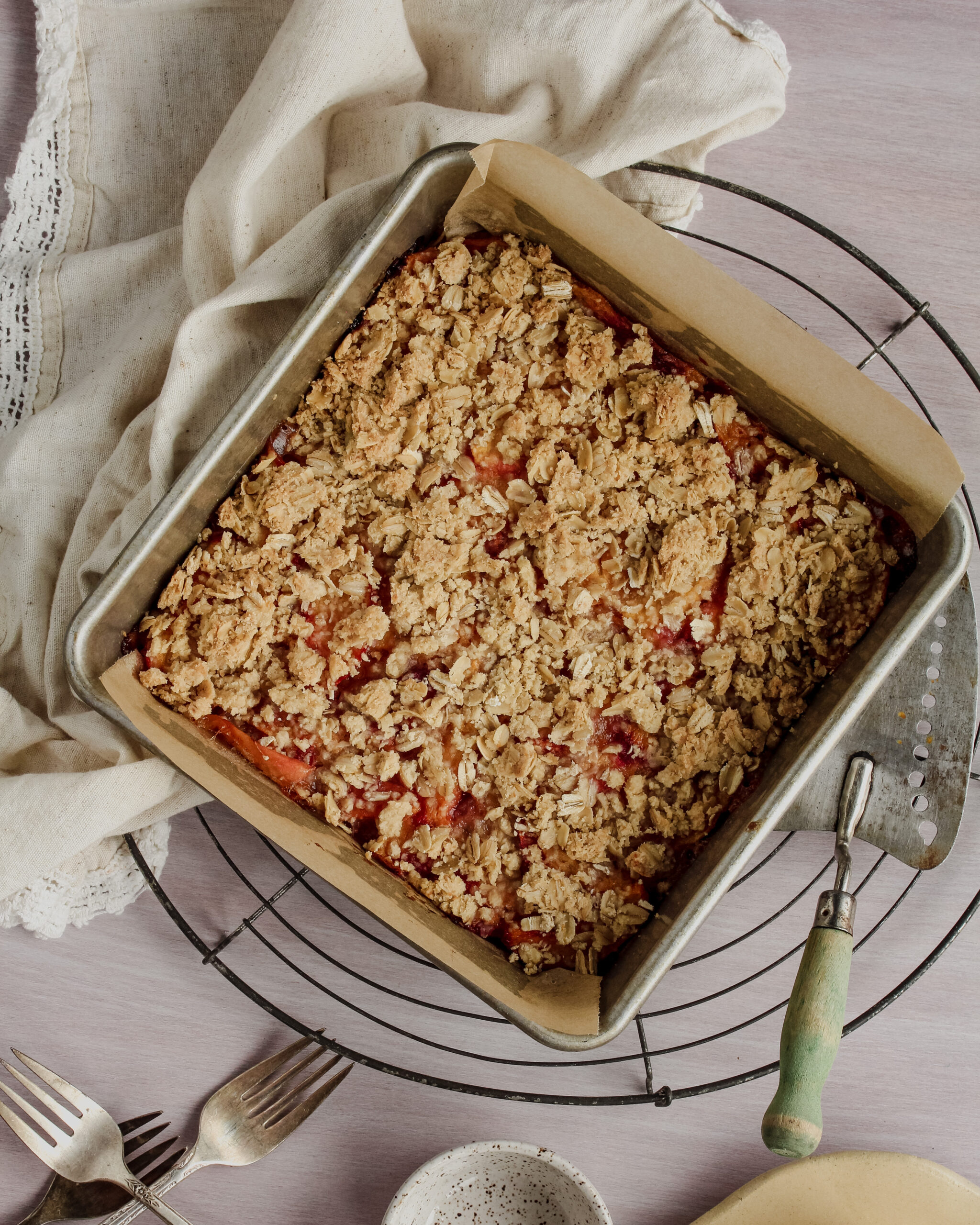 Tips and Other Ideas for my Peach Crumb Bars
Make a big batch! These can serve a crowd! Just double or triple the recipe and use a 9×13-inch pan for baking. Keep an eye on them while they bake – adjusting the time as needed to get that golden crumble!
Experiment! I add just a touch of cinnamon and ground ginger to these bars, but let me tell you, there are so many ways to have fun with these bars. Feel free to add spices, extracts, nuts, whatever! Have fun and LMK what you do!
Service! The ultimate way to enjoy these? I like them warm with a splash or cream. But a scoop of vanilla bean ice cream is also quite delicious. Or just eat them as is – they're good that way too!
Your Turn to Make It!
Okay, now you've got all of the information you need about these Peach Crumb Bars, so it's time for you to make it! Don't forget to share your creations with me on IG! Just tag me, @cookinRD and I'll give you plently of love! Happy eating friends!
Print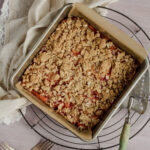 Peach Crumb Bars
---
Description
Extra peaches need a home and these Peach Crumb Bars are it! Easy to make and easier to eat!
---
1/2 cup

+

1/4 cup

rolled oats

3/4 cup

white whole wheat flour

1/4 cup

packed brown sugar

1/4 teaspoon

kosher salt

1/2 teaspoon

baking powder

1/2 teaspoon

ground cinnamon

1/4 teaspoon

gorund ginger

6 tablespoons

cold butter, diced

2

heaping cups sliced, ripe peaches (skin on or off)

¼ cup

granulated sugar or

3 tablespoons

honey

2 teaspoons

cornstarch
---
Instructions
Preheat oven to 350'F and line an 8×8-inch baking pan with foil, extending foil just over the sides of the pan and spray with cooking spray.
Place 1/2 cup oats in the bowl of a food processor and process until it looks like coarse flour, about 10 seconds. Add the flour, brown sugar, salt, baking powder, cinnamon and ginger to the oats in the food processor and pulse to combine. Add the butter and process until mixture resembles wet sand, about 20-25 seconds. Set 3/4 cup of the mixture aside and press the remaining mixture evenly into the bottom of the prepared pan. Bake for 15 minutes.
While crust is baking, prepare the filling. In a mixing bowl, combine the peaches, sugar and cornstarch and toss to combine. Spoon mixture evenly over the baked crust then stir the remaining 1/4 cup oats into the reserved crumble and sprinkle over the top.
Bake in preheated oven until top is goldent, about 35 minutes. Cool completely before slicing.