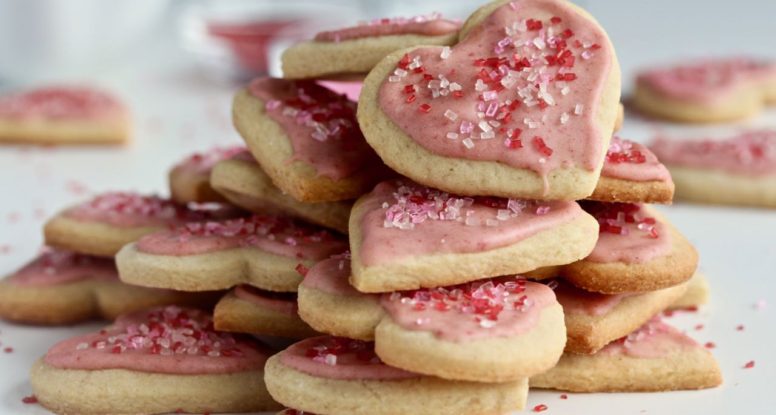 Healthier Sugar Cookie Cutouts
Here's what I know, you either love Valentine's Day or you don't. Here's what else I know, no matter how you feel about Valentine's Day, you'll never turn down a fun little heart-shaped sugar cookie, right? I also know that if you happen to be a 4 year old, there's no question about it, you absolutely love Valentine's Day and you absolutely love cookies, any cookie… "GIVE ME A COOKIE!" is a phrase constantly running in the background in their minds.
Cute Little Sugar Cookie
I had this awesome idea for a post. It was going to be all about Valentine's Day and why I love and don't love it. But then, I thought, who cares? Probably not you, right? Then I thought, "Well, what the heck do you care about?" And then that got me thinking, maybe you care about kids. Well, you kind of have to care about kids, because if you say you don't, then, I mean, shame on you! 😉 Enter my kid and this cute little sugar cookie recipe.
Cookie Monster
You probably all know the cookie monster. He's our favorite little Sesame Street friend who just can't get enough cookies. His favorite thing is to literally stuff his face with cookies. Before I had a kid, this was the only cookie monster I was aware of. And then, you know, I had a kid, and that's when I knew I had met the real cookie monster. My little one never met a cookie she didn't like and if given the opportunity to stuff her face with cookies, she would do it in a heartbeat. She's literally the cookie monster! 😉
Cookie Monster in the Kitchen
But man, she's awesome and I couldn't turn that little cookie monster down when she wanted to make cutout sugar cookies for Valentine's Day. But you know I can't let a good thing be, I have to at least try and make the cookies somewhat better for her! Enter, my "healthier" sugar cookie cutouts. Unbeknownst to my little cookie monster, I chose a less sugary, more whole grain path for these cookies. Did she care? Nope. #success. Did she love rolling the dough and using my heart-shaped cookie cutters. YES!

All Rolled Out
So me and my monster baked the little sugar cookie cutouts and then she of course demanded we ice them. Twist my arm!!! Ok, ok, sure we'll ice them. Ha! Little does she know that I love the icing just as much as she does. So we make an icing with the usual suspects, powdered sugar and milk, but of course, it needs to be pink. Enter dehydrated strawberries! Oh yeah. Have you experienced these yet? They are AMAZING! And you can grind them into a fine powder and color ANYTHING the natural way, with them! So that's what we did and let me say, it's pretty darn tasty!
Decorating With My Monster
So we iced, ok well, I iced, while she squirted mouthfuls of icing directly into her mouth, and then we sprinkled. And you know what, it was awesome. Did I cringe several times during this cookie making process? Yes, of course. I'm not going to lead you to believe this was a moment from a Hallmark movie. It had it's ups and downs, but ultimately, it was awesome and messy and we both had a blast.
Get in the Kitchen with Your Monster
Now don't you want to go and make some cookies? 🙂 Sure you do! Tell me all about your cookie-making with your favorite monster in the comment section below!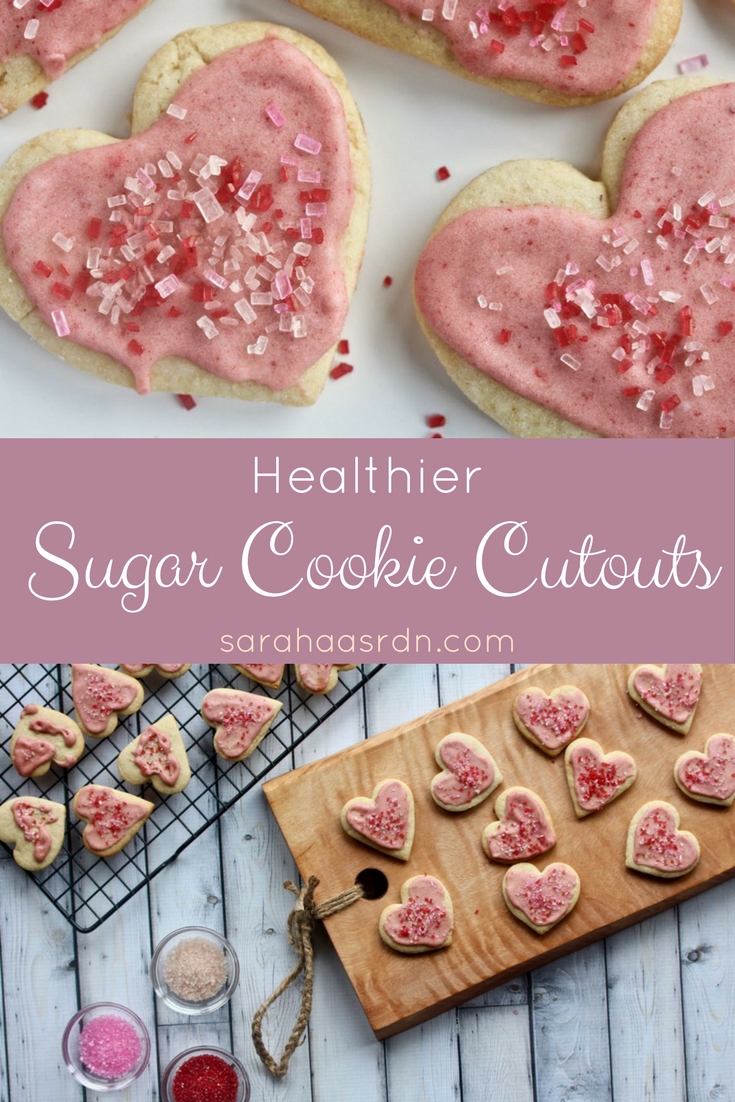 Print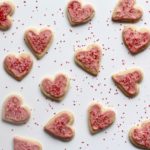 Healthier Sugar Cookie Cutouts
---
Description
Less sugar and whole grain flour helps make these sugar cookies the perfect little treat.
---
For the Sugar Cookies
1 teaspoon

baking powder

1 cup

white whole wheat flour

1 1/2 cups

all purpose flour

1/2 teaspoon

salt

1/2 cup

+

2 tablespoons

butter, softened

3/4 cup

granulated sugar

2

large eggs

1 1/2 teaspoons

pure vanilla extract
For the Strawberry Icing
1 cup

+

2 tablespoons

powdered sugar, sifted

2

–

3

tablespoons milk

2 tablespoons

powdered freeze-dried strawberries*
---
Instructions
In a medium bowl, combine the baking powder, flours and salt. Set aside.
Beat the butter in a large mixing or in the bowl of a stand mixer until fluffy. Add the sugar and beat until sugar is well incorporated, about 2 minutes.
Add the eggs one at a time, beating well between each addition. Add the vanilla extract then gradually add the dry mixture and beat until combined.
Divide dough in half and shape into two discs. Wrap each disc in plastic and refrigerate for at least one hour.
Preheat oven to 375'F and line 2-3 large sheet pans with parchment paper.
Remove dough from the refrigerator, dust a clean counter top with flour and roll out the dough to 1/4-inch thickness. Using your favorite cookie cutters, cut out cookies and place on prepared baking sheets. Bake for about 8 minutes, or until golden. Cool on racks. Repeat the process with remaining dough.
Once completely cooled, ice the cookies.
Strawberry Icing For Cookies
Mix all ingredients together, thinning with extra milk, if needed.
Notes
*You can find freeze-dried strawberries in the dried fruit section of your grocery store. To turn into a powder, either blitz in a coffee or spice grinder or place in a plastic bag and roll over with a rolling pin.
This makes 88 cookies when using a small cookie cutter. Note amount will vary based on the size cutter you use.
Nutrition
Serving Size:

88

Calories:

39

Sugar:

3

Sodium:

16

Fat:

1

Saturated Fat:

1

Unsaturated Fat:

0

Trans Fat:

0

Carbohydrates:

6

Protein:

1

Cholesterol:

8