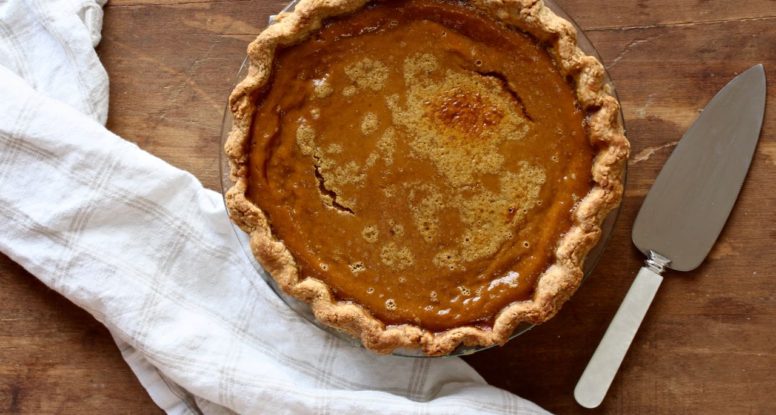 Homemade Pumpkin Pie
Is there a dessert more festive for the holidays than pumpkin pie? Of course not! While you can certainly go out and buy your pumpkin pie, wouldn't it feel great to make your own? I hear some of you groaning, but trust me, EVERYONE appreciates a homemade pumpkin pie. And this recipe is easy, I promise, so this year, I invite you to make this fabulous dessert!
Pumpkin Pie 2015
I am really proud of my homemade desserts. Probably because I take a lot of time perfecting them and making sure they're tasty. And because I love baking and sharing what I've made with friends and family. Flash back to Christmas 2015. I made the decision that I was going to make a pumpkin pie to bring for Christmas. So I rushed around packing (we were heading down state to celebrate with my husband's side of the family) and cleaning and getting everything ready for the trip and amidst that craziness, I made my pumpkin pie – from scratch, mind you.
Pumpkin Pie?
So we hopped in the car and I carefully wrapped my pie in bubble wrap in it's own special cooler (see what I mean? Baking is no joke to me people!). When we got there, I carefully unloaded it and put it in a special place in the fridge. After our Christmas feast had ended, I went to get the pie and then I placed it on the table. I was proud, it looked great. I sliced it up, but then had to excuse myself from the table for a toddler emergency. That's how life goes, right? When I came back I was greeted with sheepish looks from my family. What could those looks mean?
Gimme Some Sugar
Well, it turns out, that in my haste and in the craziness, I omitted one VERY important ingredient from my pie – SUGAR! Ha! Yes, I am a dietitian, but no way would I leave sugar out of my pie. Everyone was a good sport about it and even my brother-in-law deemed it "delicious" especially when topped with whipped cream, but I knew better. It wasn't good.
Pumpkin Pie 2016
Determined to not let that happen again, I decided to perfect my pie crust recipe and my pumpkin pie filling recipe. And thank goodness, I did NOT forget the sugar. So my holiday gift to you is this easy pumpkin pie recipe – a recipe that tastes great (especially when you follow the directions) and really isn't hard to make! Happy Holidays and happy baking!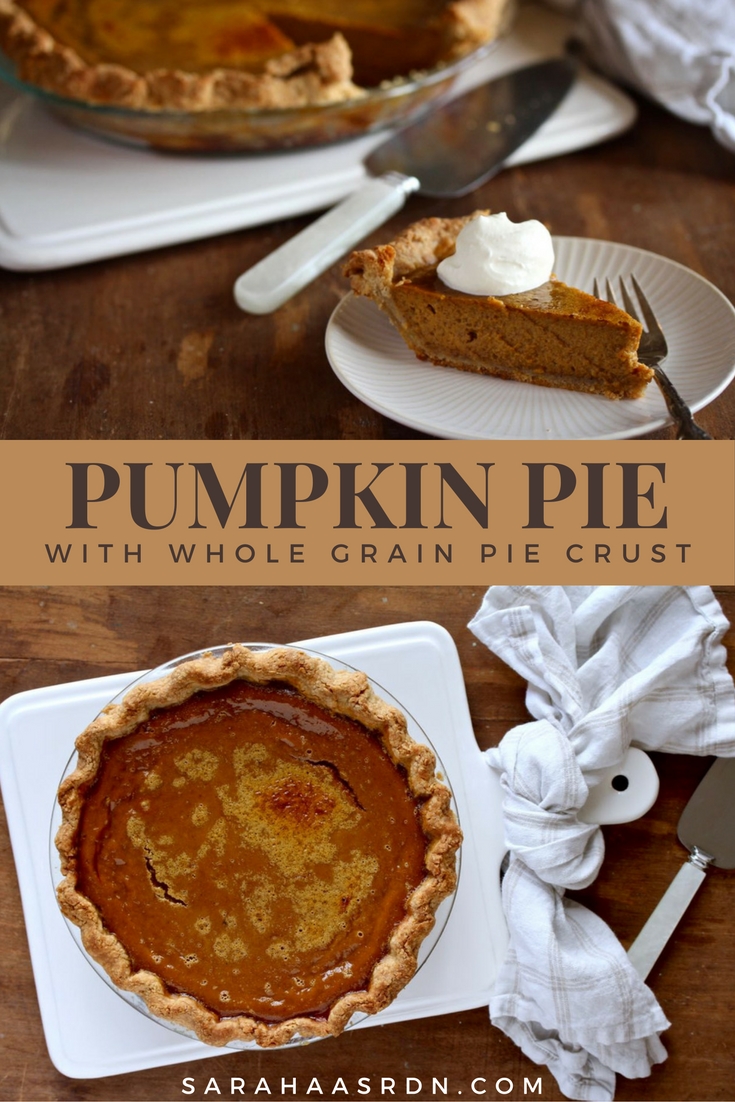 Print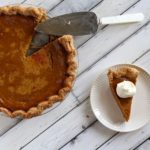 Homemade Pumpkin Pie with Whole Grain Pie Crust
---
Description
Homemade pumpkin pie just tastes better. Make this one from scratch in just a few easy steps using my homemade pie dough recipe.
---
1

recipe Best Whole Grain Pie Crust

1

15 ounce can pumpkin puree (NOT pumpkin pie filling)

1 tablespoon

pumpkin pie spice

1/2 teaspoon

salt

2

large eggs

1

12 fluid ounce can evaporated milk
---
Instructions
Preheat the oven to 425'F.
Roll out the pie dough and place in an 8 or 9-inch pie plate.
In a large bowl, mix together the pumpkin puree, pumpkin pie spice, salt and eggs. Gradually whisk in the evaporated and stir until thoroughly mixed. Pour mixture into empty pie shell and carefully transfer to the oven. Bake for 15 minutes then decrease the temperature to 350'F and cover the crust edges with aluminum foil and bake an additional 40-45 minutes.
Notes
Build pie on a cookie sheet to allow for an easy and clean transfer to the oven.
Heres the link to the Best Whole Grain Pie Crust recipe: https://www.sarahaasrdn.com/best-whole-grain-pie-crust/
Nutrition
Serving Size:

8

Calories:

220

Sugar:

7

Sodium:

340

Fat:

13

Saturated Fat:

5

Unsaturated Fat:

7

Trans Fat:

0

Carbohydrates:

20

Protein:

7

Cholesterol:

60