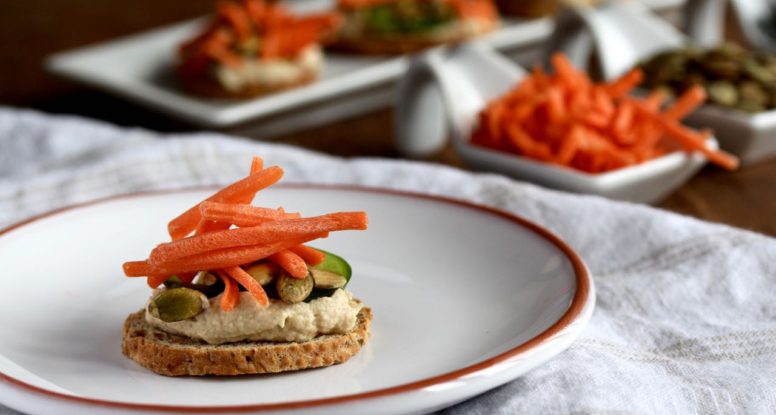 Hummus Jalapeño Toastettes
In case you didn't hear, I'm talking about snacks for the whole month of January! Indeed I am because I've heard there's been some big slacking when it comes to what you're snacking on. No, I'm not your mother, but I do care about you! That's why, to continue the "Stop Sloppy Snacking" series, I'm showcasing these yummy Hummus Jalapeño Toastettes! Want the recipe? I thought so!

But First, Let's Talk the "3 P's"
Before I give you the recipe, I thought you might like to hear how these fun little Hummus Jalapeño Toastettes were created! It all started with an email from Living Healthy Chicago. It's an awesome program that focuses on health and airs on WGN. They wanted to do a segment about heart health and I of course said, yes, count me in! Um, but what was I going to talk about, I wondered. After a coffee-fueled brainstorming session, I had my idea – the 3 P's!
Heart Health, the 3 P's & Hummus Jalapeño Toastettes
That's right, I pitched the 3 P's – Pattern, Plants and Plenty of Flavor! And how does that exactly fit into heart health? So glad you asked – here's how:
Pattern – The Dietary Guidelines for Americans and the American Heart Association both recommend that we all move to a pattern of more healthful eating. In other words, we need to be consistent and make it a habit to eat more nutritious foods. And while we're doing that, we should try and limit foods that are high in saturated fats and salt as well as added sugars.
Plants – I'm a plant fanatic! And for a good reason! Plant-based foods offer loads of naturally present nutrients. Many of which have characteristics that help with lowering cholesterol and blood pressure. Pretty good things for heart health!
Plenty of Flavor – A heart healthy way of eating doesn't equate to boring or flavorless food. Quite the contrary! Skip the extra salt and sugar often used to season foods and use polyunsaturated fats like olive oil, herbs and spices to accentuate these already amazing foods.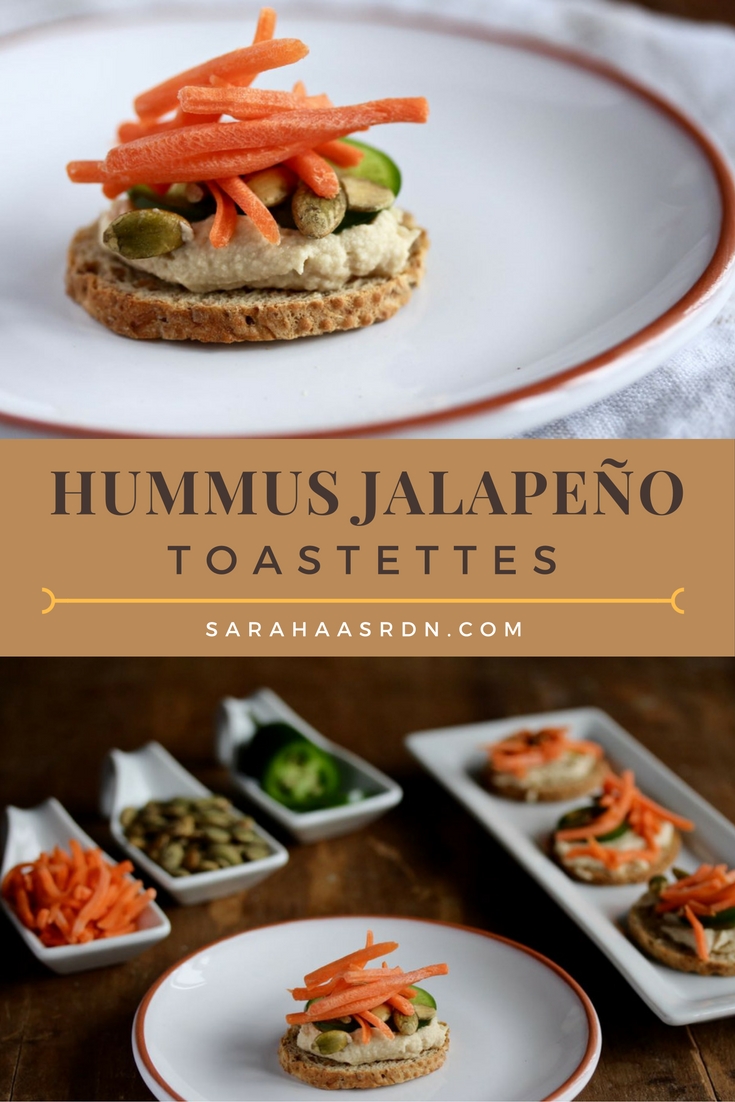 And Now, The Recipe
So sensing time, flavor and snacking were all important factors to anyone trying to eat for better health, I created this super simple recipe for Hummus Jalapeño Toastettes. Most of the ingredients you already have on hand and this recipe can literally be made in seconds! These little bites will help you get into that PATTERN of eating more healthfully and consuming more PLANTS all while enjoying PLENTY of flavor! See how I did that? 😉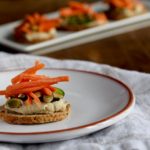 Hummus Jalapeño Toastettes
---
Description
Craving a snack that's heart healthy and just happens to be vegetarian and vegan? Then these Hummus and Jalapeño are for you!
---
12

toast points

1/4 cup

hummus

1

jalapeño, thinly sliced

1 cup

grated carrot

1/4 cup

pumpkin seeds

1

lemon, cut into

6

wedges
---
Instructions
Line toast points out onto a baking sheet, cutting board or serving tray. Spread hummus evenly over toast points then top with 1 to 2 slices of jalapeño. Garnish with grated carrot and pumpkin seeds.
Serve with lemon wedge and enjoy immediately.
Nutrition
Serving Size:

6

Calories:

3135

Sugar:

51

Sodium:

6304

Fat:

44

Saturated Fat:

6

Unsaturated Fat:

32

Trans Fat:

0

Carbohydrates:

581

Protein:

97

Cholesterol:

11