It's All about the Kids! Celebrate the First Ever Kids Eat Right Month!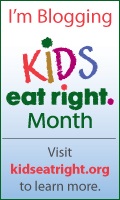 "To highlight the role everyone plays in ensuring a healthy future for our nation's children, the Academy of Nutrition and Dietetics and its Foundation announce the first Kids Eat Right Month, to be celebrated each August. Kids Eat Right Month will focus on the importance of healthful eating and active lifestyles for children and families, featuring expert advice from registered dietitian nutritionists."  https://www.kidseatright.org/
I love kids.  They are fun, hilarious, honest and care-free.  Basically, they are everything that I strive to be!  Kids find joy in so many things and it is a wonder to watch them learn and explore.  That's why I am very excited that August is now officially Kids Eat Right Month!
This means that we as parents, friends, family members, caregivers, health-care workers and dietitians, have a special month dedicated to teaching the most spectacular people in our world the benefits of healthy eating.  We can take this month to honor our children's desire to learn and explore by teaching them how amazing food really is.  We can get them into the garden or take them to the grocery store.  We can pull up a stool and have them help us in the kitchen.  Do whatever you can to expose them to the benefits enjoying healthy, wholesome food.
I encourage you to take this month to reach out to your children or the children in your community and teach them the life skills of healthy eating and living.  Teach them and be a role model for them.  If you need clues on how to bring these ideas to life, the Kids Eat Right website is full of helpful information.  Click on this link and get out there and celebrate Kids Eat Right Month!