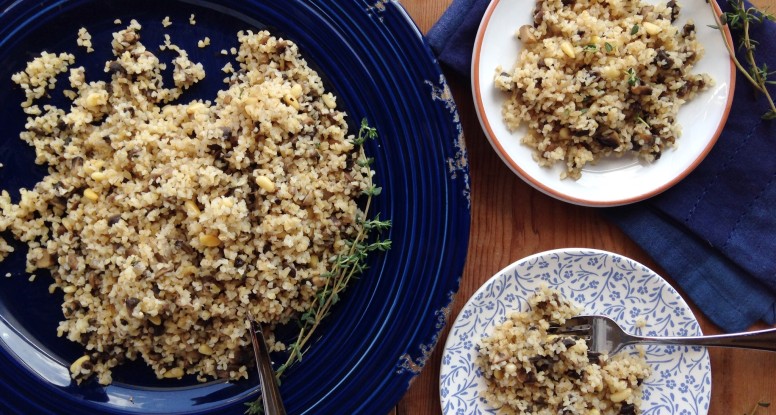 Sautéed Mushrooms with Thyme and Bulgur
The Fertility Friday series celebrates the mighty mushroom.
Thank goodness this little fungi is a fertility-friendly food. Mushrooms boast some powerful nutrition – think Vitamin D, selenium and B vitamins such as riboflavin – all nutrients that are beneficial to fertility. In fact you can head on over to Shaw Simple Swaps to learn more about Vitamin D and selenium! But before you go, learn why I think you should include more mushrooms in your diet (even if you're not struggling with infertility!). I've got a super simple recipe that starts with delicious sautéed mushrooms and ends with fresh thyme and toasted pine nuts! Yum!
Let's focus for a moment on an underlying theme present in most of the foods and recipes we recommend for fertility. That theme is the power of a plant-based way of eating. The research shows that eating more plants is a great way to nourish and fuel your body for fertility. Plant foods contain a variety of vitamins, minerals, antioxidants and other nutrients, all of which play a role in making you the most healthy version of yourself, while also preventing chronic disease. And mushrooms, while fungi, make plant-focused eating easy.
Here's Why You Should Use More Mushrooms In Your Cooking:
Umami. Just what is that? It's the 5th sense of taste and it's just as important as it's fellow tastes, sweet, sour, salty and bitter. Umami means "savory" and that's exactly how mushrooms behave in food applications. They add a "meatiness" when there isn't any meat and that can leave you feeling more satisfied. It's an easy way for people to transition into eating more plant-based foods, which leads me to my next point…
Interest. If you want people to eat and enjoy their food, it helps if you keep them interested. At least this is what I've learned with my work as a chef and dietitian. If the food your prepare has just one note and that note is boring, than no way can you convince yourself or anyone else to eat it. This is where mushrooms can help. Since there are so many varieties, all boasting their own unique flavor, they can instantly add interest and intrigue to a meal. This is a win-win, because you'll be getting more plant-based foods in while showcasing just how delicious and easy it is to do so. Which takes me to my final point…
Flavor. Remember my mention above about each variety of mushroom having it's own unique flavor? The flavor difference is actually quite amazing and is something many people don't take advantage of. Cremini mushrooms, for example, have mineral and earthy tones, while shiitakes sharply boast that umami savoriness. Think about how that flavor can boost the flavor of other foods too. Think how amazing sautéed mushrooms taste! That taste means you might need less fat or salt, both of which we don't necessarily need more of in our diets.
Next time you're at the grocery store, don't forget to add mushrooms to your cart. Besides nourishing and fertility-friendly, they're loaded with satisfying umami, adding interest and flavor to your nourishing fertility-friendly plant-focused way of eating.
Oh and before I forget! For my meat-lovers, have no fear! I'm not saying forgo meat, no way! It has a place on the fertility-friendly food list. But I figure we could all use a little more encouragement when it comes eating more plant-based foods.
Feeling lost? RESOLVE is a non-for-profit that helps people dealing with infertility. They're a great resource and can even connect you with people in your area going through the same thing. You're not alone! Feeling inspired? Why not be apart of National Infertility Week and share your blog posts, tweets and Facebook posts about your journey. Use the hashtag #startasking to make it easy for people to follow you on social media.
And here are the beautiful pictures of Sautéed Mushrooms with Bulgur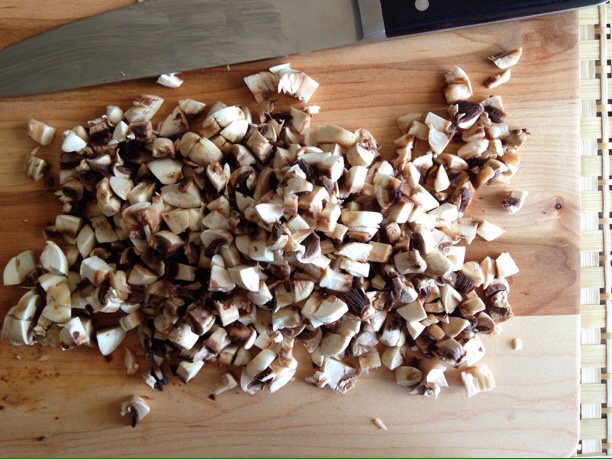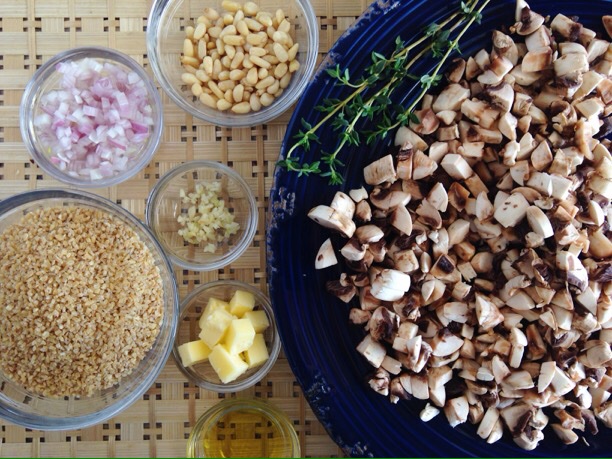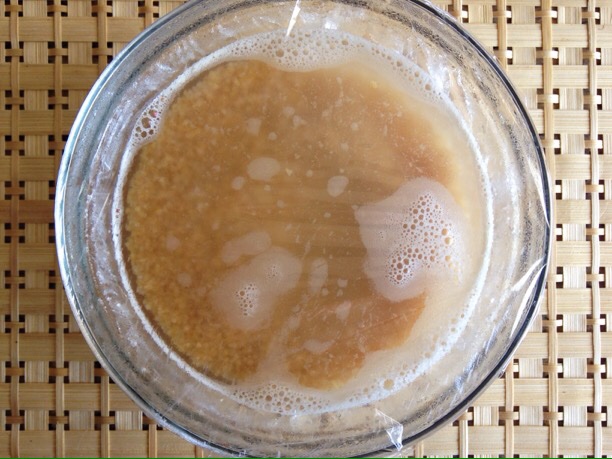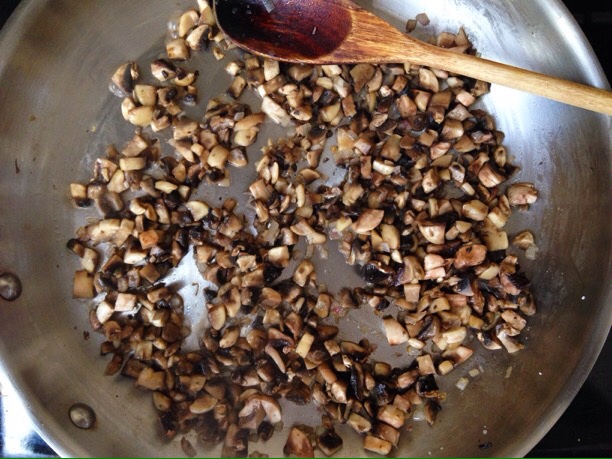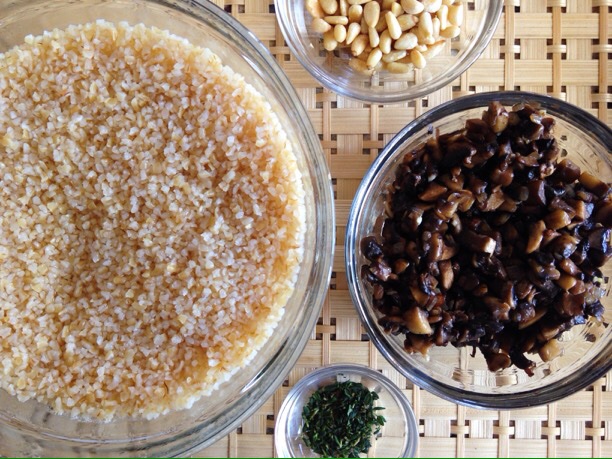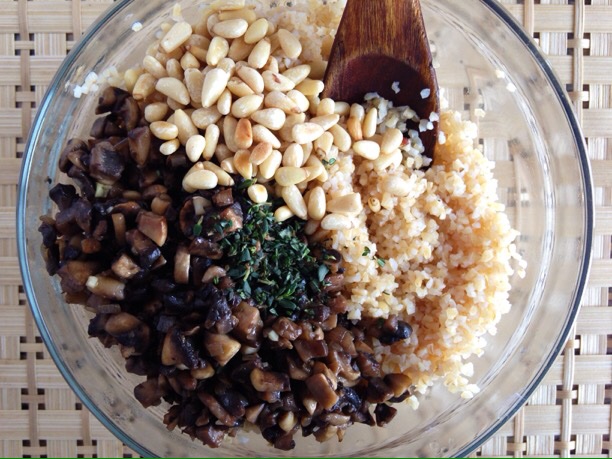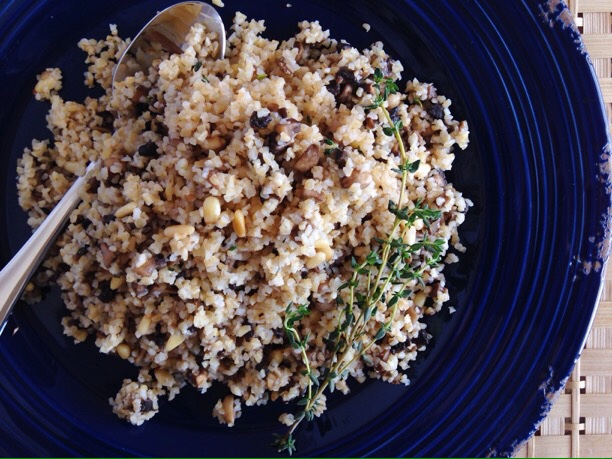 Print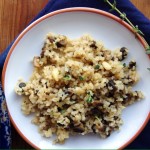 Sautéed Mushrooms with Thyme and Bulgur
---
Description
Finely chopped mushrooms sautéed until golden then tossed with bulgur, fresh thyme and pine nuts.
---
3/4 cup

bulgur

1 1/2 cups

boiling water
Kosher salt

2 tablespoons

pine nuts

1 teaspoon

olive oil

1 tablespoon

butter

8 ounces

mushrooms (cremini or a blend), cleaned and chopped

2 tablespoons

finely chopped shallot (about

20g

)

1

clove garlic, chopped
black pepper

1 teaspoon

fresh thyme leaves, chopped
---
Instructions
Place bulgur in a medium bowl. Add 1/4 teaspoon Kosher salt, then cover with boiling water. Immediately cover the bowl with a piece of plastic wrap and let bulgur steam for about 20 minutes.
Heat a skillet over medium-high heat, add the pine nuts and toast, stirring occasionally until lightly browned, about 3-4 minutes. Remove from pan and reserve.
Turn heat down to medium, add the olive oil and butter to the skillet. Once butter has melted, add the shallot and saute until softened, about 2-3 minutes. Increase heat to medium high, Add the chopped mushrooms and a sprinkle of salt and continue cooking another 5 minutes.
Remove plastic wrap from the bulgur and drain any excess liquid. Add the mushroom mixture to the bulgur along with the toasted pine nuts, black pepper and fresh thyme and stir to combine. Garnish with extra thyme if desired and serve.
Nutrition
Serving Size:

6

Calories:

115

Sugar:

1

Sodium:

34

Fat:

5

Saturated Fat:

2

Unsaturated Fat:

3

Trans Fat:

0

Carbohydrates:

16

Protein:

4

Cholesterol:

5