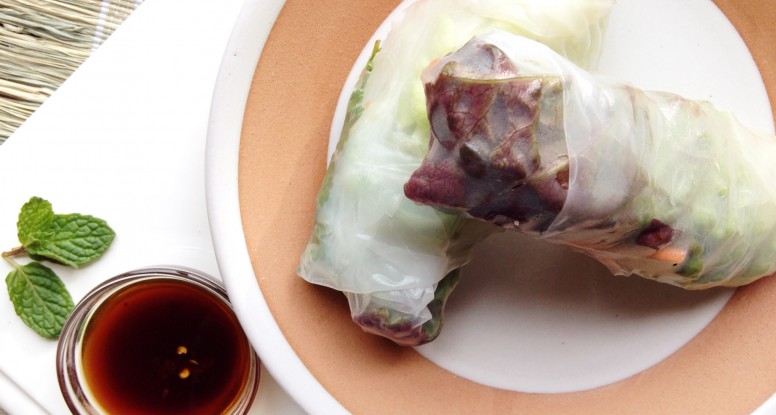 Spring Rolls with Honey-Soy Dipping Sauce
I love spring rolls.
There's just something so remarkably fresh about them that makes me happy. At one of my old jobs, I had to make spring rolls on a relatively regular basis. During that time, I could crank out hundreds of those little guys. I would be tired, with a sore back and cross-eyed when I was done. But that didn't deter me from eating the scraps or messed-up rolls. Ah, the memories!
Here's the deal with spring rolls, they are so delicious, but can be so annoying to make. Please, please don't get mad if your first 2 or 10 look horrible. I promise you that they will still taste good. Just keep trying and soon you'll be a professional "spring roller."
Nutrition Spotlight:
Veggies abound in spring rolls and that makes them a fantastic, nutritious choice. They are the perfect vehicle for so many kinds of veggies too. You don't have to stop at carrots and lettuce (like my version below), you can add peppers and jicama for example. Really, just be creative and have fun with them. But don't forget the basil, mint and cilantro, they are the key to flavor and offer their own nutritive bonus too.
Print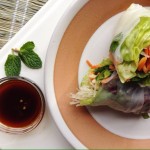 Spring Rolls with Honey-Soy Dipping Sauce
---
Description
Refreshing and satisfying, these spring rolls are a perfect for an appetizer or light lunch.
---
1 tablespoon

lime juice

1 tablespoon

honey

1 tablespoon

low sodium soy sauce

1/8 teaspoon

crushed red pepper

2 tablespoons

water

1/3

package bean thread noodles, prepared according to package directions

5

small lettuce leaves (Bibb or baby green or red leaf lettuce)

1/2 cup

shredded carrot

1/4 cup

peanuts, chopped

1/3 cup

mint leaves

1/3 cup

basil leaves

1/3 cup

cilantro leaves

5

each spring roll skins/wrappers
---
Instructions
Combine the lime juice, honey, soy sauce, crushed red pepper and water in a small saucepan. Set the pan over medium heat and bring to a simmer. Simmer for 3-4 minutes, then remove from the heat and allow to cool.
Toss 1-2 teaspoons of the dipping sauce with the prepared bean thread noodles.
Prepare a large bowl of warm water for softening the spring roll skins and lay out all of the filling ingredients; the lettuce, carrots, peanuts, mint, basil and cilantro.
Remove 1 spring roll skin from the package and gently submerge in the bowl of warm water. Gently swish until spring roll skin becomes loose and flexible. Carefully remove it from the water and place on a clean kitchen countertop. Place one lettuce leaf on the bottom and then top with some noodles, carrots, peanuts and herbs. Take one edge and fold over to meet the other edge, then pull back on the fillings (like you're making a burrito) until tight. Then fold in the sides and continue rolling the spring roll until sealed. (If you break the skin, just get another one and try again! If you can't roll it, don't worry about it. Just place everything in the middle and fold it up. I promise it will taste the same!)
Slice rolls in half, if desired and serve with dipping sauce.
Nutrition
Serving Size:

5

Calories:

169

Sugar:

11

Sodium:

260

Fat:

5

Saturated Fat:

1

Unsaturated Fat:

4

Trans Fat:

0

Carbohydrates:

27

Protein:

8

Cholesterol:

1