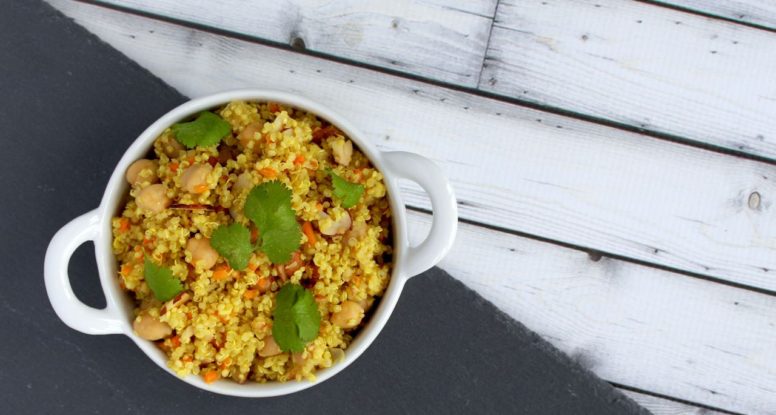 Chickpea Turmeric Quinoa Bowl
Fancy a few superfoods? Well, then you need this Chickpea Turmeric Quinoa Bowl!
When you're a food that's lumped in the category of "super foods," you must feel pretty fantastic. There's likely plenty of publicity and notoriety along with hoards of people flocking to get your autograph. Ok, maybe it's not quite like that, but I sure love the idea of food celebrities, don't you? Kale and blueberries slipping into limos while shielding their eyes from the flash bulbs of the paparazzi. Fun!
Food Celebrities
But seriously, super foods are everywhere, and every food wants to be one. These foods promise to be amazingly nutritious as well as powerful in the protection and fight against disease. Are they over-hyped? Perhaps some of them are, but a few of my favorites are not and that's why I've included them in this magnificent quinoa bowl.

Turmeric, Quinoa, Chickpeas and Almonds, Oh My!
Oh yes, I did, I put these super foods all in this quinoa bowl! Why? Because when I'm counseling people about good nutrition I move them towards plant-based foods. And bowls are an easy vessel for carrying this level of nutrition. Luckily for me, this recipe also hit the theme for this month's Recipe Redux which was building lovely Plant-Based Protein Bowls. Woo hoo! My wheel-house!
Why else do I love this quinoa bowl? Because it's also great for my friends struggling with infertility. Moving to a plant-based way of eating allows for a natural inclusion of more antioxidants and other nutrients that have shown promise in terms of boosting fertility. Plus, this way of eating just makes you feel good and that holds value too!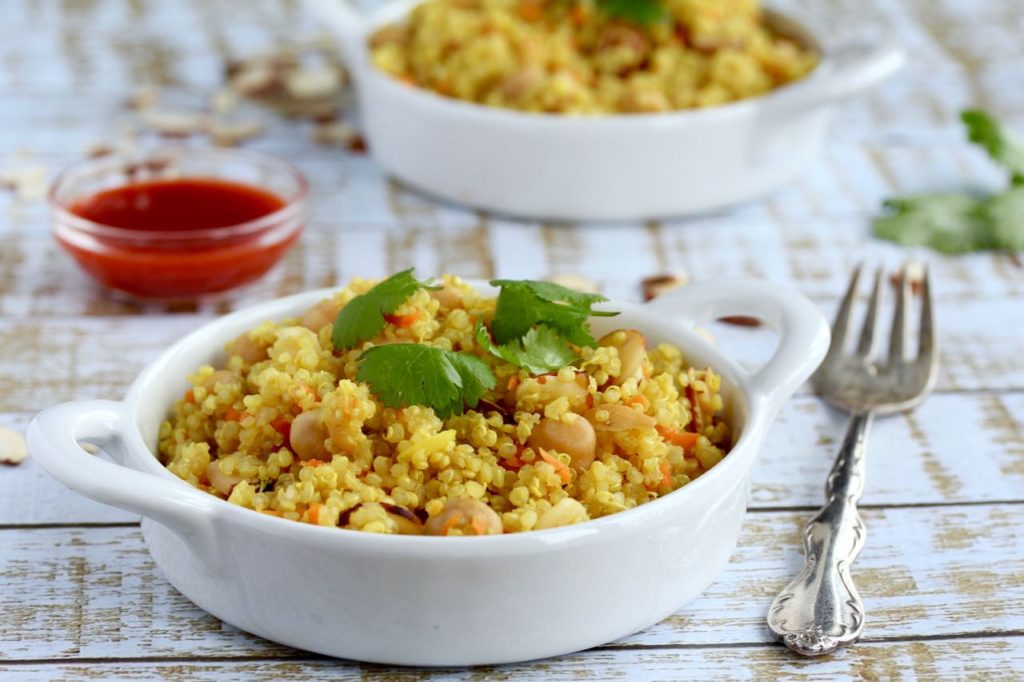 Quinoa Bowls Passé? No Way!
Long live the bowl! I've never been so happy to jump on a trend. This bowl-thing is seriously the best. And quinoa makes perfect sense as the base. I know some people are "over" quinoa, but I'm still riding the quinoa train, and I don't forsee myself getting off of it anytime soon. It's easy and quick to make and is loaded with amazing nutrition. And that's why it's takes center stage in this Chickpea Turmeric Quinoa Bowl!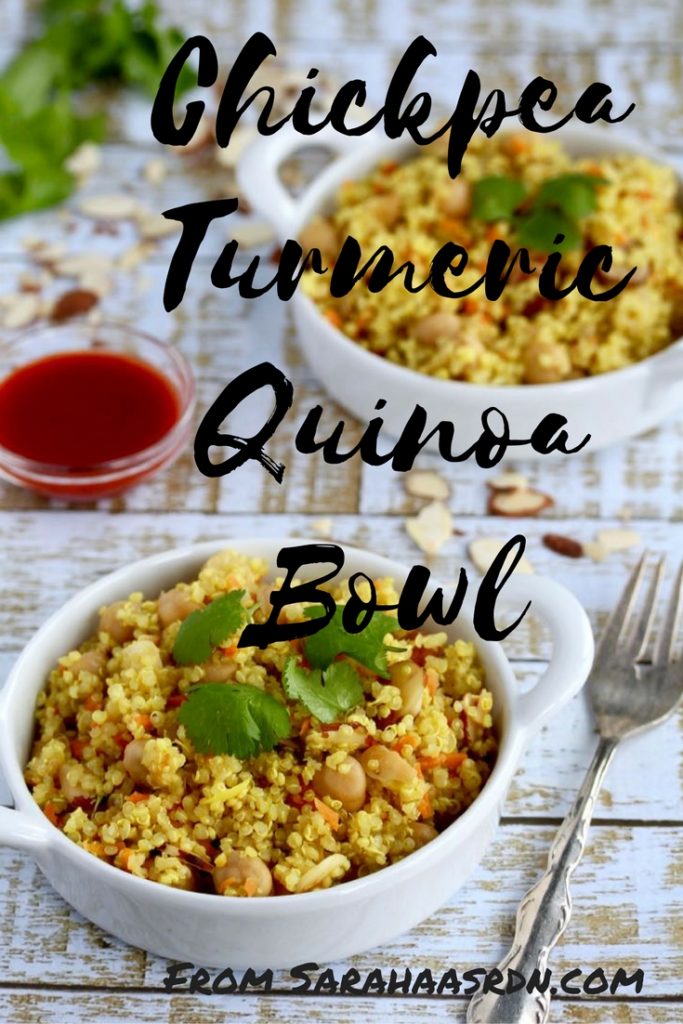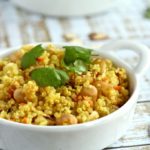 Chickpea Turmeric Quinoa Bowl
---
Description
A plant-based bowl that will fill you up and leave you satisfied.
---
1 teaspoon

+

1 tablespoon

olive oil, divided

1/2 cup

sliced almonds

1/2 cup

diced onion

1 cup

shredded carrot, chopped

2

cloves garlic, chopped

1 cup

rinsed quinoa

1 teaspoon

ground turmeric

2 cups

water

1/2 teaspoon

kosher salt

1

(15-ounce) can garbanzo beans, drained and rinsed

2 tablespoons

lemon juice

1/4 teaspoon

freshly cracked black pepper

1/4 cup

cilantro leaves
sriracha, as desired
---
Instructions
Heat 1 teaspoon olive oil in a medium sauce pan set over medium heat. Add the almonds and cook until lightly browned, about 2-3 minutes. Remove from pan and reserve.
Add the remaining oil along with the onion and carrot and cook, stirring frequently, until vegetables are softened, about 5-6 minutes. Add the garlic and cook 1 minute. Add the quinoa and turmeric cook 1 more minute. Pour in the water and salt, stir, then partially cover and simmer for 15-20 minutes or until quinoa is tender and most of the liquid is absorbed.
Remove from heat and add the lemon juice and black pepper, stirring to combine. Portion into bowls and garnish with cilantro and sriracha.
Nutrition
Serving Size:

4

Calories:

427

Sugar:

3

Sodium:

536

Fat:

18

Saturated Fat:

2

Unsaturated Fat:

15

Trans Fat:

0

Carbohydrates:

53

Protein:

15

Cholesterol:

0