Two Bite Snickerdoodles
I've been baking cookies for a long time. And baking is in my DNA. Both of my grandmothers and my grandmother's grandmothers (and probably their grandmothers too) all baked. It seemed to bypass my mom, but hey, it just wasn't (and still isn't) her thing. But I've got the baking bug and cookies are my jam! And these Two Bite Snickerdoodles? Well, they're dedicated to those fine baking ladies before me!
My Grandma's ♥
Like most of you, I love and loved my grandma's! Both completely different women, but both equally awesome. My mom's mom, who's still living with my dear grandpa, is the cookie baker and is the soft, huggable, perfect grandma. For years she made oodles and oodles of cookies for Christmas. I loved them so much! And my favorite was the reindeer cutouts that had Red Hots for noses! She doesn't bake much now, but every time I bust out my cookie cutters, I channel her patience! Now, my dad's mom, was a little more eccentric then my mom's mom. She was a character – she smoked cigarettes and wore leather mini-skirts! I know, right? #awesome. She baked too, and I remember some great things coming out her oven including pumpkin pies and persimmon pudding. Man, so yummy! So you see, I was born to bake!
Two Bite Snickerdoodles
Now that you have a little background about my grandma's you'll have a better sense as to why I was so excited about what happened with this month's Recipe Redux challenge. You see, the challenge was to "grab a book and cook." Meaning, take a cookbook off your shelf, dust it off and use page 16, 201 or 216, for a Recipe Redux. So, I picked up my trusty Better Homes and Gardens Cookbook (a prized gift from my mother-in-law!), and turned to page 216. And what did I see?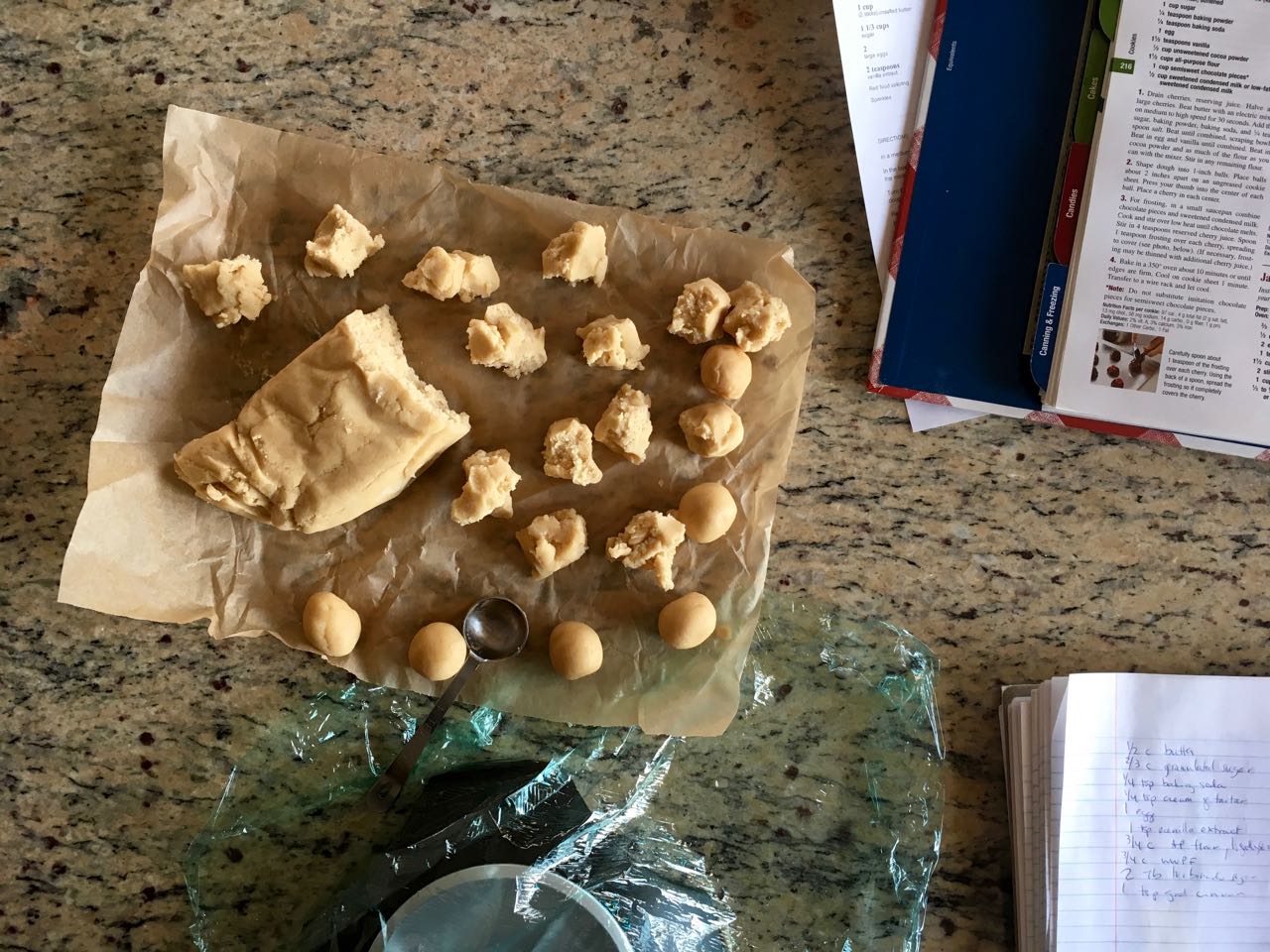 I saw Snickerdoodles! I felt nothing but joy! What luck! My grandmothers both loved Snickerdoodles and I do too! This was going to be fun!
Building A Better Snickerdoodle
I was on a mission. First, I wanted to change the flour. All purpose flour (AP) is the traditional flour for cookies, but I wanted a healthful twist. That's why I swapped half of the AP flour for whole wheat pastry flour. I knew it would be lighter than regular whole wheat or white whole wheat flour, therefore perhaps less detectable too. Then, the sugar. The BHG recipe calls for 1 cup of sugar, but I knew that was more than these cookies needed, so I dropped my sugar to 2/3 cup. Next up, that roll in cinnamon and sugar, I wanted to change that too, and use turbinado sugar – for it's extra pop of crunch! And finally, size. You know I like small things, and cookies are no exception, so I kept to a rounded teaspoon (or about 10 grams).
The result? Oh, well, just that pile of beauties you see here! A delicious two-bit treat that will bring back all kinds of great memories, or perhaps create new ones. I know these will and would make my grandmothers proud. And even though they weren't here to help me bake them, they were "here" inspiring every moment! I love you Grandma Rump and Grandma Coffman!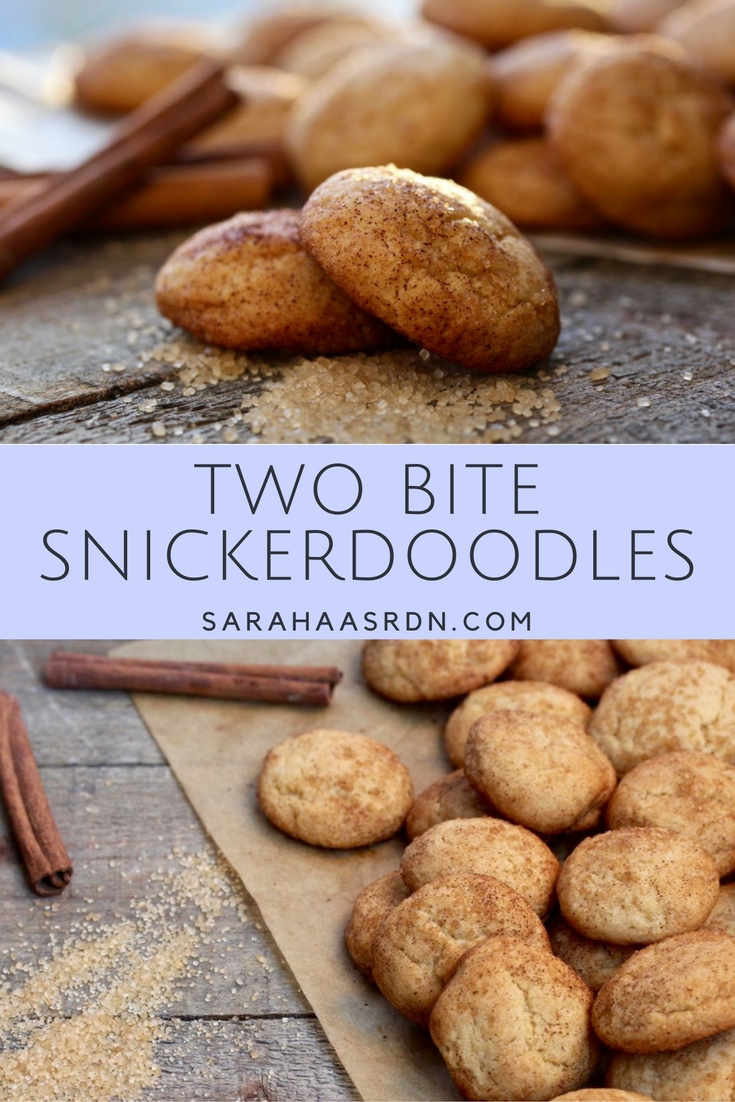 Print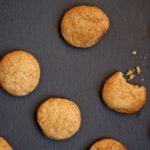 Two Bite Snickerdoodles
---
Description
One, two – two bites of whole grain goodness and even less sugar in the easy-to-make Two Bite Snickerdoodles!
---
3/4 cup

all purpose flour, lightly scooped

3/4 cup

whole wheat pastry flour

1/2 cup

butter, softened

2/3 cup

granulated sugar

1/4 teaspoon

baking soda

1/4 teaspoon

cream of tartar

1

large egg

1 teaspoon

pure vanilla extract or vanilla bean paste

1 tablespoon

+

1 teaspoon

turbinado sugar

1 teaspoon

ground cinnamon
---
Instructions
In a small bowl, whisk together the all purpose flour and whole wheat pastry flour.
In the bowl of a stand mixer, beat the sugar until light and fluffy, about 1 minute. Scrape down the sides of the bowl with a spatula then add the granulated sugar, baking soda and cream of tartar. Beat about 1 minute. Add the egg and vanilla extract and beat until combined. Slowly beat in the flour. Cover and refrigerate the dough for at least 1 hour.
Preheat the oven to 375'F. In a small bowl, combine the turbinado sugar and the cinnamon. Portion dough into rounded teaspoons and roll into balls. Toss dough into sugar and cinnamon mixture to coat, pressing gently so that sugar adheres. Place on parchment-lined baking sheets, about 2 inches apart, and bake 10 minutes. Remove from the tray and cool on a wire rack.
Nutrition
Serving Size:

25

Calories:

88

Sugar:

6

Sodium:

16

Fat:

4

Saturated Fat:

2

Unsaturated Fat:

1

Trans Fat:

0

Carbohydrates:

12

Protein:

1

Cholesterol:

17