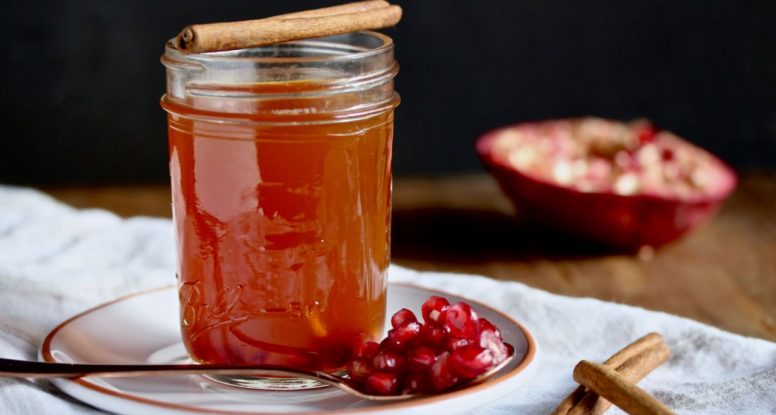 Warm Chai-Spiced Pom-Apple Cider
Oh, hi EXTREME cold, I didn't miss you…at all. Your bone-chilling wind and icy snow flakes don't really do much to make me smile. Because, well, my face is frozen. But alas, it's winter and I do live in the Midwest. So instead of continuing my rant on the cold, I will beat it with my new recipe for Warm Chai-Spice Pom-Apple Cider.
When the temperatures drop, I like for any and EVERY way to find warmth. In honor of that seasonal challenge, I present you with my TOP 5 WAYS TO STAY WARM!
My Top 5 Ways to Warm Up:
Buy a vest and wear layers – Yes, a vest is imperative in cold weather! Why? Because it's all about layering and keeping your core warm. The big, long coat is a great start, but once you're inside the train or your office, or home, you're going to want to take that thing off. But you may still need warmth, just not as much of it. So I say, invest in the vest!
Eat a warm breakfast – That's right, start your day off with a little warmth! Fill your bowl with oats or other whole grain breakfast cereal, heat it up with some warm spices like cinnamon and nutmeg and then top it with some naturally sweet vanilla extract. Warmth in a bowl and a nourishing bowl to boot!
Wear a hat – Seriously. Yes, seriously. It totally drives me crazy when I see people freezing because they're not wearing a hat. Why suffer? Are you truly that concerned about your hair? With so many cute hats available, you don't have an excuse. So just get a hat because, from what I've heard, you lose most of your body heat through your head.
Move – Ever try standing still in the cold? It's horrific, right? You feel even colder. My advice? Keep moving! Getting your heart rate up will naturally raise your body temperature, and hey, you'll even burn a few calories!
Drink tea – As many of you know, I am a huge fan of coffee, but I certainly can't drink it all day, so that's why I turn to tea! And when I really want to make things fun and festive, I make this Warm Chai-Spice Pom-Apple Cider.
How To Make Warm Chai-Spice Pom-Apple Cider
You're going to love me, because making this comforting, warm beverage is SUPER easy! Here's all you do – steep chai in boiling water, drop it in a slow cooker along with apple cider, pomegranate juice and orange slices. Set to low for 30 minutes or so, then enjoy! It's perfect for holiday gatherings and sick days! Go get your favorite mug and fill it up with this warm, apple cider.
And If You Need Something To Do…
Come visit me and MindFuel Fitness at lululemon Chicago on Southport next Wednesday…we'll be hanging out, exercising, cooking and drinking cider!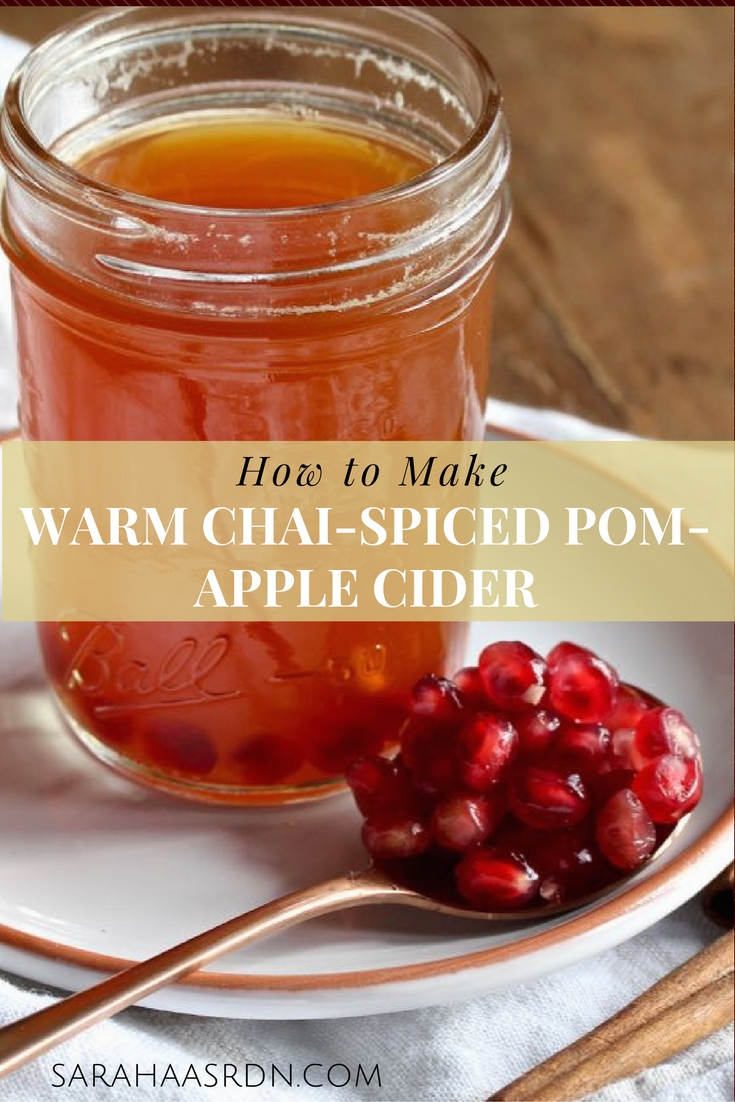 Print
Warm Chai-Spiced Pom-Apple Cider
---
Description
The perfect thing to warm you up after being outside. Enjoy chai tea lightly sweetened with apple cider and antioxidant-rich pomegranate juice!
---
2

chai tea bags

2 cups

boiling water

1 cup

apple cider

¼ cup

100% pomegranate juice

1/2

orange, sliced
Optional: pomegranate arils
---
Instructions
Steep tea in boiling water for 5 minutes. Pour tea and remaining ingredients into a slow cooker. Stir then cover with the lid. Set to low and heat for 30 minutes to 1 hour before serving.
Serve in a mug with pomegranate arils.
Alternatively, proceed as above with steeping tea, but instead of a slow cooker, place ingredients in a pot and set over low heat.
Notes
Portion size is about 6 fluid ounces and is about 40 calories.
Nutrition
Serving Size:

4

Calories:

103

Sugar:

19

Sodium:

11

Fat:

1

Saturated Fat:

0

Unsaturated Fat:

0

Trans Fat:

0

Carbohydrates:

24

Protein:

1

Cholesterol:

0