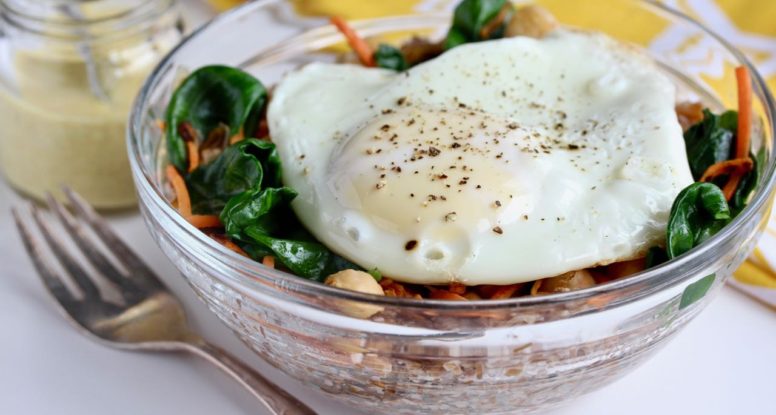 Busy Girl's Curry Bulgur Bowl
Busy girls (and guys)! Attention please! I'm super excited to share some really fun stuff with you today. Just what am I sharing? I'm so happy you asked! In today's post, you'll find the following: A fast and fun recipe: my CURRY BULGUR BOWL and tips on nourishing yourself – I'm calling them Nourishing Reminders.
Intrigued? I thought so! Catch the recipe and my tips below.
Help For The Busy
I've got your back when it comes to tips to keep you nourished. I know you're busy and you've got a life and you don't have a ton of TIME to ponder and prepare. That's why I partnered with Brittany over at When Wear & Now. She told me her awesome readers sometimes struggle with figuring it all out. I told her I couldn't get it ALL (wink, wink) figured out for them, but I could at least shed some light on how they can "win" at the nourishment game. So, below is an excerpt of the post you'll find on her blog.
Your Nourishing Reminders
Drumroll please!
Somewhere the drum is rolling and then silence. Because while this list is great, it's not anything NEW. Oh dear, I'm preparing for the backlash now. But hear me out. Most of you are busy, right? And being busy means that sometimes you forget things – you don't have your own well-being in mind, you're tired, you've got a million other things to do, and so you just need some REMINDERS. So that's what these are, Nourishing Reminders!
NR #1 = Find Inspiration – You know you want to live a more nourishing life, and you start off strong, but then, you know, life gets in the way and you're back to making a "meal" out of a bag of crackers and a handful of gummy bears. You can do better than that! So, that's why you need to identify your inspiration. Maybe it's a quote that you can post on your refrigerator or keep as a screen saver. Maybe it's your desire to be able to run a 5K this summer or maybe it's a picture of a loved one! Whatever it is, find it and use it when you start to see yourself heading down the "unhealthy" path.
NR #2 = Eat More Fruits and Vegetables – How are you doing with your fruit and vegetable intake? Are you getting your 2 cups of fruit and 2 1/2 cups of vegetables each day? No? Don't worry, you're not alone, but you can do better! How? By preparing! That means going to the grocery store and stocking up on these foods. And go with some shelf-stable stuff too – choose unsweetened canned or jarred fruits and veggies. You can also buy frozen vegetables and fruits to store in the freezer. If you have them on hand, it'll be easier for you to get what you need. And start with breakfast! Why not add a piece of fruit or a handful of veggies to your morning meal!
NR #3 = Eat Breakfast – Raise your hand if you skip breakfast. Oh dear, I was worried about that. I know that it can sometimes be a challenge to get that meal in before you head to work, but that meal is oh so important. It sets up you up for a successful day! And no, coffee doesn't count! But listen up, breakfast doesn't haven't to be complicated. And if you can't get up early enough to eat it before work, maybe just bring it to work. Some fast ideas include yogurt and fruit, a peanut butter and jelly sandwich on whole wheat bread. Whole grain cereal (low sugar <6g/serv, high in fiber >5g/serv) and milk or milk alternative. Whole grain waffle with almond butter and sliced bananas, English muffin with scrambled egg and arugula…so many choices!
THERE'S MORE! Head on over to When, Wear & Now to catch my other tips! And stay tuned, I've got Brittany guest starring on MY blog next week!
The Curry Bulgur Bowl
And without further ado, the recipe! I made this one keeping in mind the needs of the busy girl! You are a smart lady and you don't have a ton of time. But you DO want something that tastes good and comes together quickly. That's why I chose quick-cooking bulgur as the base and why I turned to canned beans as the first of two sources of lean protein in this recipe. The second source, an egg, is a beautiful complete protein that is an easy addition to this or any meal. Add some quickly sautéed baby spinach and shredded carrots and bam, look at that, your meal is ready! Oh, and that dressing – it's only curry powder, Greek yogurt, lemon juice and water. See, simple!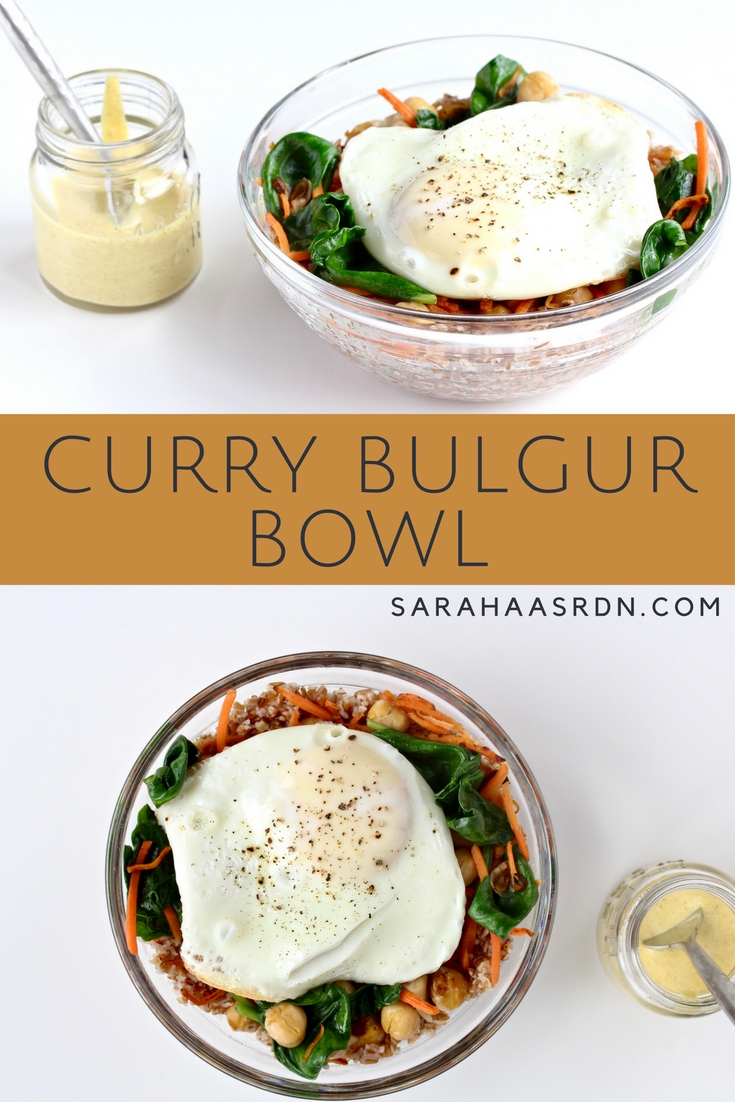 Print
Curry Bulgur Bowl
---
Description
Good food fast! Fill your bowl with this nourishing collection of whole grains, veggies and lean proteins!
---
1/4 cup

bulgur
pinch kosher salt

1/2 cup

boiling water

1 teaspoon

olive oil

1/2 cup

drained and rinsed canned garbanzo beans

1/2 cup

shredded carrots

2 cups

baby spinach

1

large egg

2 teaspoons

lemon juice, divided

1 tablespoon

+

1 teaspoon

plain Greek yogurt

1 teaspoon

water

1/2 teaspoon

curry powder
---
Instructions
Place the bulgur in a bowl with a pinch of kosher salt. Pour boiling water over and cover with plastic wrap. Set aside to steam for about 15-20 minutes while you prepare the rest of the dish.
Set a small non-stick skillet over medium heat and add the olive oil. Once hot, add the garbanzo beans, carrots and a pinch of salt and cook 4 minutes, stirring often. Stir in the spinach and cook 1 minute. Move to a bowl and cover to keep warm. To the same skillet, add the egg. Sprinkle with salt and pepper and cook, undisturbed for 2 minutes. Cover pan with foil and cook an additional 2-3 minutes or until desired doneness.
Drain any excess liquid from the bulgur and then toss with 1 teaspoon lemon juice. Top the bulgur with the beans and veggies and then the egg. In a small bowl, whisk together the remaining lemon juice, the yogurt, water, curry powder and a pinch of salt and drizzle over the top. Enjoy immediately.
Nutrition
Serving Size:

1

Calories:

461

Sugar:

4

Sodium:

636

Fat:

14

Saturated Fat:

3

Unsaturated Fat:

9

Trans Fat:

0

Carbohydrates:

65

Protein:

23

Cholesterol:

189