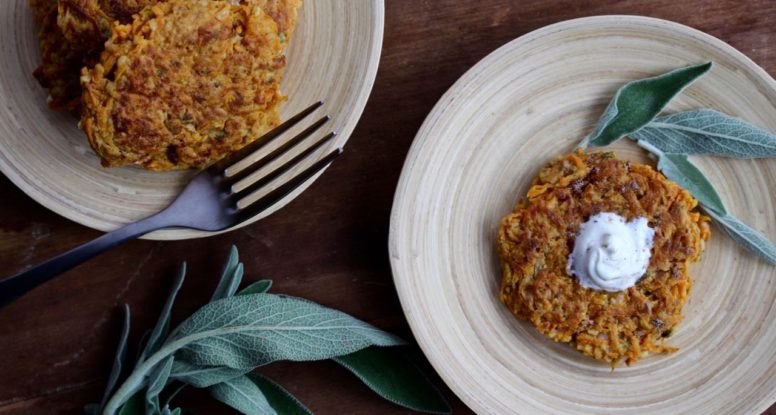 Butternut Squash Rosti
Tired of butternut squash soup? Have you made millions of butternut squash "noodles?" Need a new recipe for using up that beautiful winter vegetable? I've got the perfect recipe for you! These Butternut Squash Rosti are just what your belly is calling for, I promise!
Butternut Squash Abounds
If your grocery store is anything like mine, it's literally busting at the seams with butternut squash right now. On sale every week, it almost feels like they're giving it away. My advice to you? Fill up your cart and take advantage of this winter miracle food and all it has to offer! Butternut squash is loaded with nutrition, you know I love that! Think Vitamin A, fiber, Vitamin C and potassium, just to name drop a few awesome nutrients! Beyond nutrition, it's packed with flavor – it's lightly sweet with great, earthy undertones and pairs well with so many other foods. See what I mean? Get some in your grocery cart NOW so that you can make some of these Butternut Squash Rosti!
But, It's So Hard to Cut and Peel!
Oh sigh, yes, I hear this all of the time. I chalk it up to our continued laziness and lack of patience. Instead of being annoyed by preparing your food, be GRATEFUL. Sound crazy? Perhaps, but trust me. Here's what you do – you turn on some great tunes, you pour yourself a cup of tea (or wine or other beverage of choice), put on your awesome apron and whip out your cool cutting board and BIG knife. Fun! Then, take your time and use that time to appreciate how LONG it took to grow that squash. Guaranteed it took longer for that butternut squash to grow than it will take you to cut and/or peel it! Practice gratitude!
And You Want Me To Grate It Too?
I do, I do. I know, I know. I'm sure I've lost some of you at this point, but really, grating butternut squash isn't hard either. You can use a traditional box grater, or use your food processor fit with the grating attachment. A regular size squash will yield about 5 1/4 cups of grated or shredded. That's more than you'll need for this recipe, so you could double the batch or place in a freezer bag to use another time! That sounds good, right?

Time to Make that Butternut Squash Rosti!
Now that you've prepped that beautiful butternut squash, it's time to gather your other ingredients. These are all easy and you'll likely have many of them already on hand. I've added some subtle flavor with a touch of fresh sage and some umami (savoriness) with parmesan cheese and walnuts (which also add crunch)! Shape the mixture into patties and then send them to a hot pan for cooking. That's it! So easy and so delicious! Try my recipe below and let me know what you think! And check out the variation too, for a spicier version!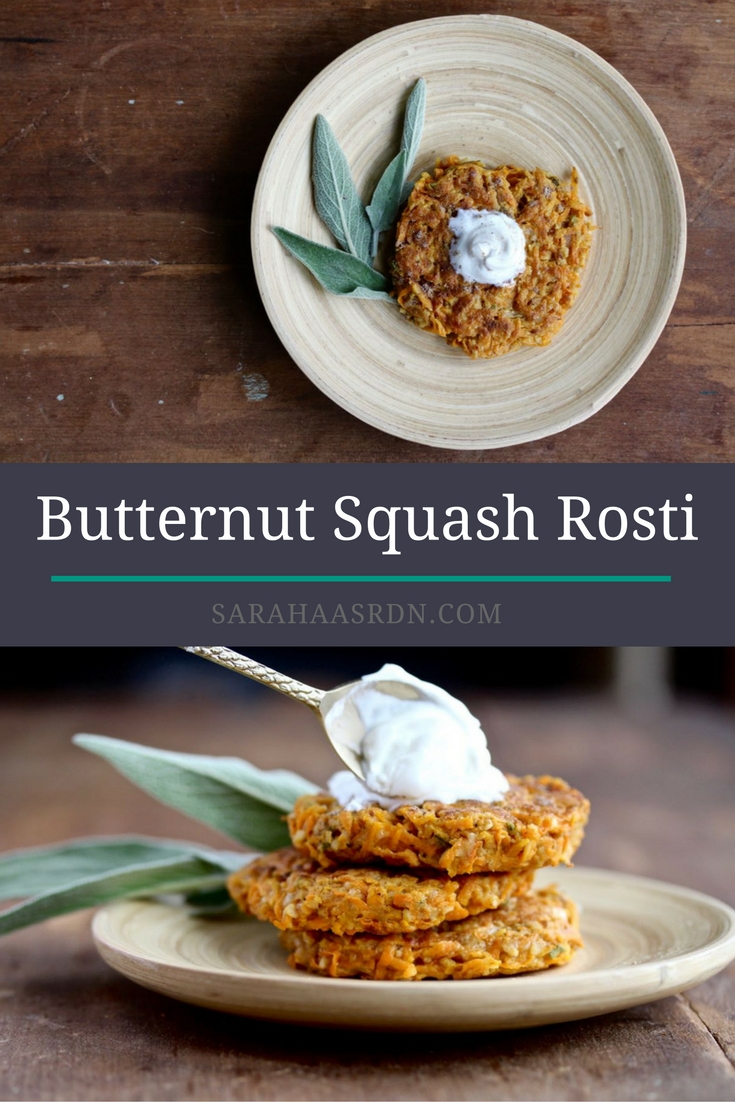 Print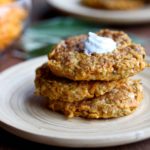 Butternut Squash Rosti
---
Description
These butternut squash roost are the perfect little pancakes! Made with sage, parmesan cheese and walnuts, they make a hearty, flavorful side dish.
---
3 cups

shredded butternut squash, about

12 ounces

1/4 cup

yellow onion, finely chopped

2 tablespoons

chopped, fresh sage

1/2 teaspoon

kosher salt

1/4 teaspoon

freshly ground black pepper

1/4 cup

shredded parmesan cheese

1

clove minced garlic

1/4 cup

walnuts, finely chopped

1

large egg, lightly beaten

1/3 cup

panko bread crumbs (or all purpose gluten-free flour blend)

4 teaspoons

olive oil, divided

1/2 cup

plain Greek yogurt
---
Instructions
Preheat the oven to 200'F.
Combine all of the ingredients in a large bowl and mix throughly.
Portion mixture using a 1/4 cup measure and shape into patties, no thicker than 1/4-inch.
Set a 12-inch non-stick pan over medium-high heat, add half of the oil and half of the patties and cook 4 minutes per side. Remove to a baking sheet and place in the preheated oven to keep warm. Cook the remaining patties in the pan using the remaining oil.
Serve garnished with plain Greek yogurt.
Notes
These also taste delicious when you swap 1 teaspoon chili powder for fresh sage. Try using your other favorite spices too!
This makes about 10 rosti.
Nutrition
Serving Size:

5

Calories:

184

Sugar:

4

Sodium:

386

Fat:

10

Saturated Fat:

2

Unsaturated Fat:

7

Trans Fat:

0

Carbohydrates:

19

Protein:

6

Cholesterol:

43