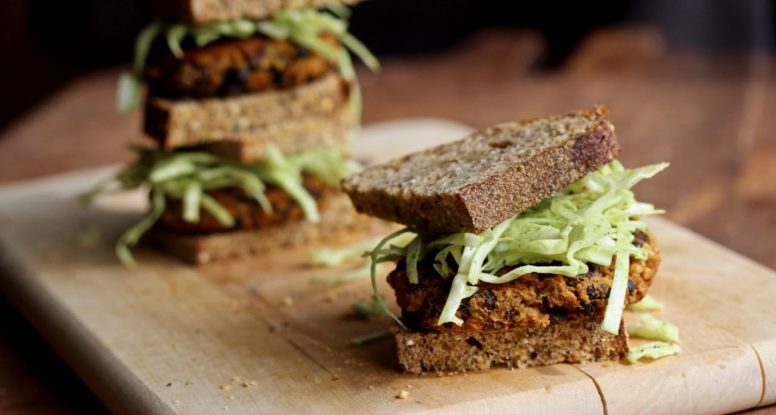 Chipotle Pumpkin Black Bean Burgers
I love veggie burgers, don't you? I love making my own even more, but not at the expense of time. That's why when I see fancy veggie burger recipes with millions of ingredients I cringe. While the effort will likely be well worth it, I just don't know that I want to spend so much time measuring, chopping and cooking all of that stuff. That's why I love my bean burgers! They're delicious and won't take you half a day to make!
Bean Burger Joy
If you haven't learned yet, I love beans! I sure do. They are such a perfect food in so many ways. They're loaded with filling protein and fiber, making them delightfully nourishing. They are also incredibly versatile, which means they can be used in so many different ways! How you can you not feel joyous!? I especially love using them as the base in veggie burgers – they add moisture and act as a wonderful binding agent – important components to any bean burger.

Building The Bean Burger
There are good bean burgers and there are well, not so good bean burgers. I'm guessing you've had both, right? While everyone has their own opinion on the matter, I think there's a pretty good formula for creating an awesome bean burger every time. Here are my tips for achieving bean burger greatness!
TIP 1 – Add crunch – That's right, while beans add moisture and add "stickiness" to keep burgers together, they can also create a smooth mouthfeel, which can be off-putting. The solution? Add crunch! I like to do that by adding chopped nuts and seeds. Just that little crunch makes a huge difference.
TIP 2 – Add flavor – Oh my, so many bean burgers are flavorless, so it's no wonder people turn their noses up at them. Here's the deal, beans can be really bland, unless you cook them from scratch. That means you'll need to add seasoning. Go with bold flavors (like chipotle!) and plenty of aromatics like garlic and onions. Then please, pretty please, don't forget the salt.
TIP 3 – Add heat – By heat I mean the kind that comes from your stove. Get your pan nice and warm, add enough oil and leave those burgers be. Cooking them with this combination gives you a nice, crunchy golden exterior. That is pure bean burger perfection!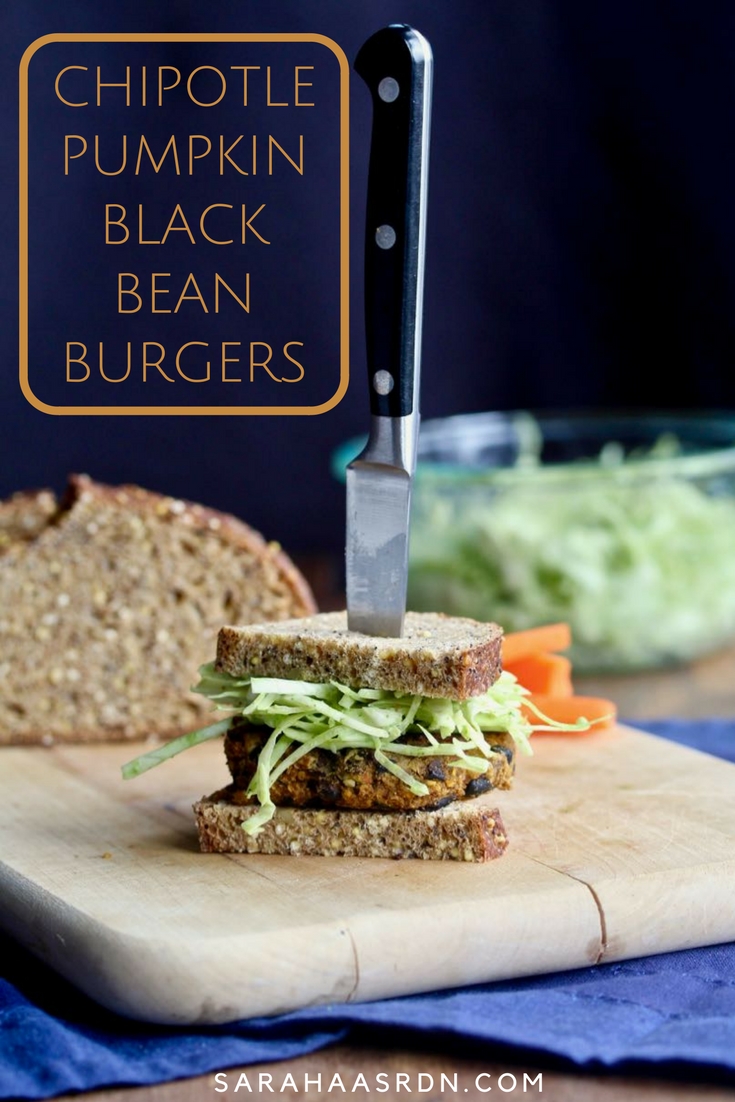 Your Turn!
Ok, now it's time to set you free. Go ahead, you can do it! I promise. And while you're at it, why not share your favorite bean burger recipe in the comments section below? Can't wait to hear what you have to say and how you like these little bundles of goodness!
Print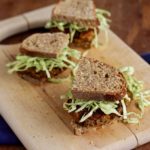 Chipotle Pumpkin Black Bean Burgers
---
Author:

Total Time:

25 minutes

Yield:

8

1

x
Description
Simple ingredients make a simply delicious burger.  Enjoy a fun, nutritious twist on veggie burgers with these Chipotle Pumpkin Black Bean Burgers.
---
For the burgers:
1

15-ounce can black beans, drained and rinsed

1/2 cup

pumpkin puree

1

clove garlic, minced

1

–

2

teaspoons ground chipotle chili

1/4 teaspoon

kosher salt

1/8 teaspoon

ground black pepper

3 tablespoons

panko bread crumbs, preferably whole wheat

1/4 cup

quick cooking oats

1/4 cup

chopped almonds

1 tablespoon

olive oil
For the Cilantro Cabbage Slaw:
1/2 cup

cilantro leaves and stems

3 tablespoons

olive oil

1 tablespoon

water

1

clove garlic

1/4 cup

plain Greek yogurt

4 cups

shredded cabbage (green, red or both)
---
Instructions
For the Burgers
Place the beans in a bowl along with the pumpkin puree, garlic, chili, salt and pepper. Mix and then mash with the back of a fork. Stir in bread crumbs, oats and almonds.
Scoop mixture in slightly packed 1/4 cup portions, then shape into patties.
Heat a large non-stick skillet over medium  heat. Add the oil and once hot, add the patties and cook 6 minutes. Flip patties over and cook an additional 6-7 minutes or until golden brown and warm througout.
Place burgers on buns and top with cabbage slaw.
For the Cilantro Slaw
In a blender or bowl of a small food processor, combine the cilantro, olive oil, water, garlic, salt and yogurt. Puree until smooth. Transfer to a bowl.
Place the shredded cabbage in the bowl and toss to combine.
Notes
Any extra burgers can be frozen in freezer-safe bags or storage containers.
Prep Time:

10 minutes

Cook Time:

15 minutes

Category:

Burgers