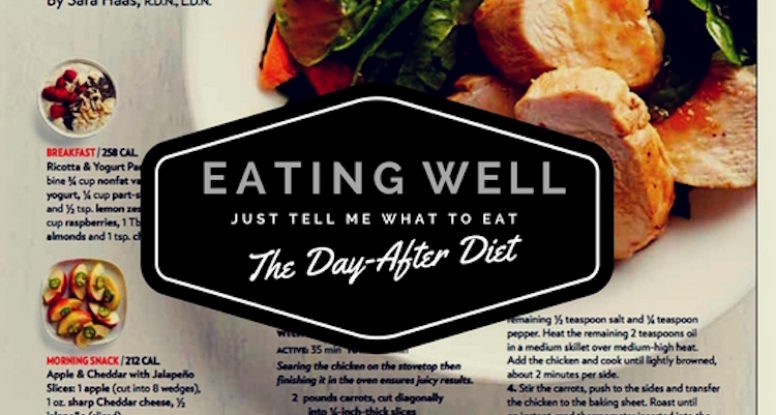 Eating Well Day-After Diet
Still stuffed from Thanksgiving? Or perhaps you're looking to lighten things up when it comes to what you've been eating the past few days? Then you'll love this new meal plan I created for Eating Well Magazine! Appropriately titled "The Day-After Diet," this 1200 calorie plan is great solution to those indulgent holiday meals!
What Is "The Day-After" Diet?
Great question! The Day-After Diet is a low-calorie eating plan developed to help negate the caloric load you consumed at that big holiday meal. But here's what makes this plan great – it's loaded with nutrition and flavor. That's right, our goal isn't deprivation, it's to get your eating back on track. That's why you'll find plenty of fruits, vegetables and lean proteins in this meal plan. And just to prove there's no deprivation involved, you'll also notice this plan includes 3 meals and even a snack! Yahoo!
1200 Calories Sara?
I know, I know, it's low. I couldn't even believe I was developing this one! But, here's the deal, although this Day-After Diet is low in calories, as I mentioned above, it's got plenty of nutrition. And let's be real, some days, we could all benefit from a little deficit in our calorie intake, right? Am I saying you should eat 1200 calories on a regular basis? No, because our caloric needs are highly individualized. What I am saying is that it's ok to not max out your daily calories ALL the time. And the holiday's seem like a good time to practice some good, clean self-control, especially the DAY AFTER! 🙂 Happy Eating!