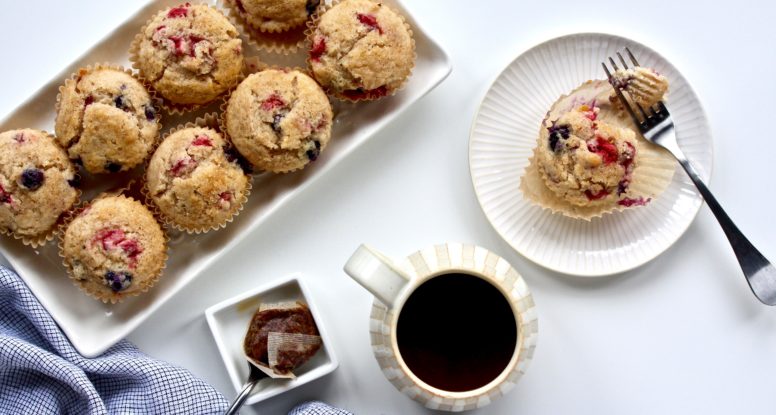 Seriously Berry Muffins
I want you to know that I did my research when it comes to making muffins. I read and read all about the formulas and finally came up with the winner. And so that means, I feel pretty good about these Seriously Berry Muffins!
Making Muffins Is Serious Business
Making muffins is seriously delicious business, if I do say so myself! Because if all goes well, you will be rewarded with super tasty muffins. But here's the deal, it doesn't always go well. Am I right? Dry muffins, tough muffins, bland muffins, I've made and tried them all. And they make me so sad. So sad, that I made an official decree (at least in my house), that there will be no more crappy muffins. So, I got down to business, yeah, serious business, to learn how to make these Seriously Berry Muffins.
Baking Requires Patience
Baking requires a bit of patience. So much so, that I recommend you never try and bake when you don't have much time. That's because baking can't be rushed. You'll need the time to get your measurements correctly portioned and time to read the recipe and follow the directions. If you don't take the time or don't have the patience, well, you'll likely end up with something inedible. And that's no fun.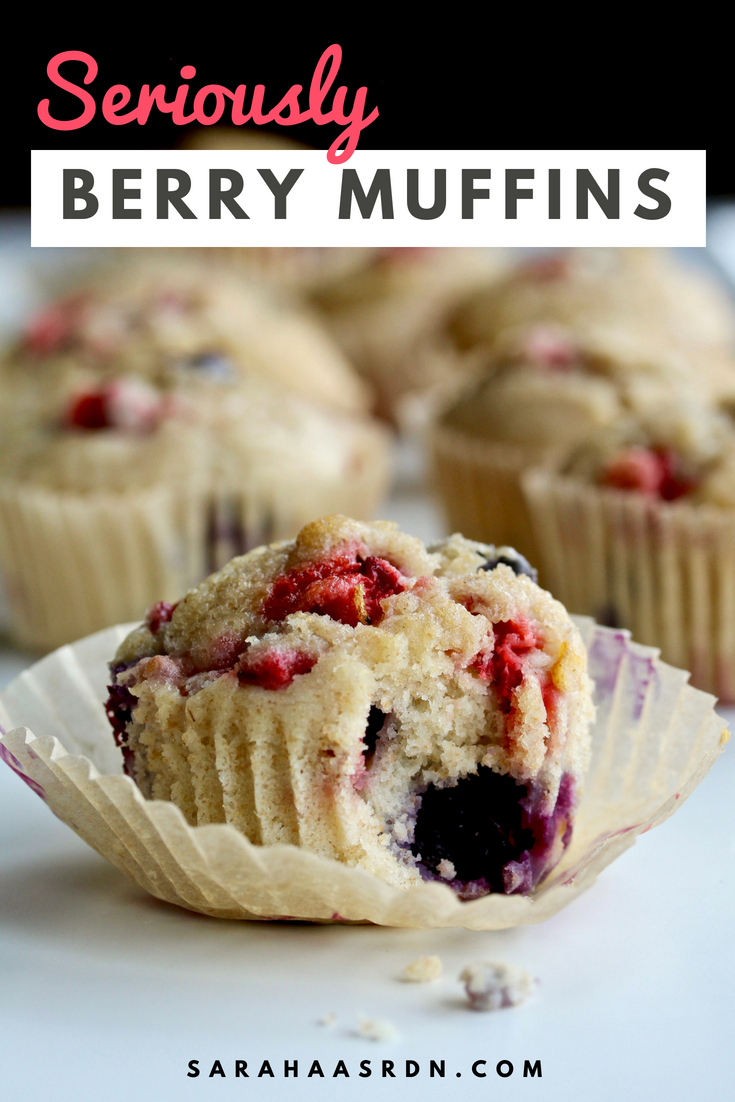 Measuring and Mixing
Speaking of measuring and mixing, that's what muffin-making is all about. In order to get a great muffin, I recommend weighing your ingredients. That's because when I scoop or pour something into a measuring cup or spoon, it'll likely be different from your scoop or pour. That difference can make or break any baked good. Digital scales are easy to find and will cost you less than $20. That seems like a small expense when it comes to ensuring great baked goods. As for mixing, it's just as important too. You'll see in my Seriously Berry Muffins recipe below that there are plenty of opportunities for mixing. BUT, they TYPE of mixing you do is very important. And how you do it is important. Whisk the dry stuff, mix the wet stuff and pour the wet in to dry and mix ONLY until just combined! Simple enough, right?
Now it's your turn! Make these muffins and let me know what you think in the comments section below! Happy baking!
Print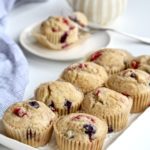 Seriously Berry Muffins
---
120 grams

all-purpose flour (about

1 cup

)

120 grams

white whole wheat flour (about

1 cup

)

½ teaspoon

kosher salt

2 teaspoons

baking powder

105 grams

granulated sugar (about

½ cup

)

1

large egg

227 grams

milk (about

1 cup

)

½ cup

fat (I like to use

¼ cup

melted, cooled butter and

¼ cup

canola oil)

½ teaspoon

pure vanilla extract

¾ cup

chopped strawberries

 

¾ cup

whole blueberries
turbinado or sanding sugar, for dusting

 
---
Instructions
Preheat the oven to 400'F and line a 12-cup muffin tin with paper liners.

 

Whisk the flours, salt, baking powder and sugar together in a large bowl. In a separate mixing bowl, whisk together the egg, milk, butter/oil and vanilla. Pour the wet mixture into the dry and gently stir, using a wooden spoon or spatula, until just combined. Don't over-mix! Batter will be lumpy and that's totally fine! Gently fold in the berries with a spatula. Sprinkle tops with sugar.

 

Fill muffin cups ¾ of the way full. Bake for 18-20 minutes, until golden on top and toothpick inserted in the center comes out clean.

 

Let muffins cool on a rack, in the pan for 10 minutes. Remove from the pan, place on the rack and either enjoy or allow them to continue to cool.