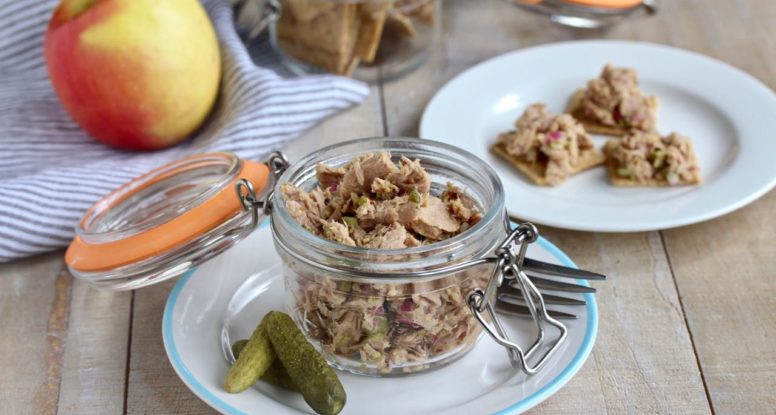 Unbelieveably Simple Bistro Tuna Salad
I made something fancy for you. Something you'd find on the menu at a bistro. A French bistro. The kind with wrought iron tables set with fine china. The kind where you see (and yearn to be the) people sipping rosé and wearing dark sunglasses and white linen pants. I've never been to France, but this is how I imagine every bistro there. Super cool without even trying. Kind of like this tuna salad, super cool without even trying!
Fancy French Food?
Well, not exactly. But doesn't the name imply such an elegant plate of food? I want you to love canned tuna. But how can I get you to love it? By giving it a delightful name – one that somehow makes canned tuna sound elegant and pretty darn delicious. I mean you have to dress it up somehow because it's CANNED TUNA. Not sexy. Not stunning. Not glamorous.  But, when you call it "Bistro Tuna Salad," well, that sounds lovely, right? Ahh, the power of words!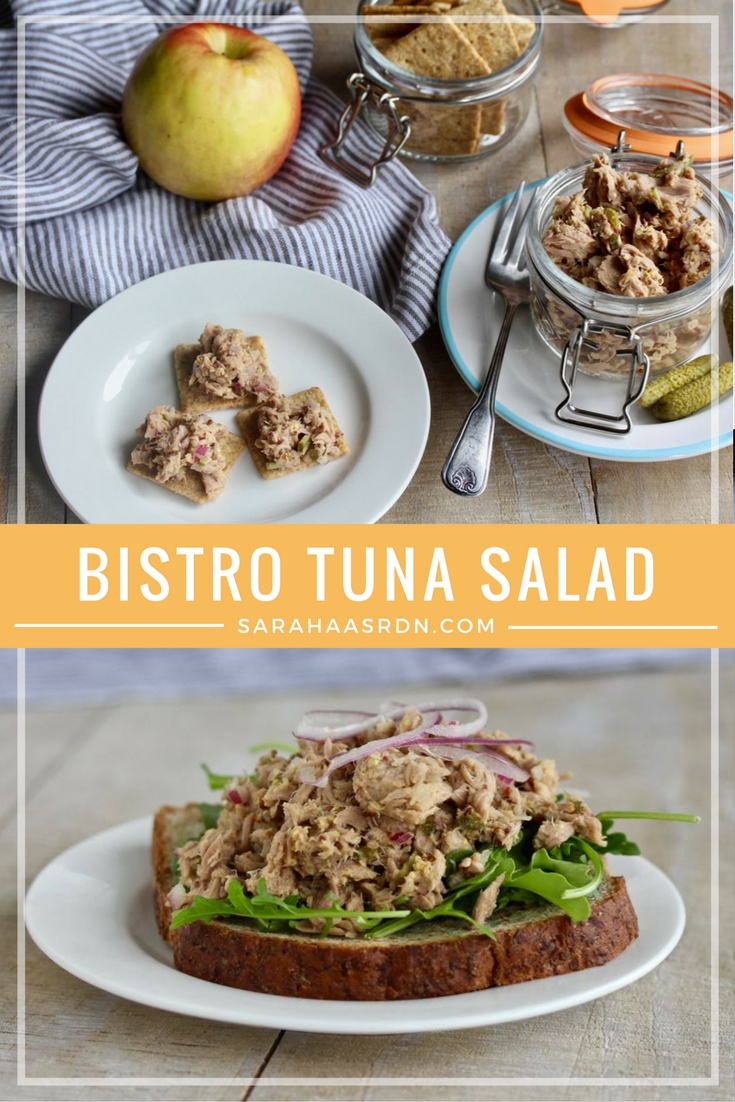 Bistro Tuna Salad For Lunch!
Why not create a work lunch that's something you can be excited about? Sure, you could make the old standard tuna salad – mayo, onion, pickles, etc – but that's predictable. By changing up a few ingredients, you can make something that your co-workers will oooh and ahhh over. Not that that should be your goal, but hey, your lunch should be something people admire!
And It's Easy to Make
THat's right, this recipe is SUPER easy to make! And get this, you can even make it the night before AND it will taste better too. And you could probably make this in your sleep, I promise it's that easy. Sure, I use cornichons here (re: fancy pickles), but you could replace them with a tablespoon of rinsed capers. Other than that, you probably have all of the ingredients in your house! See, easy!
Your Turn!
Time to raid your pantry and get this recipe made! Pair it with this Arugula Salad with Apricots and Champagne Vinaigrette if you're feeling extra fancy. Then tell me how you like it in the comments section below. And as always, Bon Appetit!
Print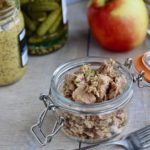 Bistro Tuna Salad
---
Description
Need a quick and easy (and dare I say, elegant) lunch that can be prepped the night before? This Bistro Tuna Salad is for you!
---
2 teaspoons

stone ground mustard

2 teaspoons

white wine vinegar

1 tablespoon

olive oil

1 tablespoon

minced red onion

3

small (or

1

large) cornichons, chopped

5 ounces

canned chunk light tuna, packed in water, drained
optional – greens such as baby spinach, baby arugula or baby kale
---
Instructions
In the bottom of a bowl, whisk together the mustard, vinegar and olive oil. Add the onion and cornichons and stir to combine. Flake the tuna into the bowl and mix gently until well-coated in dressing.
Serve on whole grain bread or crackers along with baby greens.
Notes
You can make this 1 day ahead of time – make as instructed above, cover and refrigerate until ready to enjoy!