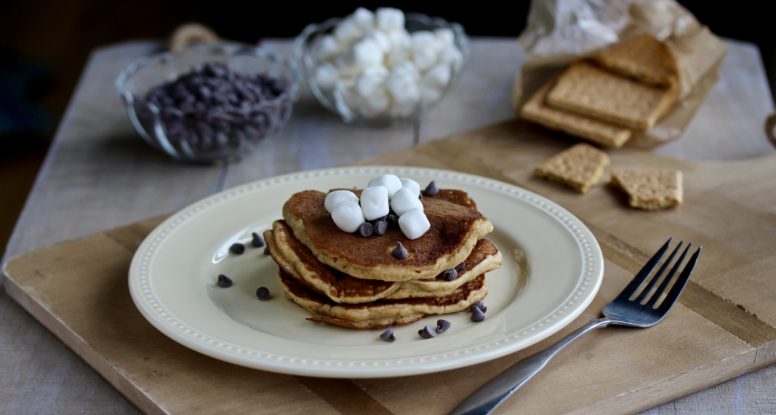 Super Easy Graham Cracker Pancakes
So, I'm kind of up to something at the moment. Mums the word, but I'll be sharing the deets soon, I promise. In the meantime, I'm treating you to these summer-inspired Graham Cracker Pancakes!
There's Always Time for Breakfast
If you know me, you know I'm a creature of habit, especially when it comes to breakfast. I religiously eat 2 pieces of whole wheat toast with peanut butter and jelly with ground flax seed sprinkled on top EVERY DAY. Oh my, it seems so wrong and I can't believe I do it either, but it's seriously the only thing that works for me. I need sustainable energy, and this breakfast wins every time!
But, There's the Weekend
Ok, so yes, I adore that toast, but yes, of course I'm human and sometimes I do want to switch it up. Granted that only happens about 1 time each week, but hey, that's just me. So, when I get "crazy" I go for pancakes, waffles or eggs. You can't beat those breakfast foods, can you? I know, they are so good. And while I love the trusted and true recipes, I like to branch out.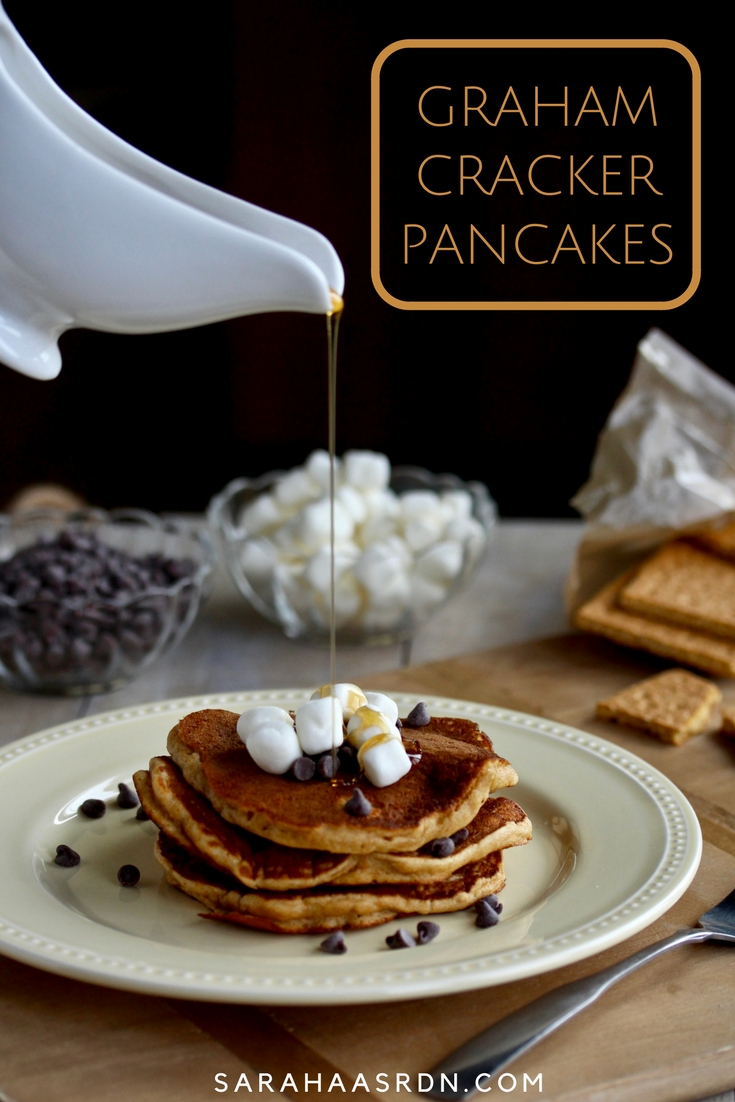 Graham Cracker Pancakes
To bust out of toast rut, I always like to experiment when it comes to the weekend breakfast. Now don't let me fool you, I'm not throwing crickets or anything in my food, but I just like something a little different. So, in honor of summer and my love for graham crackers, I've made you some pretty tasty and easy to love Graham Cracker Pancakes! Oh yes I did. And I guarantee you'll love them. And go crazy, top them with chocolate and marshmallow Fluff. Or just top with a little drizzle of pure maple syrup. Or my personal fav, with a swipe of peanut butter and some sliced strawberries! Yum!
Print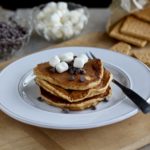 Super Easy Graham Cracker Pancakes
---
Description
Sometimes you want breakfast to taste like a treat. But you have to go crazy. Try these Graham Cracker Pancakes for a fun twist on breakfast!
---
3/4 cup

white whole wheat flour

3/4 cup

graham cracker crumbs

3/4 teaspoon

baking powder

1/2 teaspoon

baking soda

1/8 teaspoon

salt

1

large egg

3/4 cup

+

2 tablespoons

milk

1 tablespoon

vegetable oil

1 teaspoon

pure vanilla extract

2 tablespoons

packed brown sugar
---
Instructions
In a large mixing bowl, whisk together the flour, graham cracker crumbs, baking powder, baking soda and salt.
In a separate mixing bowl, whisk together the eggs, milk, oil, vanilla and brown sugar. Add dry mixture to wet mixture and stir gently until combined.
Heat non-stick pan or griddle over medium-high heat. Once hot, spray with non-stick cooking spray and drop pancakes onto hot pan using a 1/8 or a half-filled 1/4 cup measuring cup, spread out into a 4-inch circle. Cook on the first side until batter begins to bubble, then flip and cook the other side an additional 2-3 minutes or until lightly browned.
Notes
Serves 5, 2 pancakes each