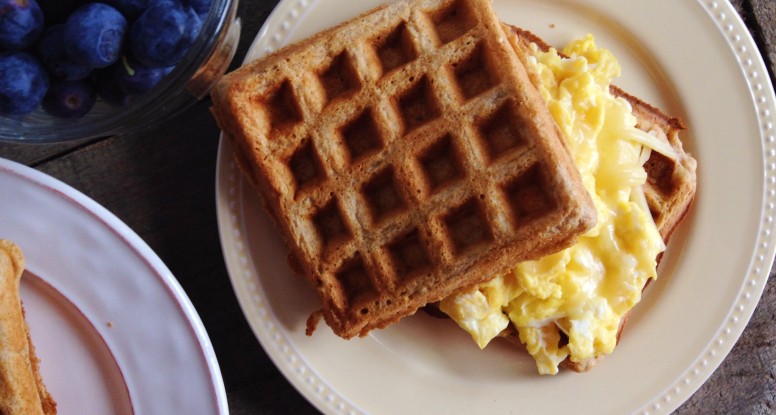 Waffle Scramble Sandwich – The Recipe Redux
Bored with your breakfast?
Well, so are my friends over at the Recipe Redux. Hence, the theme of this month's challenge to break out of "breakfast boredom." Uh oh, so you're telling me my sprouted whole grain toast with peanut butter and jam that I have every. single. day. is boring? Perhaps, but I love it.
HOWEVER, when the weekend rolls around…
I totally want to experiment with some new breakfast foods. As some of you may know, I adore waffles. I have more waffle recipes on this blog than anything else. What does that say about me? I don't know really, except that I just really like them. And not those white flour, weak sauce waffles. I love the hearty whole wheat ones that I can load with nutritious goodies like ground flax seed or wild blueberries. Yeah, so I've done waffles…
But, I LOVE waffles!
Ok, ok, ok! But I also love scrambled eggs. Wait. Am I onto something here? Um, so how about combining whole wheat waffles and scrambled eggs? Is that gross? I went straight to my better half to find out. He assured me this would be an awesome combo. And I trusted him and so I tried it. And the result? Heaven.
This Waffle Scramble Sandwich will change your life!
It will. Eating it makes you feel like a kid. Or like you're doing something you would've done in college, you know, groggily slapping it all together at the dorm cafeteria after a long night of "studying." It seems so wrong, yet so right. But don't feel guilty about this breakfast dish. Remember, those are whole wheat waffles you're making. And those eggs? You're just having two and they are a great source of lean protein as well as other important nutrients. That cheese will give you some calcium and when you pair this Waffle Scramble Sandwich with a big bowl of fruit, well, my friends, you've got a winning breakfast!
And, some picture of the lovely Waffle Scramble Sandwich: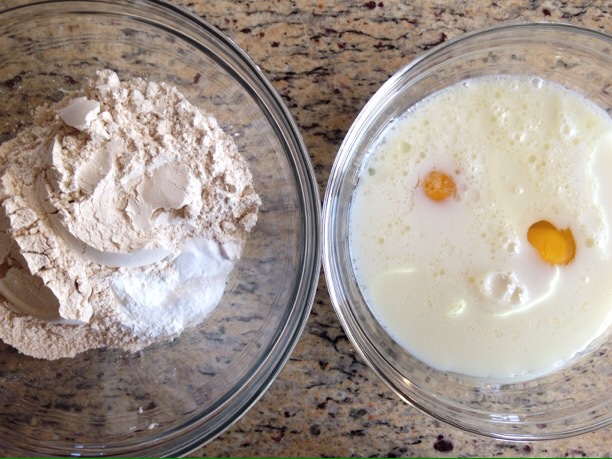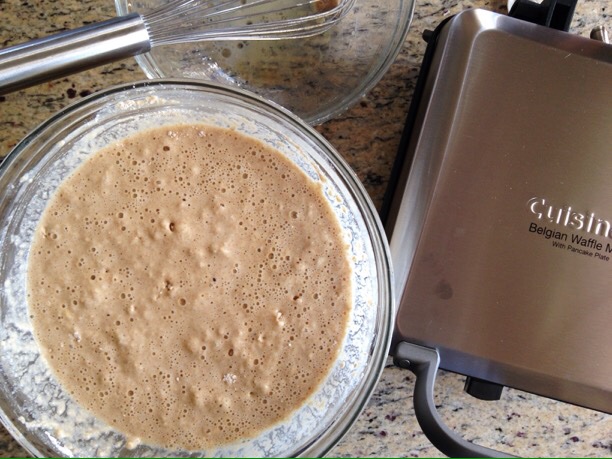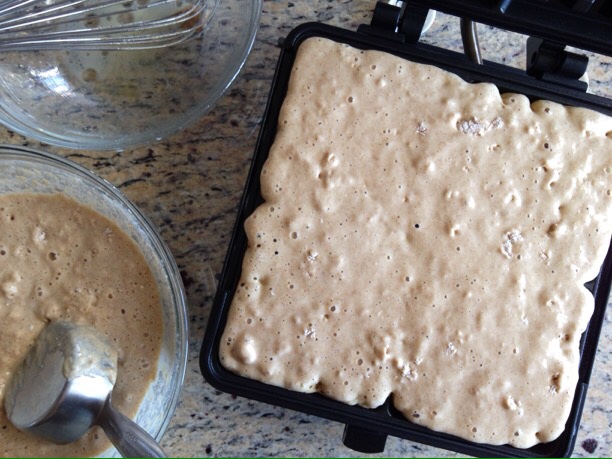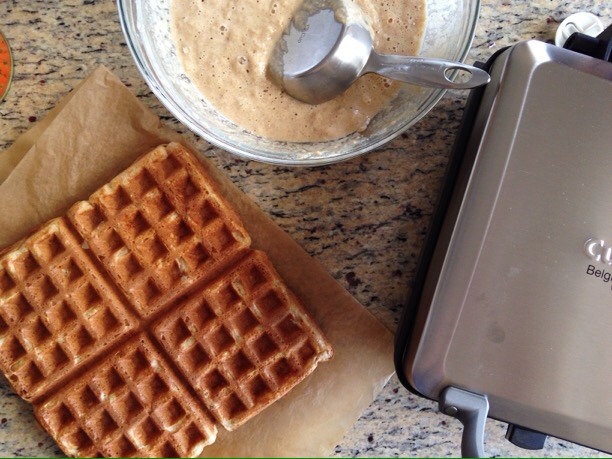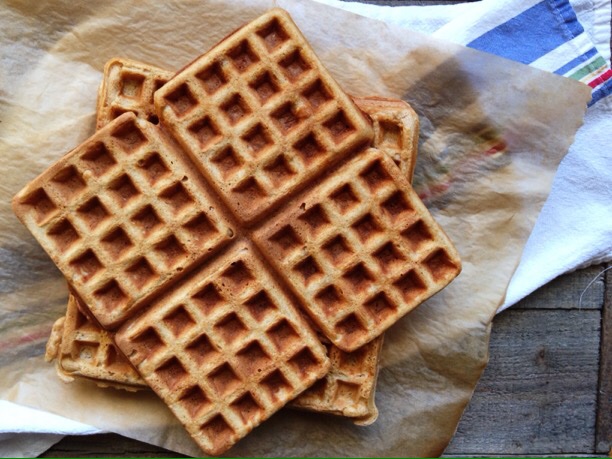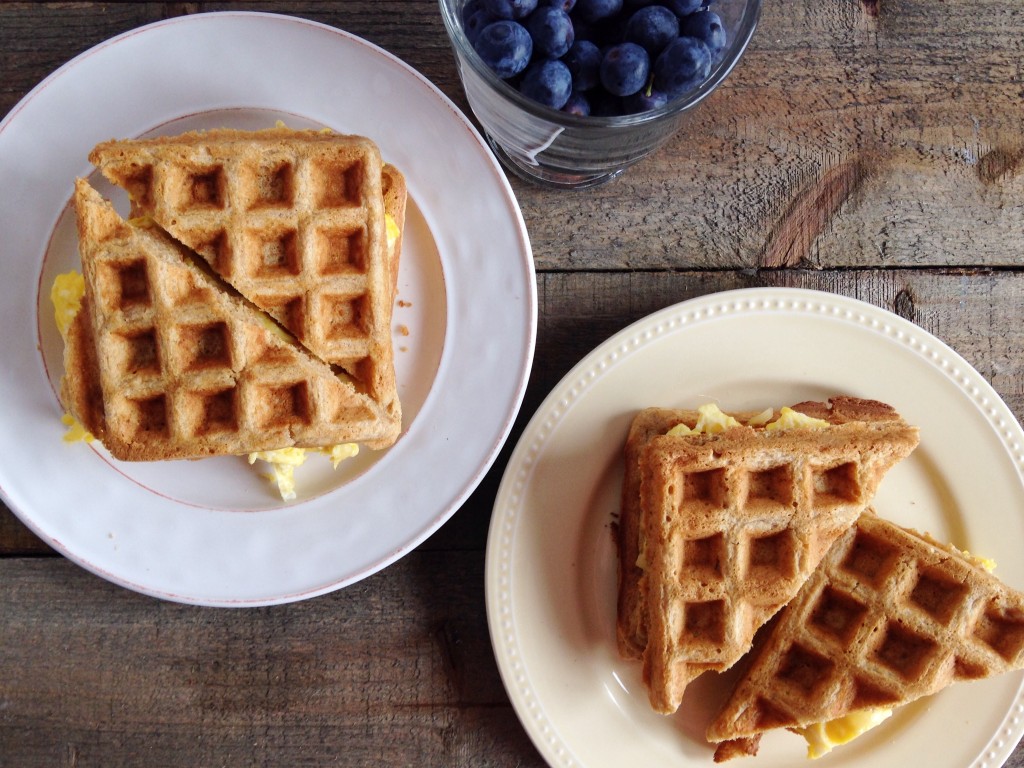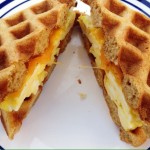 Waffle Scramble Sandwich
---
Description
Because why not combine waffles and scrambled eggs?
---
For the Waffles
1 cup

whole-wheat or other whole grain flour

3/4 cup

whole-wheat pastry flour

2 teaspoons

baking powder

1/2 teaspoon

baking soda

1/2 teaspoon

salt

2

large eggs

1 3/4 cup

low-fat milk

2 tablespoons

melted butter, cooled (or

2 tablespoons

canola oil)

2 tablespoons

packed brown sugar
For the Scrambled Eggs
8

large eggs

1/4 cup

low-fat milk

1/4 teaspoon

Kosher salt

1/2 cup

shredded sharp cheddar cheese
---
Instructions
To make the Waffles
Preheat the waffle iron.
In a mixing bowl combine the flours, baking powder, baking soda, salt, and ground cinnamon.
In a separate mixing bowl whisk together the eggs, milks, butter, vanilla and brown sugar.
Pour the wet ingredients into the dry ingredients and stir until just combined. Note that the batter will be slightly lumpy.
Cook waffles following waffle iron manufacturer's instructions. Hold cooked waffles in the oven at 200'F while making the scrambled eggs.
To Make the Scrambled Eggs
Heat a non-stick pan over medium heat.
Whisk together the eggs, milk and salt.
Add the egg mixture all at once to the pan and cook for one minute. Do not stir. Using a spatula, gently fold and lift the egg mixture, allowing the uncooked portions to flow under and cook. Cook for 3-4 minutes or until eggs are cooked, but still moist. Sprinkle cheese over the eggs.
Divide the egg mixture evenly between 4 waffles. Cover each with another waffle to make a sandwich. Slice in half and enjoy.
Notes
You'll be making 12 waffles here, but you'll only need 8 and that's OK. Why? Because these are so tasty and freeze so well, you'll be happy you had 4 extra to enjoy another time.
Nutrition
Serving Size:

4

Calories:

573

Sugar:

14

Sodium:

924

Fat:

24

Saturated Fat:

11

Unsaturated Fat:

11

Trans Fat:

0

Carbohydrates:

59

Protein:

29

Cholesterol:

501