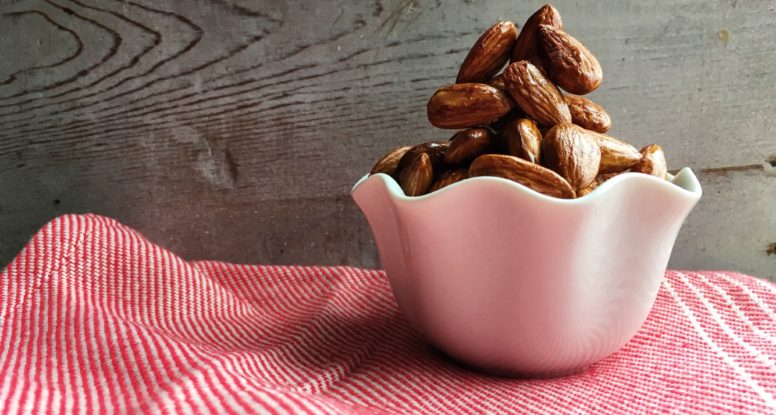 Fertility Friday + Recipe for Maple Cinnamon Almonds
Do you remember back in the '80's and '90's when all fat was considered "bad?"
Looking back on that time, it was almost comical the degree to which we feared fat. Companies worked so hard removing it from their products and people went crazy buying fat-free everything. I remember noshing on a box of fat-free cookies thinking, "wow, no fat, but they sure taste good, I'm so glad they're good for me!"
Fat is Back?
Oh dear! Luckily research has improved and we are no longer shunning fat. In fact, now we know that fat is vital to our existence. Fats provide energy, help us absorb fat-soluble vitamins, and can keep our hearts healthy. We just have to be smart about the type of fats we're choosing and how much of them we're eating.
But I Can't Eat as Much as I Want?
While all fats fit, it's important to keep moderation in mind. Saturated and trans fats are the types of fats we should limit. Research is always on-going on this, and recently saturated fast have been in the news about not being as "bad" as we once thought. My advice? Stick with moderation. Go for the whole milk, but keep your serving to one cup. Enjoy that birthday cake, but choose the small slice instead of the massive monster piece. See where I'm going with this? Don't over-indulge. It's never wise to eat too much of one thing, right?
Instead, focus on getting more healthy fats into your diet. We call those unsaturated (specifically monounsaturated and polyunsaturated) fats. These unsaturated fats can also help support fertility by helping control blood sugar and tamper inflammation. Where do you find them? Great question!
Where to Find The Fantastic Fat:
Sources of polyunsaturated fats: fatty fish such as salmon, mackerel, sardines; flax seed and flax seed oil, walnuts and edamame
Sources of monounsaturated fats: nuts (like in these Maple Cinnamon Almonds!) and seeds, avocado, canola and olive oil
Putting it Together
It's easy! Eat fat, but make smart choices. Stick with moderation and balance your intake with other foods. Eating this way just makes sense! Feeling inspired? Get into your kitchen and make these yummy Maple Cinnamon Almonds so that you can enjoy some of those nutritious healthy fats!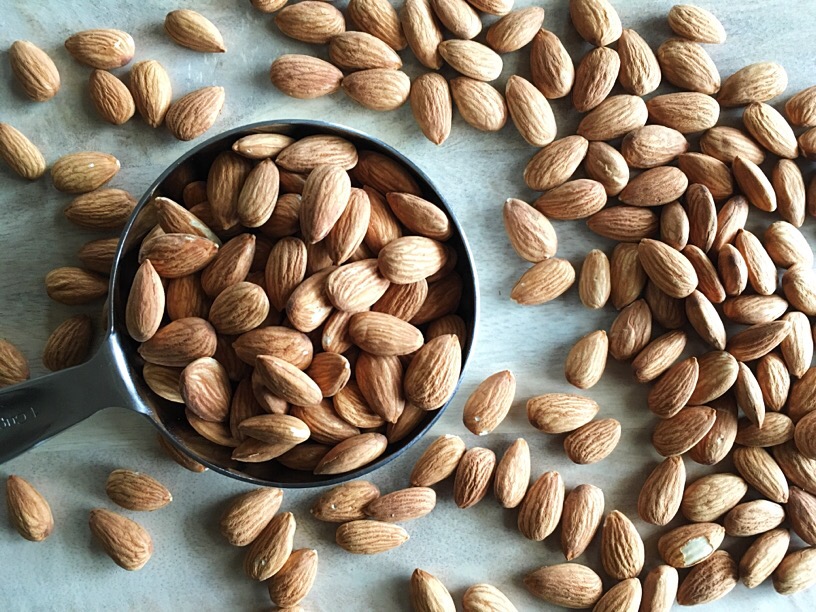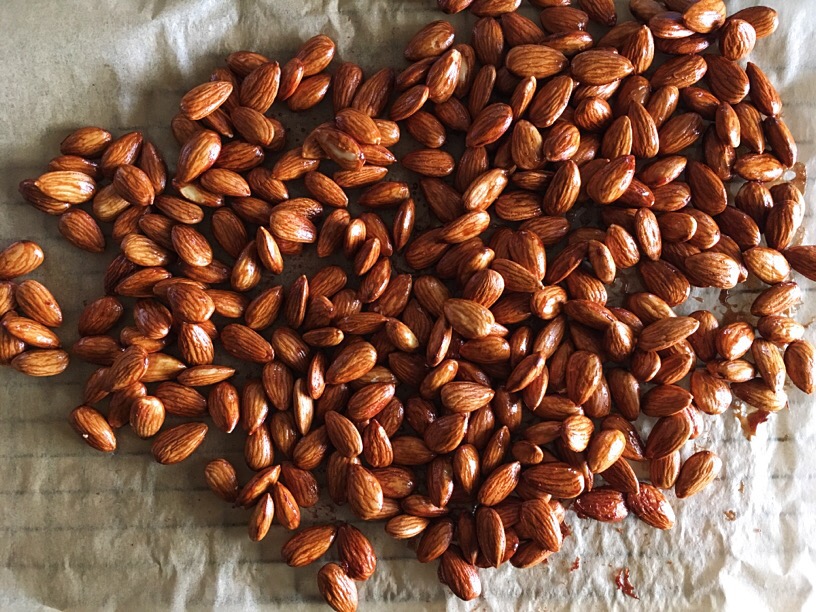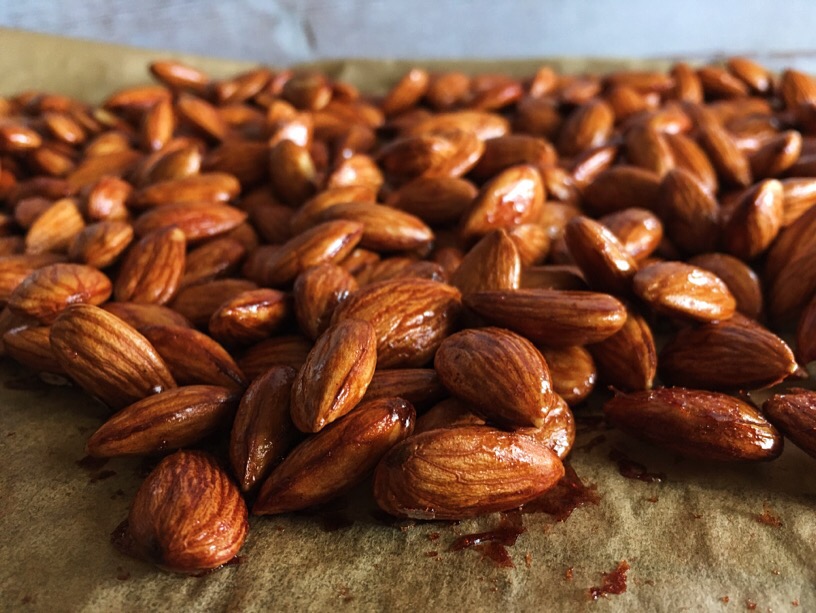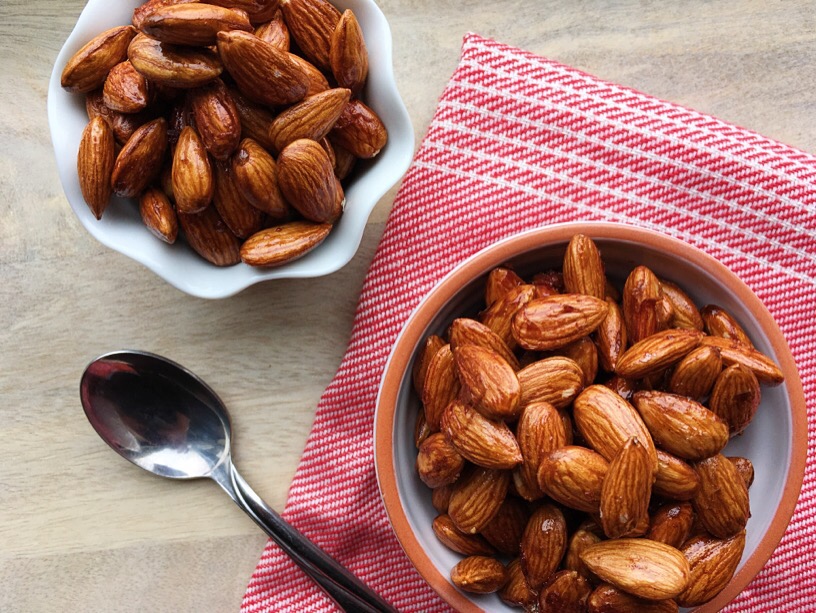 Print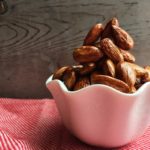 Maple Cinnamon Almonds
---
Description
Super easy snack made with almonds, maple syrup and ground cinnamon.
---
1/2 teaspoon

Kosher salt

2 tablespoons

maple syrup

1 tablespoon

water

1/4 teaspoon

ground cinnamon

2 1/2 cups

almonds
---
Instructions
Preheat the oven to 300'F and line a sheet pan with parchment paper.
Place the salt, maple syrup, water and cinnamon in a medium pot and set over medium heat. Bring to a boil and stir to combine. Pour in almonds and stir until almonds are well coated. Spread out on prepared sheet pan and bake 20 minutes, rotating the pan half way through cooking time.
Remove and allow to cool before enjoying.
Nutrition
Calories:

2118

Sugar:

32

Sodium:

1192

Fat:

180

Saturated Fat:

14

Unsaturated Fat:

157

Trans Fat:

0

Carbohydrates:

90

Protein:

73

Cholesterol:

0