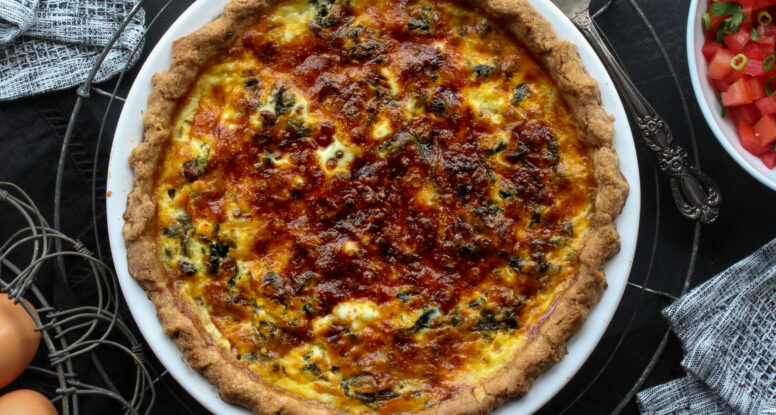 Cheddar Green Chile Chorizo Quiche
Who wants some quiche? Raise your hands high! Okay, keep them up there, because I'm about ready to throw you a slice of this Cheddar Green Chile Chorizo Quiche!
**Heads-up!!! This is a paid post sponsored by Cabot. The opinons expressed in this post are all my own. And rest assured, I only work with brands I like, trust and respect. Guaranteed!
Quiche with Mom
My mom and I used to go out to lunch all of the time when I was growing up. It was my favorite time with her. Just the "girls" having some lunch and I loved it. We would show up at our usual hangouts, my mom would request a booth and then we would follow the host "right this way" to our magical table. Something about tucking ourselves away in a cushy bench made it even more special. Regardless of the restaurant or booth, though, if quiche was on the menu (which it usually was), my mom would order it. And I'd look at her like she was crazy. How in the world could anyone like that wiggly egg business in pie dough? WEIRD! I'm sure I don't have to tell you then, that I never ordered the quiche (I used to be obsessed with Club Sandwiches and Broccoli Cheddar Soup).
Mom was Right
Go figure, years upon years later, I've finally figured out why my mom loved (and still loves) quiche so much! I think I turned up my nose at it because the thought of broccoli mixed with eggs and then baked seemed super gross. And to be honest, I don't love that variety of quiche much to this day. What I do love is FLAVOR! And so, I've been having some fun experimenting with flavor when it comes to quiche. After all these years, I can say to you mom, YOU WERE RIGHT! Quiche is delicious!
The Ingredients
A good quiche is only good if you put the right ingredients in it. I'm a life-long fan of Cabot cheese. Every time I use it, I'm reminded why it's so good. Life is too short to consume bad cheese. So yeah, for me, I'm always choosing Cabot. Beyond the awesome cheese, you need good milk (I like the stuff from cows), fresh eggs, spicy chorizo, canned green chiles and a darn good crust! If you've got the time, make the crust yourself. It's a somewhat annoying thing, but honestly, it's so good! And I personally love this quiche topped with a homemade tomato salsa. Just the right pop of color and the right hit of brightness to balance that rich, cheese/egg goodness!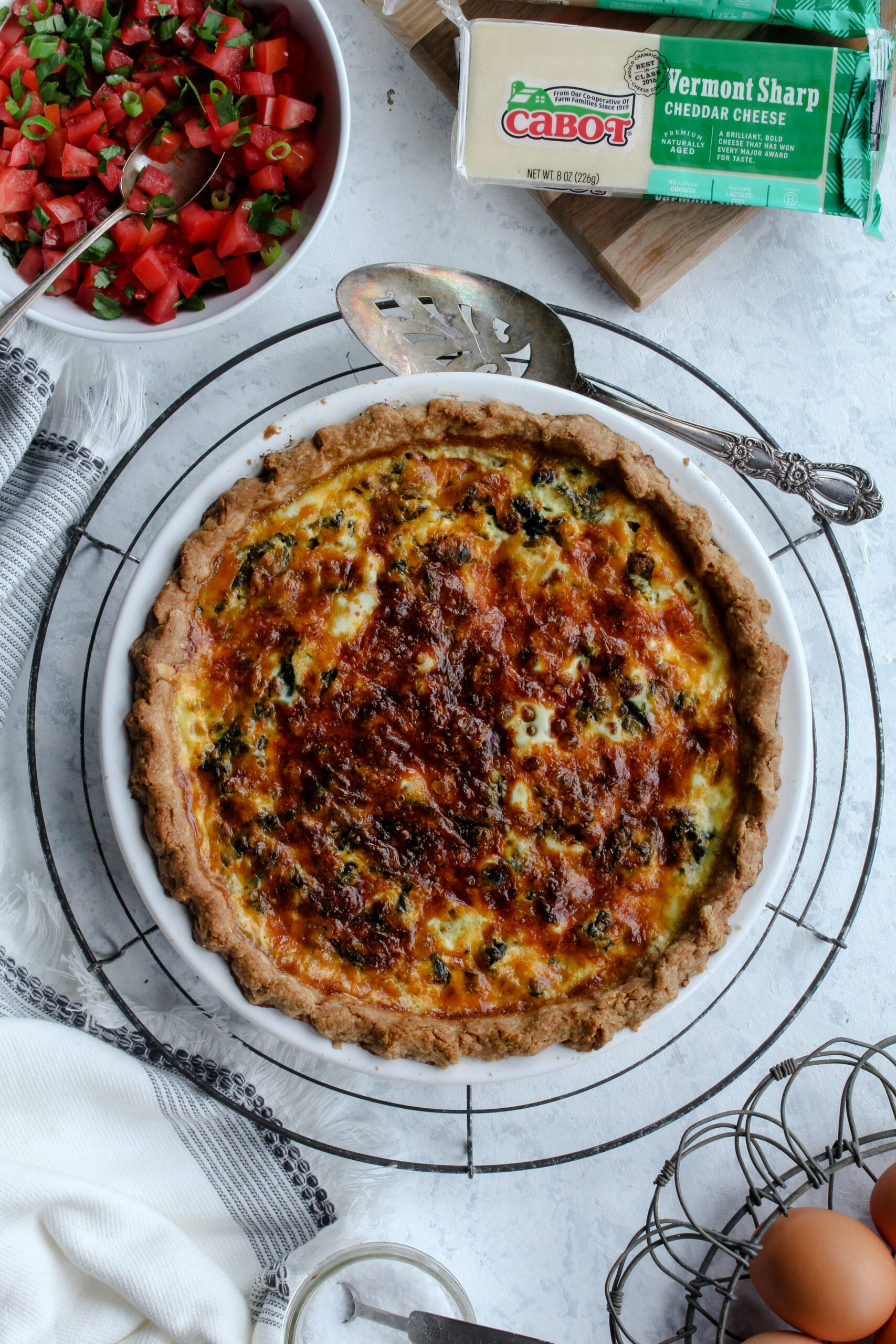 Make it Yourself!
Now you've been given a great story and have been told about all of the yummy ingredients that make this quiche so delicious. That means it's YOUR turn to try it! So grab your shopping list, write down what you need, grab your goodies and get cooking!
If you make it, I'd love to hear from you! Post on IG and tag me, @cookinRD or drop a comment below! Happy cooking!
Print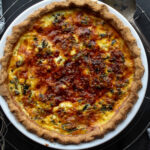 Cheddar Green Chile Chorizo Quiche
---
Author:

Total Time:

1 hour 40 minutes

Yield:

6

servings

1

x
Description
The homemade crust is partially made with whole wheat flour, which makes for a satisfying complement to that southwest-inspired filling. Expect plenty of flavor from Cabot Vermont Sharp cheddar cheese, green chiles and chorizo sausage!
---
For the crust
¾ cup whole wheat flour
½ cup all purpose flour
½ teaspoon kosher salt
2 tablespoons shortening
6 tablespoons cold butter, diced small*
3–4 tablespoons ice water
For the filling
1 teaspoon olive oil
4 ounces chorizo sausage, casings removed
2 green onions, thinly sliced (save green tops for garnish)
1 (4 oz) can green chiles
1 cup frozen chopped spinach 
1 cup shredded Cabot Vermont Sharp Cheddar Cheese
4 large eggs
1 ¼ cups 2 % milk
¼ teaspoon kosher salt
For garnishing
2 roma tomatoes, seeded and diced
½ teaspoon lime zest
1 tablespoon fresh lime juice
¼ cup cilantro, finely chopped
---
Instructions
Combine the whole wheat flour, all purpose flour and salt in a large bowl. Cut the shortening and butter into the flour mixture using a pastry cutter or fork, until it's crumbly. Add the cold water, starting with 3 tablespoons and toss with a fork. Pinch mixture with your fingers, if it holds together, it's ready to be shaped into a disk. If it doesn't stay together, add more water, 1 tablespoon at a time. Cover with plastic wrap and refrigerate for 1 hour.

Remove dough from the refrigerator and preheat the oven to 375'F. 

Roll dough out into a 12-inch round and transfer to a 9-inch pie plate. Press the dough into the pie plate, fold under any excess dough on the edges and crimp. Cover with foil, add pie weights or beans and bake for 20 minutes. 

Remove foil and cool for 15 minutes (you'll use this time to make the filling!). Increase oven temperature to 400'F.

Heat the oil in a large (12-inch) skillet set over medium heat. Add the chorizo and saute, breaking up any large pieces, until browned, about 8 minutes. Add the green onions and cook 1 minute. Stir in the chiles and spinach and cook until mixture no longer looks wet, about 8 minutes. 

Spoon cooked fillings in baked shell and top with cheese. Combine eggs and milk in a large mixing bowl, season with salt. Pour mixture over the top of fillings and bake until center is set, about 35-40 minutes.

While quiche bakes, make the topping. Combine the tomatoes, lime zest, lime juice, sliced green onion tops and cilantro. Toss to combine and season to taste.

Cool before slicing.  Garnish with fresh tomato salsa.
Notes
If you're not up for making the dough, go ahead and buy pre-made. If possible, go for a whole wheat crust for heartier flavor.
Prep Time:

25 minutes

Cook Time:

1 hour 15 minutes

Category:

Quiche