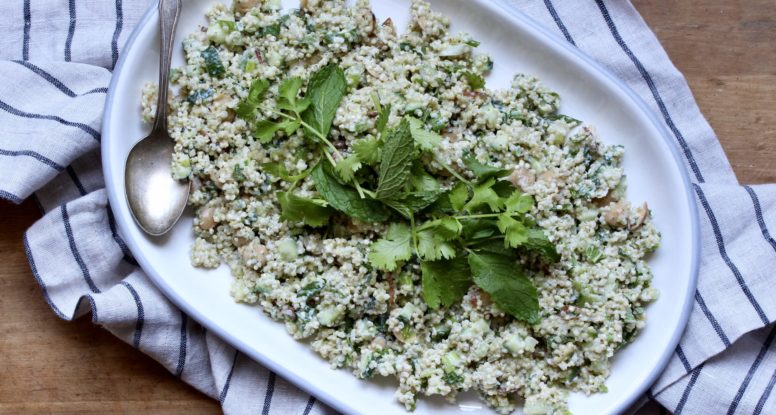 Cilantro-Mint Quinoa Salad
Tired of the same old bowl of greens? Me too! Let's make that bowl a little more interesting! Here's how (keep reading!).
Think Variety!
A bowl full of the same stuff is super boring. At least to me. That's why when I make a salad, it has to have a LOT of components. Note, lots of components does not equal complicated. That's not at all what I'm trying to accomplish. Instead, it's a seek and find situation. What do I have kicking in my fridge and pantry that I can throw in my salad? Usually it's bits and scraps.
Think Dressing!
Sure, a jarred salad dressing will work just fun, but what's the joy in that? Instead, make your own. You can make a salad dressing out of so many different ingredients and it's likely that you've got so many of them in your pantry and fridge. For this Cilantro-Mint Quinoa Salad, I wanted something a little different. Cool, but also spicy. Crazy, right? Sounds nuts, but the play of fresh herbs with jalapeno just works! And it's easy to make. Put it all in a food processor and blend!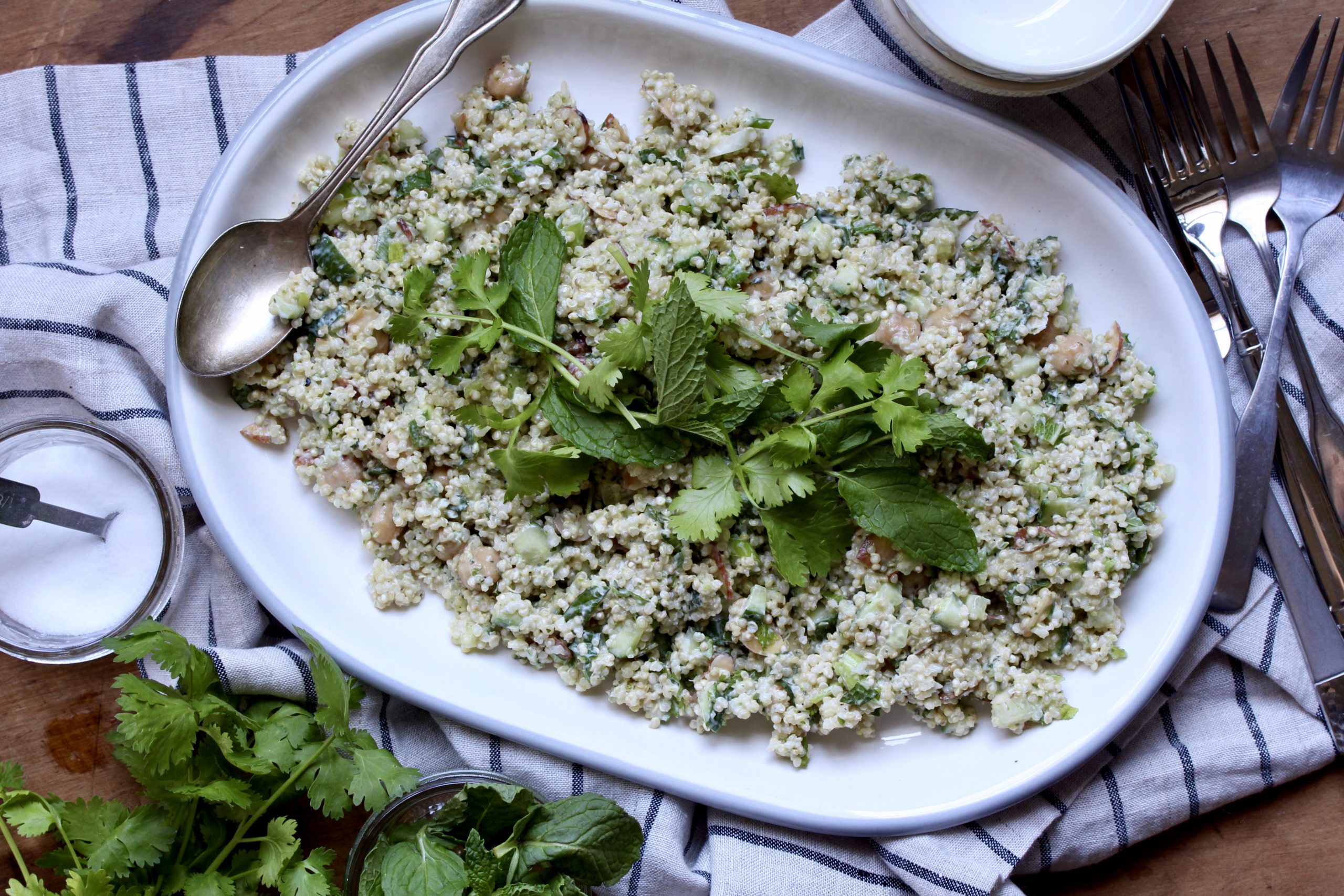 Think Crunch!
Feel like your salad is missing that satisfaction factor? If you don't have that "crunch," well, then get to it! A little bit of crunch keeps your salad interesting and somehow, makes your mind feel like your bowl of goodness is more satisfying than without it. So go ahead, grab some nuts, some popcorn, some crunchy chickpeas and throw them on there!
Now You Make it!
Alright, enough of my jabbering. Time to turn you loose. Grab your ingredients and get cooking! Want to watch me make it? Head to my IGTV or YouTube channel to check it out! Looking for related recipes? Check out this other yummy quinoa salad.
Print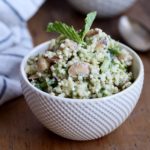 Cilantro-Mint Quinoa Salad
---
Description
Update your summer salad with THIS Cilantro-Mint Quinoa Salad. Fresh herbs and hearty quinoa make for a satisfying dish everyone wil love.
---
1 cup

quinoa, rinsed

1 teaspoon

+ tablespoon extra virgin olive oil, divided

½

jalapeño, stem removed

½

+

¼ cup

fresh cilantro, leaves and stems

½ cup

fresh mint, divided

¼ cup

plain Greek yogurt

1 tablespoon

lime juice

¼ teaspoon

salt

¼ cup

sliced almonds, toasted

1

(15 ounce) can no-salt-added chickpeas, drained and rinsed

1

small cucumber, seeded and diced

2

green onions, thinly sliced on the bias
---
Instructions
Place quinoa and 2 cups water in a saucepan and bring to a boil over medium-high heat. Season with ¼ teaspoon salt, reduce heat to a simmer and cook, uncovered for about 15 minutes. Drain off any excess liquid. Spread out on a sheet pan to cool.
Meanwhile, place the jalapeño on a small piece of foil and drizzle with 1 teaspoon olive oil. Broil until lightly browned in spots, about 6 minutes.
Transfer jalapeño to a blender or small food processor, along with ½ cup cilantro and ¼ cup mint and pulse a few times to "chop." Add the yogurt and lime juice and puree until smooth (add additional water, 1 teaspoon at a time, if having trouble blending).
Place the cooled quinoa in a large bowl. Add the almonds, chickpeas, cucumber, onion and remaining cilantro and cucumber. Add the dressing and stir to combine.