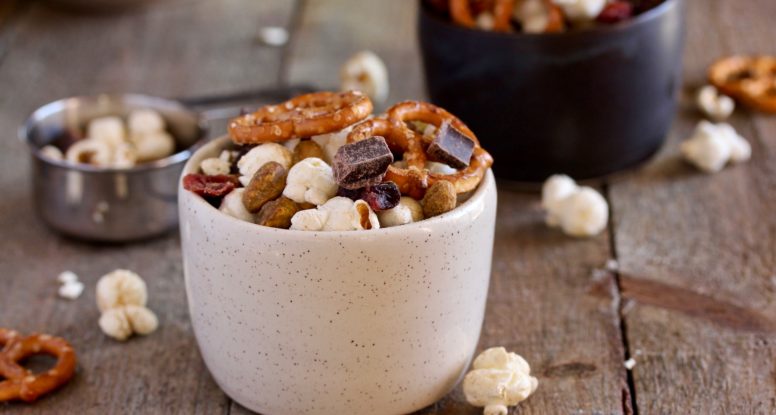 Holiday Snack Mix
Do you ever get tired of the same old snack mix that gets set out at parties? I know I do. Give me something with a balance of salty and sweet, please. Is That kind of snack is hard to come by. Or is it? This Holiday Snack Mix might save your next party!
Holiday Snack Mix
Here's the problem with so many pre-made snack mixes, they are way too salty or way too sweet. And they always leave a weird after taste. Anyone else with me?
Because of that, I usually steer clear of those big bowls filled with a cornucopia of overly seasoned ingredients. Instead, I prefer to make my own. Here's why:
It's easy. You'll see what I mean once you get down to the recipe.
It's balanced. Like I said, I need a balance of salt and sweet and not too much of either. When you make your own, you have control over that.
It's economical. It's true! The pre-made stuff can be a bit costly, especially when you look at what's inside it. Hardly seems worth the cost!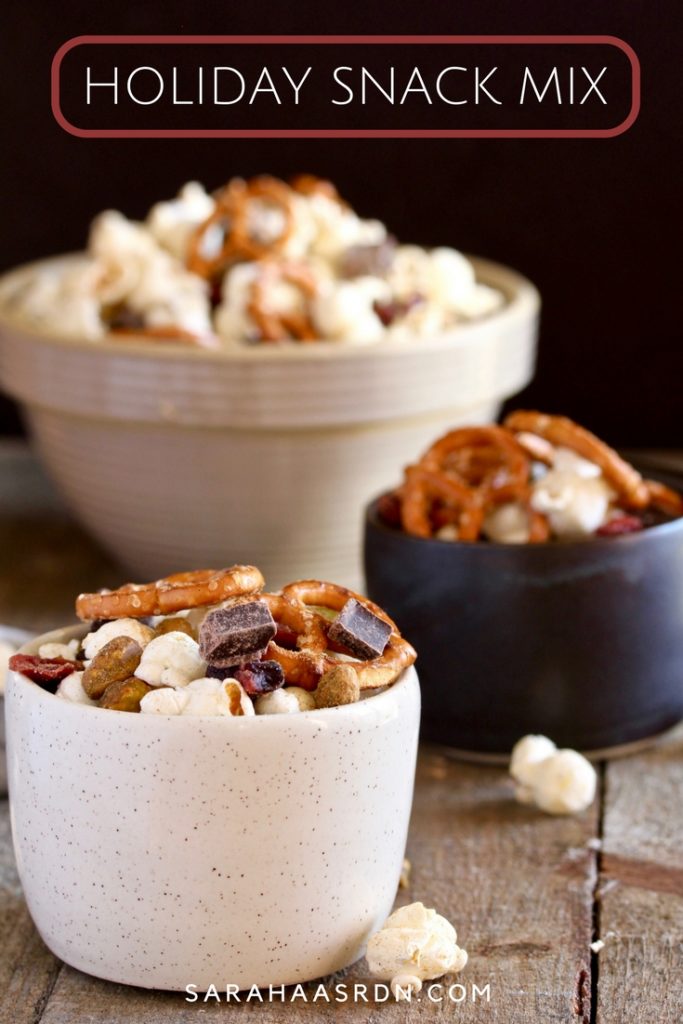 How to Make Your Own Snack Mix
Making your own snack mix is fun and a great way to get creative in the kitchen. You'll not only enjoy eating the snack, but you'll love telling people you made it yourself. That will make you feel special. And that's always nice! Just what is the formula for making a snack mix? Well, I've got a guide to help, but of course, feel free to experiment using your own ideas!
Snack Mix "Recipe"
Something crunchy – Always start with something crunchy. Some good ideas are pretzels, crackers, tortilla chips, etc.
Something fruity – It's always fun to have a dried fruit in your mix. Some of my favorites are dried cherries, raisins, dried apples and dried mango. Try to find the unsweetened versions of these.
Something fun – That's right, pick a "fun" ingredient. Fun to me means it makes you feel like a kid or is fun to eat. I like popcorn, puffed cereal (with very little, if any, sugar), pea crisps or partially popped popcorn.
Something sweet – You need just a touch of sweetness, so go easy on this. My all time favorite is dark chocolate chips. Use those. 😉
And for more inspiration, you can make my Holiday Snack Mix below!
Print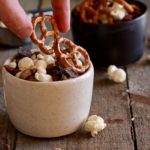 Holiday Snack Mix
---
Description
Need a delicious snack to feed your guests during the holidays? Look no further than this simple-to-make Holiday Snack Mix!
---
1 ½ cups

shelled pistachios

¾ cup

dark chocolate chips

5 cups

air-popped popcorn

2 cups

pretzel twists

½ cup

dried cranberries
---
Instructions
In a large bowl, combine all of the ingredients.
Enjoy immediately.
How about some more snack ideas?
Check out my recipes for:
2-Ingredient Strawberry Popcorn 
Chocolate Truffle Energy Bites