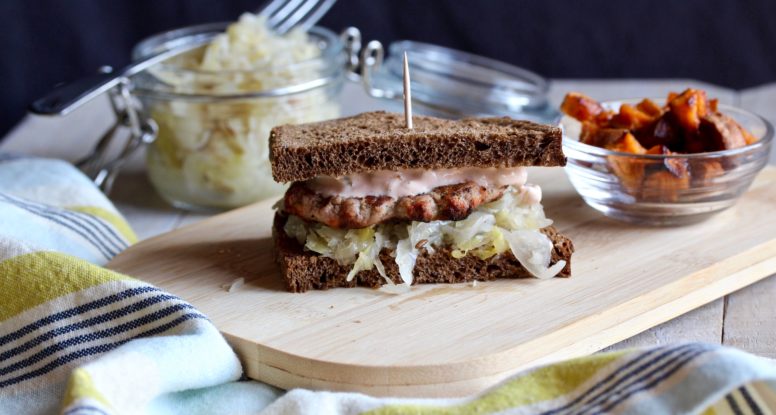 Sauerkraut Turkey Burgers
There's a whole lot of German ancestry in me, so by default, I must love sauerkraut. And luckily, I do…now. But when I was little, I just could not figure out why my mom loved it so much! Why, oh why, did it have to show up on my hotdog? Ugh! But, with age, comes wisdom, and now I see how that fermented cabbage is such a beloved food. But I know seeing outside it's traditional use as a "sausage topping" is hard, so I'm here to shed light on what to do with all of that kraut! So catch my ideas below along with a recipe for these yummy Sauerkraut Turkey Burgers!
Sauerkraut, Why All the Fuss?
We'll talk about it's delicious flavor in a minute but let's talk about why people are stocking their fridge with sauerkraut these days. First, let's discuss the nutritional benefits – yahoo! Well, cabbage is a vegetable, so that's good, right? That must mean there's some good nutrients in there? Yes! You're right! It does! It's got a healthy dose of Vitamin C as well as vitamin K, plus it's a solid way to get some fiber into your day. And best of all? Because of all of that bubbly, fun fermentation, this cabbage is loaded with probiotics! The good bacteria that supports gut health! Yahoo! So if you're belly is feeling funky, why not give sauerkraut a try?
It Tastes Good
It does and if you don't think so, that just makes me sad. It's got that perfect level of tang and saltiness that makes my mouth water! That's what makes it such an awesome way to flavor to so many dishes. And sure, it tastes pretty darn good on a grilled brat, especially when paired with an ice cold beer, but that's not all it's good for! I've found though, that some people have a hard time figuring out what else to do with it. They tell me they buy the bag or jar at the grocery store or farmer's market, they eat it once and then it just hangs out in the fridge. That makes me sad too! So to prevent that, I've included some of my favorite uses for sauerkraut below!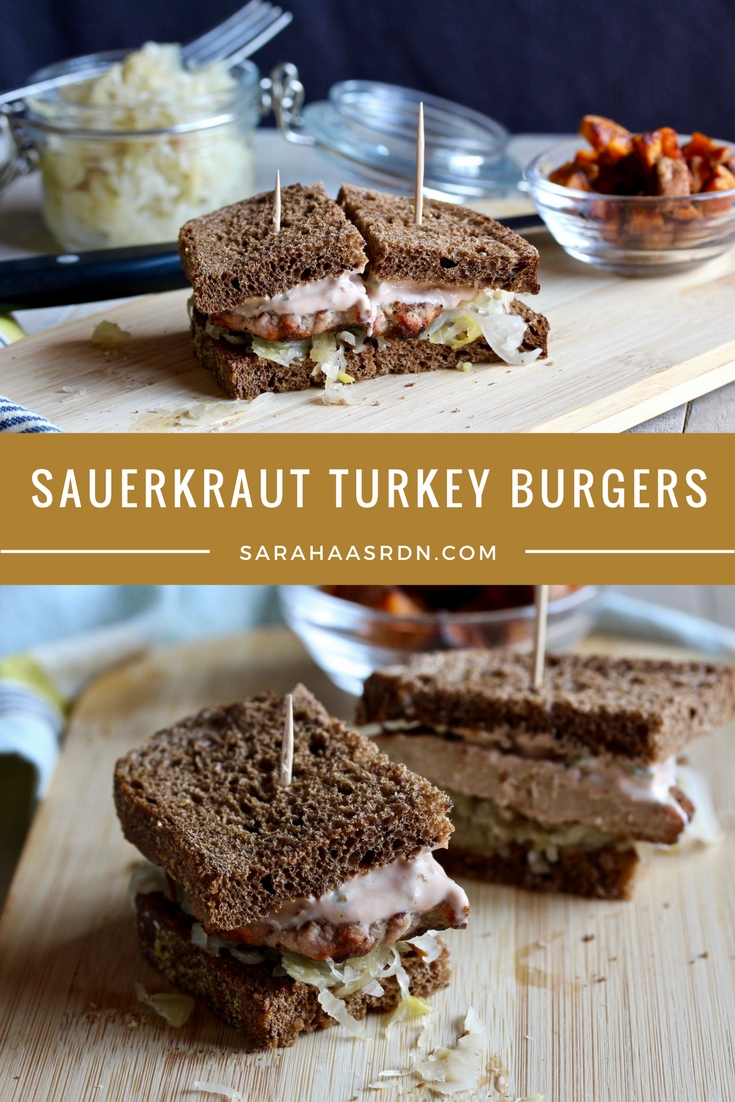 Top Sauerkraut Uses
Garnish for sandwiches – Bored with the same old turkey sandwich? Slap some sauerkraut on it! What about that avocado toast? Does it need a boost? Add some sauerkraut to it! See where I'm going with this? Almost any sandwich tastes better with sauerkraut and I am dreaming about using it in this Chickpea Hummus Wrap
Topping for salad – Bet you never thought of adding sauerkraut to your salad, right? But you should! It is the perfect compliment to those fresh salad greens! And why stop at green salads? Add kraut to your favorite bean salad or grain salad too!
Addition to soup – It's almost soup season, which means it's almost sauerkraut soup season! Ok, well, I don't mean sauerkraut soup exactly, I mean why not add it to your favorite soup? Speaking from personal experience, I love it in a hearty beef stew or even a tomato bisque! And why not chop some up and try it in this Comforting Homemade Turkey Chili?
Topping for pizza – Sauerkraut pizza? Yup, it's a thing. Trust me on this one, it's soooooo good! Add some sliced sausage and onions and you'll be in heaven! I also I think it would be delicious on this Mediterranean Pizza!
Your Turn!
What's your favorite way to enjoy sauerkraut? Drop your fav in the comment box below!!! I can't wait to hear what you've come up with! And don't forget to try my super simple Sauerkraut Turkey Burger recipe too!
Print
Sauerkraut Turkey Burgers
---
Description
Sauerkraut on a burger is heavenly! This turkey burger is simple to make and even comes with a delicious sauce!
---
For the sauce:
1 tablespoon

ketchup

2 tablespoons

mayonnaise

2 tablespoons

plain Greek yogurt

1/4 teaspoon

garlic powder

1/4 teaspoon

onion powder

1/8 teaspoon

ground cayenne pepper

1 tablespoon

chopped dill pickle
For the burgers:
1

pound lean ground turkey

1 tablespoon

Worcestershire sauce
kosher salt and black pepper
For serving:
8

slices pumpernickel rye bread, toasted

1 cup

sauerkraut, warmed
---
Instructions
To make the sauce:
In a small bowl, combine the ketchup, mayonnaise, yogurt, garlic powder, onion powder, cayenne pepper and dill pickle. Cover and refrigerate until ready to serve.
To make the burgers:
Preheat the grill to medium high heat. Clean the grates and coat lightly with oil.
Shape the burgers into 8 equal sized patties. Place them on a plate and drizzle with Worcestershire sauce. Sprinkle with salt and pepper.
Once grill is hot, add the burgers and cook, about 4 minutes on each side, or until internal temperature reaches 165'F.
To serve:
Cut bread slices in half. Spread a little sauce on each piece, then top with a little sauerkraut, followed by a burger. Add the top slice and serve.