I somehow had the good fortune of having a lot of extra cherries in my refrigerator. It has a little something to do with the fact that I love cherries and I can't help myself when I see them on sale. So, to make a long story short, I may have bought more than I really needed. No way was I going to let them go to waste. I was on a mission and I knew I had to do something with them fast. I had just made dessert with cherries (see my Phyllo Cherry Pie Tartlets recipe), and I felt like I needed to make something savory instead. But what?
Turkey burgers were on the menu for dinner. Usually I keep those pretty simple, topping them with ketchup, mustard, lettuce and tomato. But then I started thinking about ketchup and that got me thinking cherry ketchup. Could it work? Well, of course it could. But I wanted it to be spicy, so what else could I use? Right! The chipotle chiles I had in my freezer would be perfect. And that, my friend's is how Cherry Chipotle Ketchup came into my life.
I added some great aromatics, like onion and garlic to mix along with a little acid (apple cider vinegar) and some fresh thyme. A little hit of sweetness from honey was the perfect balance for the heat. It all simmered in my pot while I made the turkey burgers. Fast and homemade ketchup in no time! Plus, you'll get less sodium and more nutrition! Cherries are packed with nutrition, containing plenty of potassium which helps with managing blood pressure and are loaded with antioxidants to help fight off those big, bad free radicals to lead to cancer and other diseases.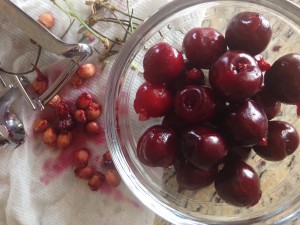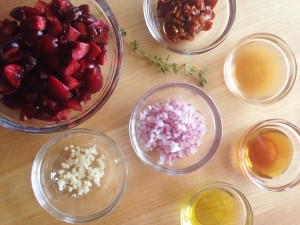 Print
Turkey Burgers with Cherry Chipotle Ketchup
---
Description
A flavorful turkey burger topped with a spicy, sweet ketchup made from cherries and chipotle peppers.
---
For the Ketchup
1 teaspoon

olive oil

2 tablespoons

finely chopped red onion

1

garlic clove, minced

1 cup

pitted, sweet cherries, chopped

1

canned chipotle pepper in adobo

1 tablespoon

honey

1 tablespoon

apple cider vinegar

1

sprig fresh thyme

1/2 cup

water
For the burgers
1

pound lean ground turkey

1/8 teaspoon

salt

¼ teaspoon

freshly cracked black pepper

8

small, whole wheat buns, split and toasted

8

green leaf lettuce leaves, washed and torn
---
Instructions
To Make the Ketchup
Add the oil to a small saucepot and set over medium heat. Once hot, add the onions and cook, stirring often until softened, about 3-4 minutes. Add garlic, cook 1 more minute. Add the cherries and cook about 3 more minutes. Add the remaining ingredients, stir and bring to a simmer. Cook the cherry mixture uncovered for about 20-25 minutes, stirring occasionally.
Remove the thyme stem and transfer the mixture to a blender or food processor. Allow to cool slightly, then puree mixture (allowing a place for steam to escape if mixture is still rather warm) until smooth. Alternatively, puree the mixture in the pot using a stick blender.
Return the mixture back to the sauce pot and cook an additional 15 minutes. Remove from pot and allow to cool before serving.
For the burgers
Preheat the grill and clean well with a grill brush.
Shape the ground turkey into 8 equal-sized patties, about 2-3 tablespoons each. Season with salt and pepper.
Lightly brush the grill grates with canola oil. Place burger patties on the grill and cook for about 4 minutes on each side. Use a food thermometer to ensure burgers have reached 165'F.
Place cooked burgers on the buns and top with chipotle ketchup and lettuce.
Notes
Need to turn down the heat? Simply add less chipotle pepper.
Want to jazz it up? Add a dash of cinnamon or cardamom.
Want a little more sweetness? Add 1-2 more teaspoons of honey
Nutrition
Serving Size:

8

Calories:

337

Sugar:

8

Sodium:

215

Fat:

11

Saturated Fat:

3

Unsaturated Fat:

6

Trans Fat:

0

Carbohydrates:

40

Protein:

23

Cholesterol:

60