I love when Recipe Redux time rolls around each month. It gives me inspiration for creative time in the kitchen, which I love. This month's theme is "stop being wasteful and use the stuff that's been sitting in your pantry!" Ok, that's just my summation of the theme. It was put more eloquently of course, but that's basically it. Pick something that's been in the pantry for awhile and put it to good use. Great idea!
So off I went to my pantry, on the hunt for something inspiring. I opened the door and immediately (and embarrassingly) noted its "fullness." Ugh, there was plenty of food in there that was simply begging to be used. So I acknowledged my pantry with a quick "noted" comment and promised to cook and use that food before it went to waste. Then it was back to my original task…finding the one thing that's been in there for far too long. After a quick inventory, it came down to three things: brown rice, canned diced chiles and light coconut milk. A glance at the packages revealed that the light coconut milk would be heading to the trash can soon if I didn't use it, so the light coconut milk was the winner. Now, just what was I going to do with it?
I immediately thought of Thai food. So many delicious dishes use coconut milk and I had a million (ok, maybe just two or three) ideas running through my head. But then something struck me. Maybe it was the delicious scent coming from the apartment next door, but I swear I smelled waffles. It smelled so amazing, that my thoughts of Thai food were immediately replaced with thoughts of waffles. Then, the light bulb went off and my Vanilla Coconut Whole Wheat Waffles were born.
I adore waffles which made this recipe even more fun to create! They are a great breakfast option, especially when all-purpose white flour gets replaced with whole wheat flour and when a simple topping of fresh fruit is the perfect finishing touch. Coconut milk and a little toasted coconut add a fun tropical twist and the vanilla bean paste add just the right of balance and "sweetness." These are a perfect treat for breakfast or a handy snack. Try these waffles and I promise you'll fall in love.
Ok, so my part is done…now it's time to take a look at what's in your pantry!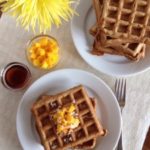 Coconut Vanilla Whole Wheat Waffles
---
Description
Yields about 10 Belgian-style waffles, 4-inches by 4 1/2-inches
---
1 cup

whole wheat flour

3/4 cup

whole wheat pastry flour

1 1/2 teaspoon

baking powder

3/4 teaspoon

baking soda

1/4 teaspoon

salt

1 teaspoon

ground cinnamon

1/4 cup

ground flax seed

2

large eggs

1 cup

light coconut milk

3/4 cup

low-fat milk

2 tablespoons

melted butter (or canola oil)

1 tablespoon

vanilla paste

1 tablespoon

packed brown sugar

1/2 cup

+

2 tablespoons

flaked coconut, toasted

1

mango, peeled, seeded and diced
---
Instructions
Preheat the waffle iron.
In a mixing bowl combine the flours, baking powder, baking soda, salt, ground cinnamon and flax seed.
In a separate mixing bowl whisk together the eggs, milks, butter, vanilla and brown sugar.
Pour the wet ingredients into the dry ingredients and stir until just combined. Note that the batter will be slightly lumpy. Gently stir in the coconut.
Cook waffles following waffle iron manufacturer's instructions.
Serve garnished with freshly chopped mango and toasted coconut.
Notes
These waffles freeze well. Place them in a freezer bag, separated by pieces of parchment and freeze until ready to eat!
Nutrition
Serving Size:

5

Calories:

502

Sugar:

14

Sodium:

368

Fat:

25

Saturated Fat:

17

Unsaturated Fat:

7

Trans Fat:

0

Carbohydrates:

59

Protein:

12

Cholesterol:

88